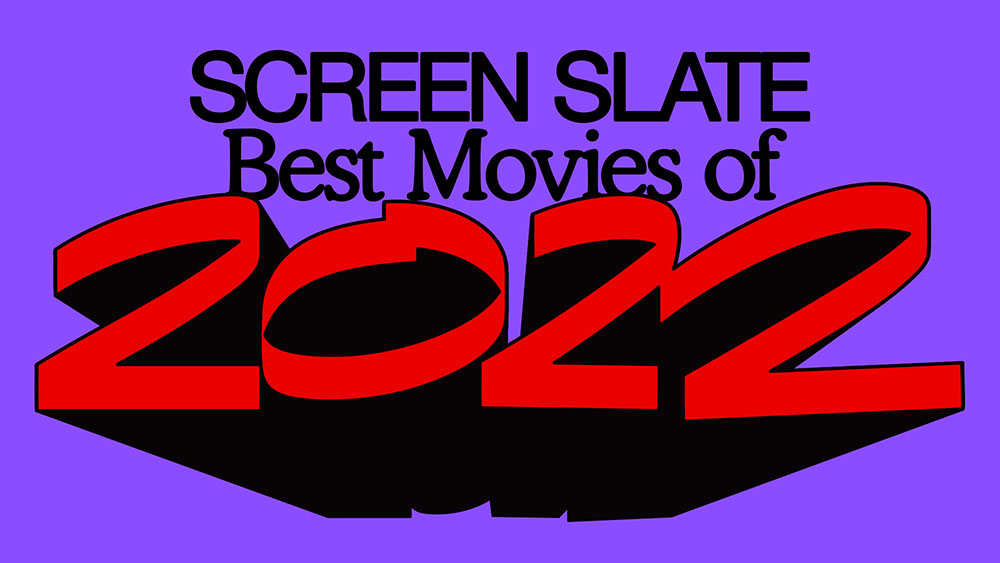 December 12th 2022
Screen Slate has once again invited Nicolas Rapold to guest edit its third annual Best of the Year poll, as voted on by our own contributors along with other programmers, critics, artists and filmmakers.
We also asked respondents to submit "new-to-me" first viewings and discoveries. We're pleased to have received responses from the directors of some of our favorite releases and festival premieres of 2022, including Elegance Bratton, Davy Chou, Ricky D'Ambrose, Daniel Goldhaber, Owen Kline, Sierra Pettengill, João Pedro Rodrigues, Cyril Schäublin, Paul Schrader, Martine Syms, and Kit Zauhar, along with many other artists and filmmakers. Even Béla Tarr got in on it this year!
Without further introduction...
Screen Slate's Top 20 New Releases of 2022:
Crimes of the Future (David Cronenberg)
EO (Jerzy Skolimowski)
Aftersun (Charlotte Wells)
Tár (Todd Field)
Jackass Forever (Jeff Tremaine)
Decision to Leave (Park Chan-wook)
All the Beauty and the Bloodshed (Laura Poitras)
Nope (Jordan Peele)
Funny Pages (Owen Kline)
The Fabelmans (Steven Spielberg)
The Eternal Daughter (Joanna Hogg)
RRR (S.S. Rajamouli)
We're All Going to the World's Fair (Jane Schoenbrun)
The Novelist's Film (Hong Sangsoo)
In Front of Your Face (Hong Sangsoo)
The Cathedral (Ricky D'Ambrose)
Armageddon Time (James Gray)
Petite Maman (Céline Sciamma)
Benediction (Terence Davies)
Ambulance (Michael Bay)
Related coverage:
Jerzy Skolimowski and Ewa Piaskowska on EO
Interview by Elissa Suh
Aftersun director Charlotte Wells and editor Blair McClendon
On the Screen Slate Podcast
All the Beauty and the Bloodshed
Review by Clara Miranda Scherffig
Funny Pages director Owen Kline
On the Screen Slate Podcast
The Eternal Daughter
Review by Mark Asch
We're All Going to the World's Fair
Review by Stephanie Monohan
The Novelist's Film
Review by Jeva Lange
In Front of Your Face
Review by K.F. Watanabe
Ricky D'Ambrose on The Cathedral
Interview by Chloe Lizotte
Petite Maman
Review by Danielle Burgos