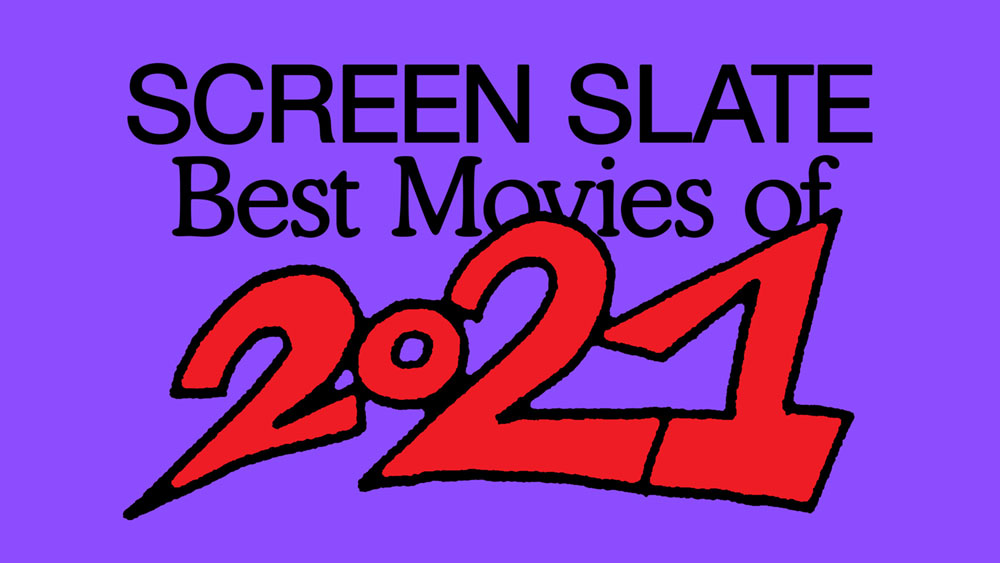 December 16th 2021
Screen Slate has once again invited Nicolas Rapold to guest edit its second annual Best of the Year poll, as voted on by contributors, friends, and filmmakers.
We also asked respondents to submit lists of "new-to-me" first viewings and discoveries. The full list of participants, their ballots (if submitted), and first viewings are available here, and we're grateful to include filmmakers such as Michael Almereyda, Jessica Beshir, Jim Jarmusch, Radu Jude, Guy Maddin, Alex Ross Perry, Josh Safdie, Sandi Tan, and Amalia Ulman in the mix.
This list also arrives at the conclusion of Screen Slate's 10th anniversary year. Thank you to all our readers—especially those who have been with us since the beginning—and contributors, members, venues, programmers, distributors, and filmmakers who have made our work possible.
-Jon Dieringer, Screen Slate Editor
A big thank you to everyone who took part in Screen Slate's Best of 2021 poll! Behold, the best, at least according to us! And while we're talking bests… The best part of the Screen Slate poll is that participants share their favorite "first viewings" from 2021—not new releases, but movies of all vintages seen for the first time, whether at home or in theaters. Why settle for just one year? These glorious "First Viewings" lists are printed in full, and the wide-ranging selections never fail to put wind in my sails and offer hundreds of ideas for what to watch next. But first, about those new releases… —Nicolas Rapold
Drive My Car (Ryusuke Hamaguchi)
Memoria (Apichatpong Weerasethakul)
Benedetta (Paul Verhoeven)
Annette (Leos Carax)
Bad Luck Banging or Loony Porn (Radu Jude)
The Souvenir Part II (Joanna Hogg)
Days (Tsai Ming-liang)
What Do We See When We Look at the Sky? (Alexandre Koberidze)
The Power of the Dog (Jane Campion)
The Card Counter (Paul Schrader)
Licorice Pizza (Paul Thomas Anderson)
France (Bruno Dumont)
Wheel of Fortune and Fantasy (Ryusuke Hamaguchi)
About Endlessness (Roy Andersson)
El Planeta (Amalia Ulman)
Bergman Island (Mia Hansen-Løve)
Zola (Janicza Bravo)
Titane (Julia Ducournau)
Faya Dayi (Jessica Beshir)
The Velvet Underground (Todd Haynes)
Related coverage:
Ryusuke Hamaguchi interviewed by Aiko Masubuchi
The Short Films of Apichatpong Weerasethakul by Inney Prakash
Benedetta by Margaret Barton-Fumo
Leos Carax's The Lovers on the Bridge by Phoebe Chen
Bad Luck Banging or Loony Porn by Maxwell Paparella
What Do We See When We Look at the Sky? by Joshua Bogatin
Jane Campion's In the Cut by Caroline Golum
Bruno Dumont interviewed by Stephanie LaCava
Amalia Ulman interviewed by Nicolas Rapold
Bergman Island by Jeva Lange
Julia Ducournau interviewed by Stephanie LaCava
Jessica Beshir interviewed by Patrick Dahl