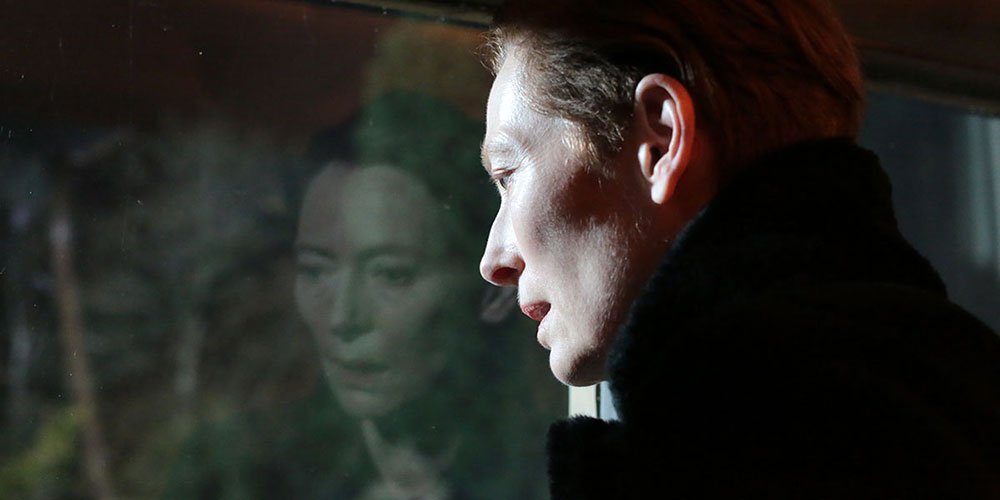 September 17th 2022
Featuring a moment that comes closer to a jump scare than you ever thought you'd see from Joanna Hogg, The Eternal Daughter (2022) seeks out ghostly traces of the past, continuing the autobiographical explorations of The Souvenir (2019 and 2021) by other means.
The film opens on a dark country lane, with distant headlights glowing through a rolling mist. The stock is filmy, almost dust-caked 35mm, and the music is spooky. It's winter, branches are bare, and the car's driver is telling his passengers that their hotel may be haunted. It's a foreboding setting, like something out of an M. R. James ghost story.
Adding to the uncanniness, both passengers in the car are played by Tilda Swinton. They are Rosalind and Julie, the same names as the daughter and mother played by Swinton and her daughter Honor Swinton Byrne in The Souvenir and The Souvenir Part II; as she did in those films, Rosalind has a spaniel, Louis, played by Swinton's beautifully behaved dog of the same name. (He was not in the Souvenirs, but has appeared on film before.) Rosalind has the same well-preserved, old-money, country-squire wardrobe and steel-gray hair as her Souvenir counterpart, and this Julie, too, is a filmmaker who has found her voice as a memoirist. Julie is bringing her mother to the hotel for the latter's birthday, an occasion which also doubles as a research trip for the script she's writing.
Rosalind spent much time in the hotel as a child and young woman, when it was a private residence owned by a relation, and remembers sleeping in the bedroom and playing in the dining room. Julie is mining her memories before it's too late, for art or life, drawing out Rosalind's recollections and surreptitiously recording Voice Memos. As in the Souvenir films, in which so much happens within a recreation of Hogg's undergraduate apartment, a home is a place where the evidence of life, tangible and ephemeral, piles up; but, also as in Souvenir I & II, Julie and Rosalind's upper-class manners work almost unconsciously to tamp down any of the less pleasant implications of this accumulation. This grand old country house is cozy and stuffy, fancy and deadening—it's seen better days, and the slow, heavy doors and drafty shutters leave cracks through which the repressed might return.
Julie and Rosalind seem to be the hotel's only guests. The bored young desk clerk sixth-sensibly ignores Rosalind, and Julie can't sleep for all the sounds of an old house creaking, moaning, and maybe sobbing. (The sound design is dense and musical; if Tilda Swinton tried to describe it at a mixing board, a la Memoria (2021), she'd be there all day.) A story of branches banging on windows, inherited trauma, and next-generation doppelgangers, this is Hogg's Wuthering Heights.
Swinton's dual performance—conducted, with rare notable exception, in opposite halves of shot/reverse-shot sequences—captures both the continuity and difference of mother's and daughter's characters, the way each has integrated their anxieties into a fussy, pragmatic politeness that's either posh or professional. Hogg frequently shoots into mirrors (also a Souvenir motif) as a teasing, eerie metaphor for the duplication of the self in fictions and family. What is a parent if not a reflected image, opaque in its similarity? Hogg grapples with this—yes—eternal conundrum through the deeply moving scene of Swinton sobbing at the "mystery" of a woman whom she resembles in every way.
The Eternal Daughter screened this week at the Toronto International Film Festival. It will screen at the New York Film Festival in October.