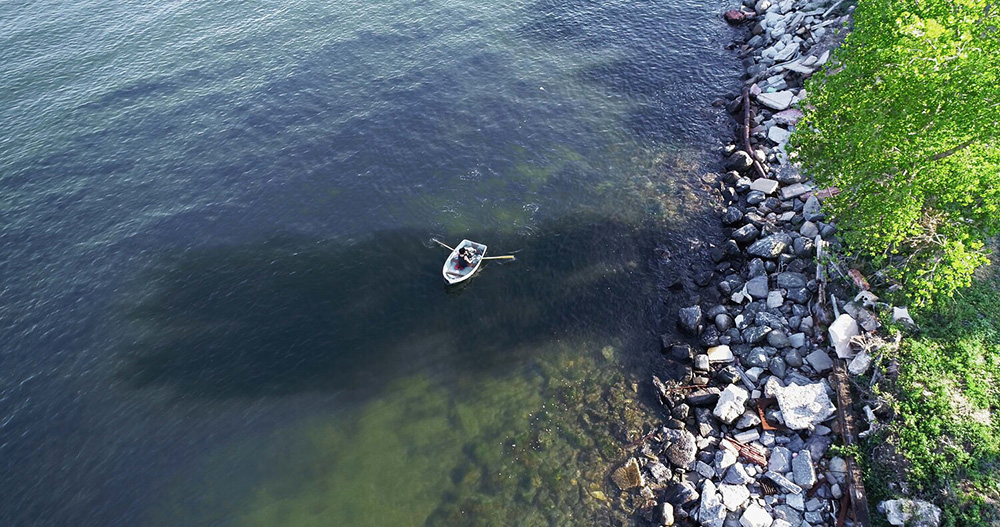 August 3rd 2022
I was recently a passenger on a small sailboat in the East River. Accompanied by a silent sailor in an alien mask and a small cast of hand puppets, the artist Raine Trainor led four strangers to Belmont Island, aka U Thant Island: a mound of granite excavated in the late nineteenth century to create the tunnel that became the 7 train. While humans are forbidden, U Thant Island is now home to a double-crested cormorant colony.
The next day I watched Coco Fusco's video, Your Eyes Will Be An Empty Word (2021), in which the artist rows a small boat around Hart Island, part of the Bronx's Pelham Islands archipelago. Periodically, she tosses a white carnation to the Long Island Sound, for those left alone in death. Perhaps because I'd just had my first small boat ride on New York City waters, I was particularly attentive to Fusco's smile.
Like U Thant Island, Hart Island is inaccessible to most living humans. The largest mass gravesite in the US, Hart Island has been visited in recent history almost exclusively by the unclaimed dead and the incarcerated workers who bury them. In the first wave of Covid, drone images of Hart Island's open graves flooded news media. In Fusco's video, a drone-operated camera surveys the island on a bright day, some time later. The camera slows, hovering over grass and dirt dotted by evenly spaced markers. Back in the boat, the sun plays across the water and the artist's face.
As we watch Fusco row, we hear her meditative text read by poet and performer Pamela Sneed. She honors unnamed victims of Covid and earlier plagues, the times death has been made contagious. She offers a history of New York's potter's field, weaving connections to her first encounters with death as a young person. Such is the unwieldy task of tracking personal mourning against the parcity of public memory in America, the impossible weight of life measured by numbers. Fusco's sentiment is held by Sneed, who, in her recent book, Funeral Diva, warns against flattening comparisons between official responses to Covid and those to HIV/AIDS. With love, Sneed animates what living within queer community in New York through the late '80s and '90s taught her about organized abandonment and resistance.
Is Fusco's smile a nod to the camera? Or is it just that today, rowing is beautiful? Drones and cameras are nonliving things, non-witness to this moment of enjoyment: the sun and water, in spite of everything. Sneed ends Funeral Diva with her poem, "Why I Cling to Flowers." Fusco fills her rowboat with them, and one by one she lets them go.
Your Eyes Will Be an Empty Word is included in the Whitney Biennial 2022: Quiet as It's Kept, on view through September 5 at the Whitney Museum.