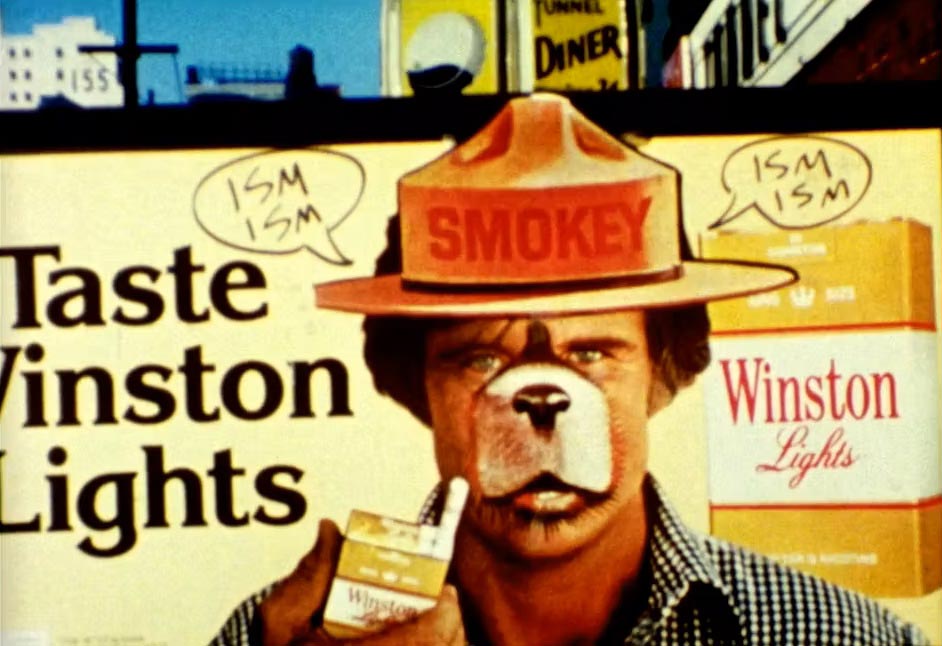 July 1st 2022
Manuel DeLanda's ISM ISM (1979) is the first thing you see when you enter Attention Line, a show of work rooted in the 1970s by eleven iconoclastic artists, organized by Andrew Lampert and Artists Space. DeLanda's signature moving image work, the 8-minute, silent ISM ISM is projected as a continuous loop on a large screen, while on a small monitor to the left, the more aggressive Harmful or Fatal If Swallowed (1982) threatens your eye/brain circuitry and any hang-ups you might have around matters of taste.
In the downstairs screening room, DeLanda's oeuvre, almost in its entirety, plays during gallery hours: seven Super-8 and/or 16mm films made between 1976 and 1982, now transferred to digital; two counter-television collaborations with Joan Braderman from the mid-1980s; and seventeen digital movies, circa 2012–2021. And on Saturday at 4 p.m., DeLanda will introduce a program of three films and lecture on I'm not sure what. The author of some dozen books of analytic philosophy, and a professor in the schools of architecture of several prominent universities, including Columbia, DeLanda produces live presentations as disorienting and memorable as his films. This could be his last New York appearance. After living in New York City for forty-six years, he is soon returning to his native Mexico, disappearing at the point of his rediscovery. Perhaps.
DeLanda was in his early twenties and an accomplished commercial graphic artist when he arrived in New York in 1975 to attend the School of Visual Arts. The city had fallen into hard times economically, but its bleakness was inspirational to artists in a variety of mediums. DeLanda hit the streets with a very good Super-8 camera to record the devastation. The images in Harmful or Fatal If Swallowed were captured during this period and used in two earlier films, Shit (1975) and Song of a Bitch (1976), before they were stripped down to maximize their lethal impact in what was meant to be a farewell to celluloid. There was, however, a coda: Judgement Day (1983) depicts a legion of cockroaches that had invaded DeLanda's apartment in their death throes, having been sprayed with insecticide.
Unlike his contemporaries in the New York No Wave, DeLanda had no interest in narrative, except to beat the hell out of the framing and editing conventions essential to the form. The Itch Scratch Itch Cycle (1976), Incontinence: A Diarrhetic Flow of Mismatches (1978), and Raw Nerves: A Lacanian Thriller (1980) are assaults on Hollywood genre movies that by comparison put the then fashionable strategy of "deconstruction" to shame. In their compulsive repetition and hallucinatory imagery, there is a desperate desire to imprint the neurological system of the viewer with what DeLanda sees in the world around him and in his dreams.
These are visionary films, radical in their surrealism, and they remain so decades after they were made. In 2011, Lampert and John Klacsmann, archivists at Anthology Film Archives, restored DeLanda's films and made the digital transfers that are being shown in this exhibition. At the same time DeLanda returned to his explorations of the moving image, employing digital tools he could load into his desktop. To be honest, I don't know what to make of these works, but I'm anxious, as it were, to see them projected on a big screen.
Attention Line is on view at Artists Space through August 20. The Manuel DeLanda cinema series will screen through July 9. Tomorrow, July 2, DeLanda will be in attendance for a 16mm screening, lecture, and conversation.