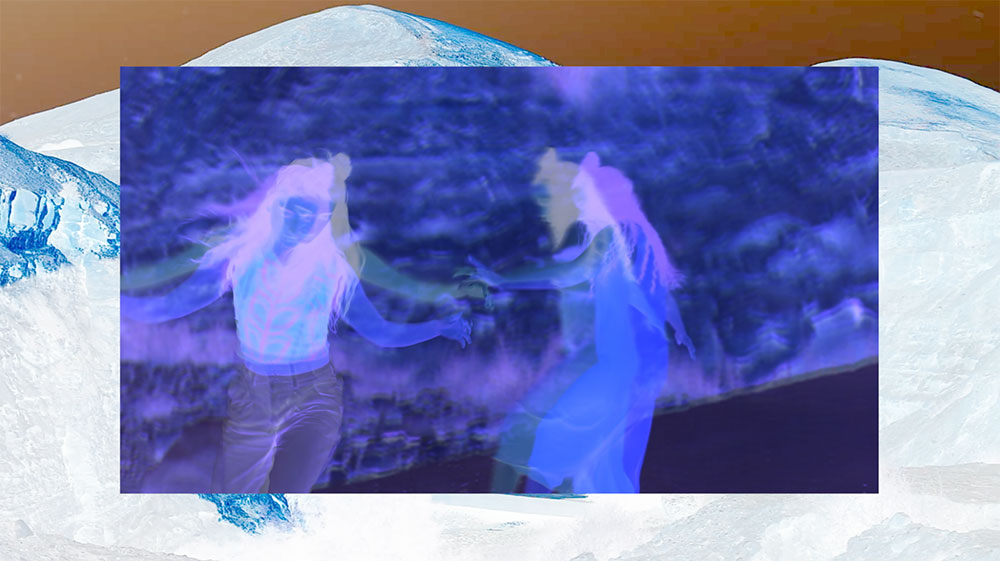 May 11th 2022
A group of singing women preparing saj bread for a campaign to protect Lifta from demolition is tagged: #Cooking #Jerusalem #Outdoor #Palestine #Voice. A circle of mourning women beating their chests is tagged: #Chest-beating #Dancing #Group Singing #Iraq #Mourning #Trance #Voice. For nearly a decade, artists Basel Abbas and Ruanne Abou-Rahme have been collecting performances posted online in Iraq, Palestine, Syria, and Yemen. The videos can be accessed via a digital index as one part of the project May amnesia never kiss us on the mouth. Connecting disparate conditions of violence and destruction, moments of song, music, and dance appear again and again. The artists have been living with these moments, transcribing, translating, and organizing them by theme, location, and number of views.
Using the index as a point of departure, Only sounds that tremble through us at the Museum of Modern Art is the project's first physical installation. The multichannel sound and video installation unfurls across the four walls of the museum's black-box Kravis Studio. Video and text fragments are sutured together and superimposed, reappearing in different channels of the projection. Panels of poured concrete evoking border walls and tombstones are set in front of the screens, causing the images to bend and distort. The sequencing of videos in the surround gives the overall installation a circularity: looping seamlessly without a clear beginning or end, a persistent chant.
The work not only brings together disparate moments of resistance, but also considers the artists' role in amplifying and perpetuating them. In another process of translation and transcription, videos of new performances—developed in collaboration with dancer Rima Baransai and electronic musicians Makimakkuk, Haykal, and Julmud—sample movements and respond to music and lyrics from the index of performances. The performers slip between introspective, soft gestures—closed eyes, hands on the belly and heart—and vigorous rocking and pounding motions that build and swell with the dynamic soundscape. They are filmed intimately, in soft focus against wide open landscapes and in spare studios in Palestine.
Meanwhile, videos from the index undergo a pronounced transformation via color inversion. This "negative space" is the realm of communities that face the constant threat of erasure. However, this otherworldly realm also invokes the possibility of resistance through a kind of haunting. At the work's climax, the color inversion spreads to the new performances and the haunted realm takes over. The lines flash on screen: "We are the negative, we are the negative unbound." For a moment, the index and new performances are unified, channeling a continuum of performance and resistance into one collective body.
Basel Abbas and Ruanne Abou-Rahme: May amnesia never kiss us on the mouth is on view through June 26 at the Museum of Modern Art.