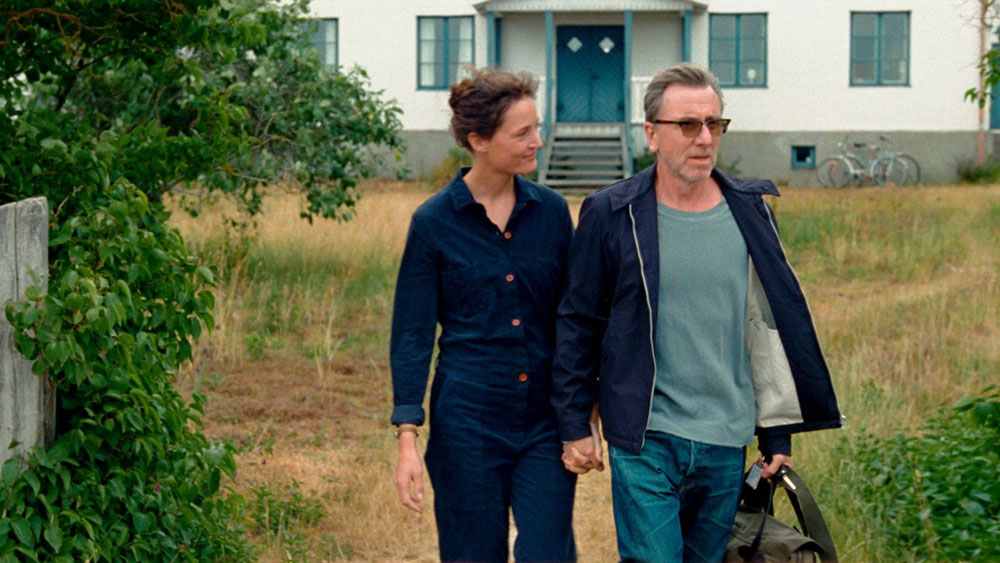 September 24th 2021
For an island roughly the size of Disney World, Fårö occupies mythic proportions in the minds of any cinephile who has ever considered a Film Forum membership. The adopted home of Ingmar Bergman, the windswept island is the site of some of the Swedish filmmaker's greatest works, including Through a Glass Darkly, Persona, and Scenes from a Marriage. That's not to mention the number of documentaries that explore Bergman's obsession with the island, including his own, Fårö Document (1970), and Swedish documentarian Marie Nyreröd's Bergman Island (2006), with which Mia Hansen-Løve's newest feature, playing at the New York Film Festival this weekend, shares its name.
The fact that Bergman Island is actually the second movie to have such a title certainly isn't lost on Hansen-Løve, whose film is practically a scavenger's hunt of winks and nods to the legendary director. In it, Vicky Krieps and Tim Roth star as Chris and Tony, married filmmakers who travel together to Fårö for a writing residency at one of Bergman's old estates. Chris and Tony are both cinephiles, and the irony of sharing the bed from Scenes from a Marriage, "the film that made millions of people divorce," is not lost on them—though on the whole, they mostly seem content to leave the other to their own rhythms. Chris, however, is much younger than Tony (here one might find a parallel between Hansen-Løve and her own much older former partner, director Olivier Assayas), and as a result, more restless; writing doesn't come as easily to her, and she's not content simply hero-worshipping Bergman, instead questioning why his outlook was so bleak.
The film evolves into a nesting box when Chris begins working on her own Fårö-set script, and her screenplay takes over as the main story (starring Mia Wasikowska and Anders Danielsen Lie). Hansen-Løve's playful composition seems eager to explore Chris's question, if one can take a more hopeful view of the rugged landscape that also inspired some of Bergman's most tortured films. The charming result will delight optimists and Bergman diehards both.