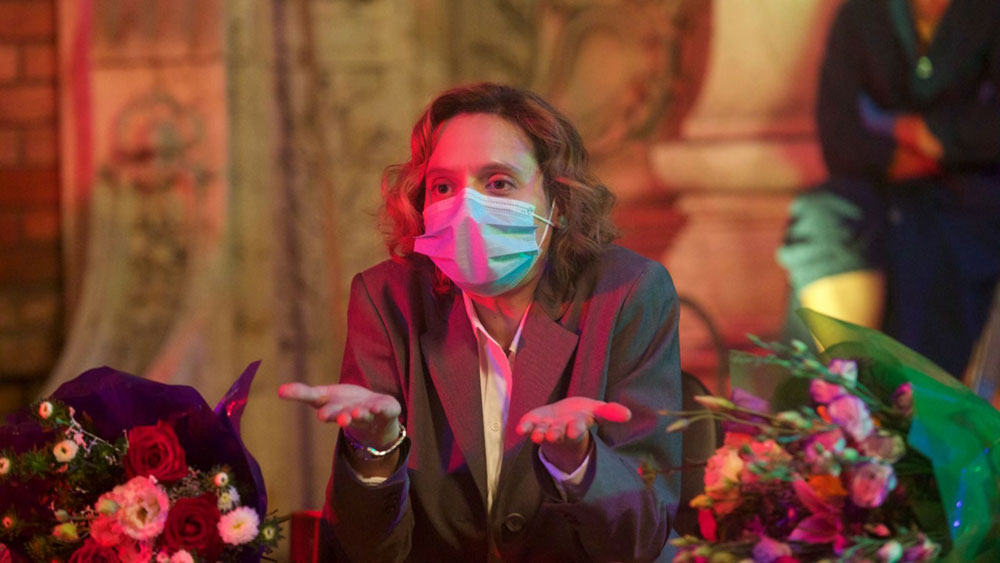 September 24th 2021
Bad Luck Banging or Loony Porn begins, as perhaps it must, with a sex tape. Emi (Katia Pascariu) and her husband Eugen (Stefan Steel) engage in foreplay while he wields the camera and struggles to maintain an erection. Emi wears a carnival mask and Eugen toys with a whip, but their congress is essentially vanilla flavored, the weekend-night adventure of a married couple whose sexual imagination has been conditioned by internet pornography. Director Radu Jude (Scarred Hearts) indulges our prurient interest in his subject at the top, addressing the remainder of the film to the consequences and resonances of this act of love and exhibition.
Emi is a history teacher at an elite secondary school. Her position is in jeopardy, we come to understand, because the aforementioned video has found its way onto the internet, and then onto her students' phones. The film (or "A Sketch for a Popular Film," as the subtitle would have it) is divided into three parts. The first takes place between the end of the school day and the beginning of a parent-teacher conference that evening.
In the streets and shops of Bucharest, Emi runs errands. The notice some passersby take of the camera is not a concern for the filmmakers, who even admit a startling interruption. The production's guerilla sensibility recalls a little Robert Frank's C'est Vrai (1990), in which orchestrated scenes emerge, but also unplanned moments of street life. In this film, the camera lingers on billboards and store window displays, often finding in the marketplace an erotics far more base than that which was captured in Emi's bedroom. The indignities inherent to checkout lines and crosswalks gradually accumulate, though our protagonist mostly keeps her cool.
She is absent from the second part, a "short dictionary of anecdotes, signs, and wonders" that takes its inspiration from The Devil's Dictionary by Ambrose Bierce. In found footage, original photography, and on-screen text, key terms like truth, military, and efficiency are defined (the last by a "non-stop" funeral home situated across the street from a hospital). It is a sort of primer on the Romanian political and social situation, by turns satirical and sincere, contextualizing the surrounding narrative.
The third part opens on Emi with a thermometer gun to her head. The pandemic is an underlying condition of the film, which was shot in the late summer and early autumn of 2020. Masks are ubiquitous, as is the public-health prattle with which we are all familiar. The school's courtyard has become an outdoor classroom, and now the site for a protracted inquisition. The film stumbles a bit through the baleful howls of indignant parents—its caricatures quickly become monotonous—but maintains Emi as a picture of resilience, eventually unleashing her full powers for a cathartic, choose-your-own-adventure conclusion.