Featured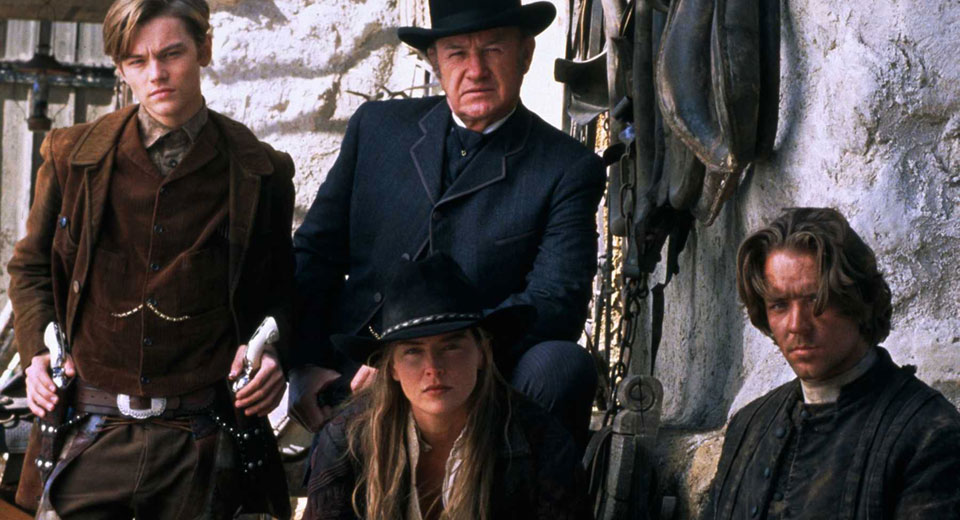 February 17th 2020
Gender theorist Tiina Vares identifies Sam Raimi's The Quick and the Dead (1995) (alongside Thelma & Louise, Terminator 2, and Tank Girl) as a 90s "killer women" movie that challenged audience expectations about aggressive protagonists in traditionally male genres. But shouldn't it give us pause that only one of these was directed — and only one written — by a woman (Tank Girl and Thelma & Louise, respectively)? The Quick and the Dead boasts only one non-dude above-the-line credit — star Sharon Stone, who co-produced — and the gaze it employs is male with a vengeance.
Visually and thematically, The Quick and the Dead is extraordinarily phallic. Cinematographer Dante Spinotti (of Heat fame) jabs his lens into his subjects like a bayonet, the intentionally gratuitous snap zooms thrusting like James Caan's drill in Thief. The camera sometimes appears strapped to the side of a gun like a GoPro, evoking Doom more than Django. Men fetishize various firearms (a Remington Army .44, a Smith & Wesson Scofield .45) and blow clementine-sized holes in each other's crania. Despite Sharon Stone's zealous commitment to toppling the frontier town's patriarch, Gene Hackman, she still ends up spending a drunken night with Leonardo Di Caprio and developing a crush on him. With this kind of frat bro wish-fulfillment, it's hard not to imagine false pretenses behind the female empowerment angle.
That said, it's still successful on the same terms as the Evil Dead trilogy: as a genre spoof with fanatical fidelity to its referents. The relegation of women to the role of jaded prostitutes, virginal innocents, or asexual rosary-fingering abuelitas is a hard fact in most OG spaghettis, as are the mythologization of stoic masculinity and the gross simplification of the racial dynamics of the American West. The Quick and the Dead takes these hypotheses about frontier society and stretches them to their limit, making them look as ridiculously ignorant as they are. There is also something Albert Maltz-like about the way it deals with the social dimension of Gene Hackman's despotism, the town's Latinx community pitching in to hire the region's only black gunfighter (Keith David) to kill their oppressor.
The sound design deserves kudos. The characters are hyperaware of their sonic environment; everything from beer being poured in a distant saloon to a gunman's leather gloves creaking are lent an ASMR-like effect by superclose miking. If Dead Man (1995) was an acid western, The Quick and the Dead is an MDMA western.