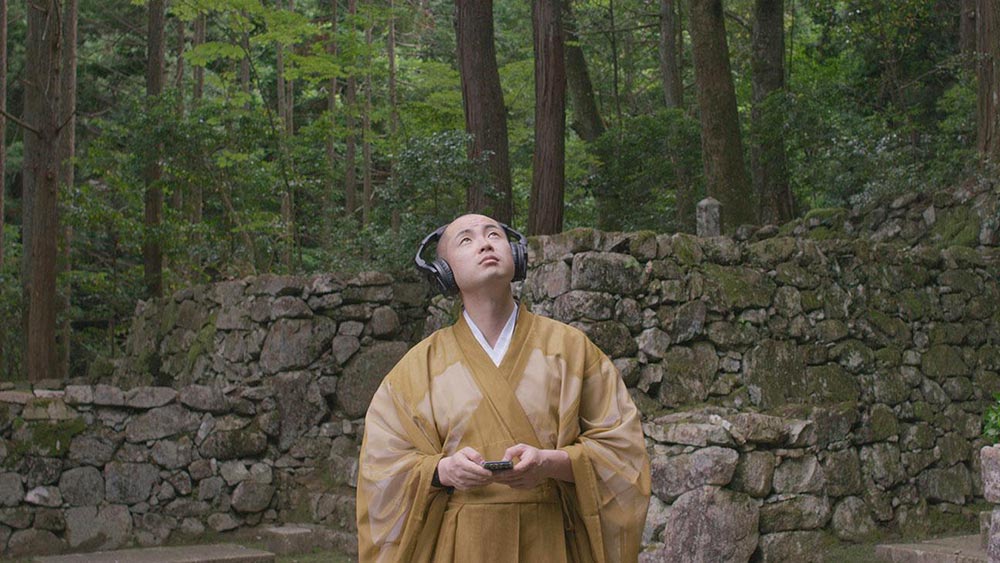 June 26th 2022
"Crows are white" is the wisdom passed to Ahsen Nadeem by a Buddhist monk of an austere and secluded monastery in the lush mountains outside of Kyoto. No matter what your master tells you, the adage means, you can never doubt them.
Nadeem, on a midlife-crisis pilgrimage that he documents in his debut feature, Crows Are White (2022), wants to speak with the monk closest to reaching enlightenment, part-way through a program of extreme physical endurance. It's a rare privilege to be able to visit their temple, let alone film it. During one of their most important ceremonies, Nadeem's phone goes off. "I could have sworn it was on vibrate," he murmurs as he drives away in exile.
While he pesters the temple for forgiveness, he wanders around Kyoto and eventually meets Ryushin, a monk with a mischievous and melancholy face who does all the lowly temple office jobs—the lowest-ranking monk on the mountain. Ryushin is a godsend to both Nadeem and the film. He's charming, warm, self-deprecating, and genuinely funny in a way that only the severely depressed can be. In his deadpan tone, he delivers all of the wisdom of the film like a tree casually drops its leaves. When Ahsen tells Ryushin's family that every morning he wakes up thinking about death and is scared, the three generations of monks burst into laughter. "If you go to hell, I'll go to hell to help you. I'll ask my Buddha," Ryushin assures him.
He is obligated to take care of his family and carry on their legacy, but outside of the temple, Ryushin takes Nadeem to Slayer concerts, eats ice cream, and looks at pictures of sheep on his iPad. Both men are modern children of capitalist desire and ancient religious practice. For Nadeem, Ryushin is a role model for straddling the two worlds.
Nadeem is marrying a woman named Dawn with strawberry-blonde curls and pale skin. His parents raised him on strict Muslim doctrine, which includes marrying other Muslims exclusively. He hides their relationship, and then their marriage, for nearly a decade; it's his private rebellion, slowly eating him from the inside. After years of attempts, he is finally granted permission to speak with the monk who has finally attained enlightenment—a living Buddha. Nadeem blathers on about his relationship problems until the phone rings and the monk says, Sorry, I gotta go.
Nadeem's self-interest dominates the film. When he finally decides to tell his parents about Dawn, she (in either a scripted conversation or one so self-conscious it appears so) tells him that it would be cruel to film their reaction. He proceeds with the confession on tape, prioritizing his personal quest over the dignity and privacy of others.
A blend of personal essay and documentary, Crows Are White awkwardly teeters between audacious entitlement and tenderness just as Nadeem wavers between his faith and his love. Intending to make a documentary about religion, he finds a friendship that helps him hold contradictory truths about his desires.
Crows Are White screens tonight, June 26, at BAM as part of "BAMcinemaFest."