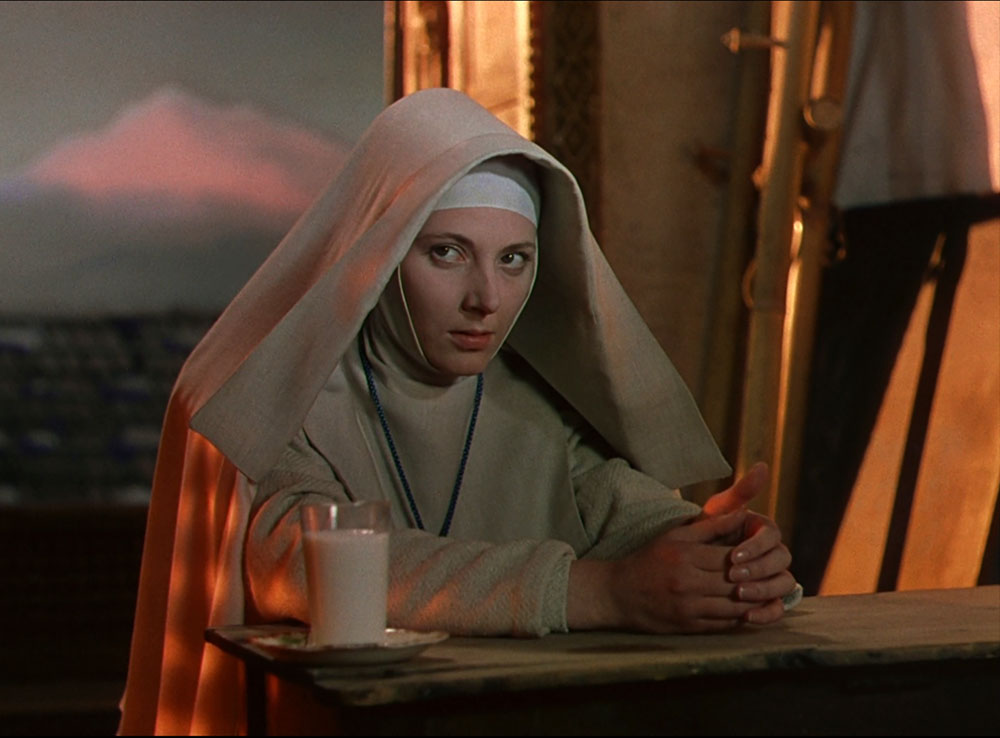 January 23rd 2022
A band of Anglican nuns attempt to convert an isolated Himalayan palace and former harem into a clinic and school, only to find themselves logistically challenged and psychically unmoored by their new surrounds. That's the slender gist of Michael Powell and Emeric Pressburger's Black Narcissus (1947), a story based on Rumer Godden's 1939 novel and recently revisited by a 2020 FX/BBC limited series whose screenwriter, Amanda Coe, describes the source text as "The Shining with nuns."
As in Kubrick's Overlook Hotel, the hypnotic effect explored and exerted by Black Narcissus is foremost a question of atmosphere—irreducible to plot, or even to the meticulous Technicolor vision composed largely at Pinewood Studios, for which cinematographer Jack Cardiff and art director Alfred Junge both won Academy Awards. Black Narcissus dramatizes an age-old conflict between spirit and flesh, embodied in double by Deborah Kerr's scrupulous Sister Clodagh and Kathleen Byron's demented Sister Ruth. Both are hot under the cloth for rugged English envoy Mr. Dean (David Farrar), and both actors were allegedly linked offscreen to Powell, who famously attested to the film's eroticism "in every frame and image, from the beginning to the end."
Yet it's not just "in" its images, but also between them, where desire and unease most vividly coemerge: as dissolves punctuate Clodagh's flashbacks to a verdant youth before vows, superimposing the hope of her past onto the present, so does the space of the clifftop palace—with a wildness sounded by perpetual wind, wailing under dialogue and drubbing blanched habits—summon longings that threaten the convent's very coherence. Their site may be remote, but its power is in conjuring a turbulent sense of proximity, such that seeing "too far" into the clean air, as Sister Philippa (Flora Robson) enigmatically laments, is as much about memory as mileage.
The film itself reproduces that vantage for its viewer, leaving us much to contemplate—not least the lingering dissonance of assigning the bulk of Indian speaking roles to white actors in brownface, or its infantilizing and orientalist attitude toward the villagers at large. In these aspects, Black Narcissus—aptly named for the floral Caron fragrance—is odiously of its time; in others, its controlled evocations of uncontrollable feeling are agelessly potent. After unthinkingly planting foxgloves in the cabbage patch, Philippa struggles to explain: "I think there are only two ways of living in this place .‌ . . Either ignore it, or give yourself up to it." Even as she says it, she knows the choice is an illusion. For better or worse, there is only ever surrender.
Black Narcissus screens today, January 23, at 3pm at Roxy Cinema as part of the series "Bad Habits," co-presented by Screen Slate.