Featured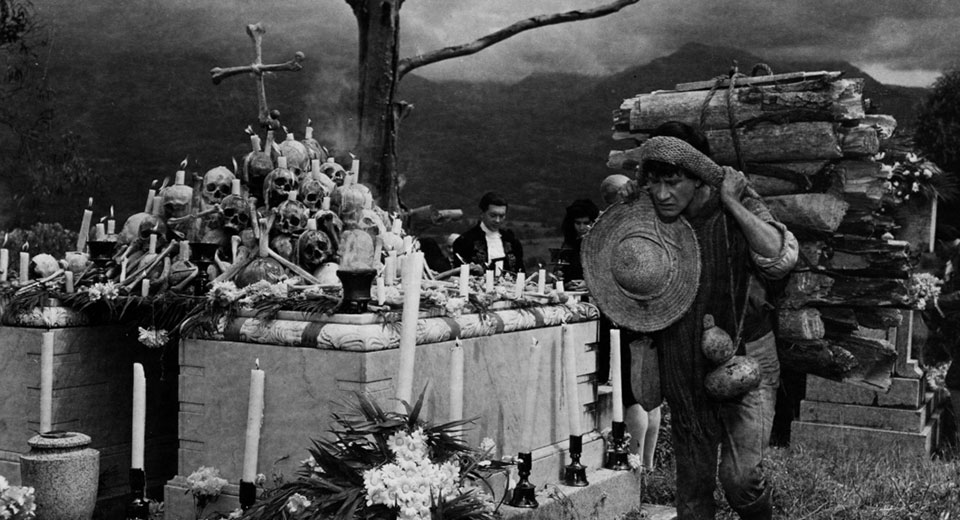 April 29th 2019
Ignacio López Tarso gives a melancholic performance as a peasant farmer in Macario, which plays on the final weekend of filmmaker Roberto Gavaldón's MoMA retrospective. Noted as the first Mexican film to be nominated for an Academy Award, Macario is part cautionary fable, part folk tale, taking place on Día de Muertos in colonial Mexico. With gorgeous cinematography by the celebrated Gabriel Figueroa and magical realist settings, Macario serves as a good entry point to a filmmaker seldom discussed amongst English-speaking audiences.
The story, like most fables, is fairly simple. A farmer afraid of his own mortality wishes to enjoy a meal all to himself for once without having to worry whether the rest of his family eats. When his wife, sympathetic to his request, steals and cooks a turkey for him, he takes it to the mountains where he encounters three men at separate moments asking if he can share with them. When he chooses the third, who bears an uncanny likeness to himself, the man reveals himself as Death and rewards Macario with a potion that will cure all injuries or diseases. Initially using it to cure an injury his son sustained, he soon gains wealth and recognition among the townsfolk for his miracles until he begins to draw the ire of other, more powerful people. One particular villain in the film is the Catholic Church, annoyed at being left out of the spoils and trying to put an end to Macario's miracles.
The church is not what brings Macario to his downfall, nor is it anything particularly sinister. The message at the start of the film remains the same in the end, even with Macario's miracle healing powers. All beginnings must have an end, or as his wife somberly notes: "We are born to die." Yet, Macario is such a sympathetic figure throughout the film that learning how he dies at the end still brings feelings of sorrow for what seems unavoidable.