Featured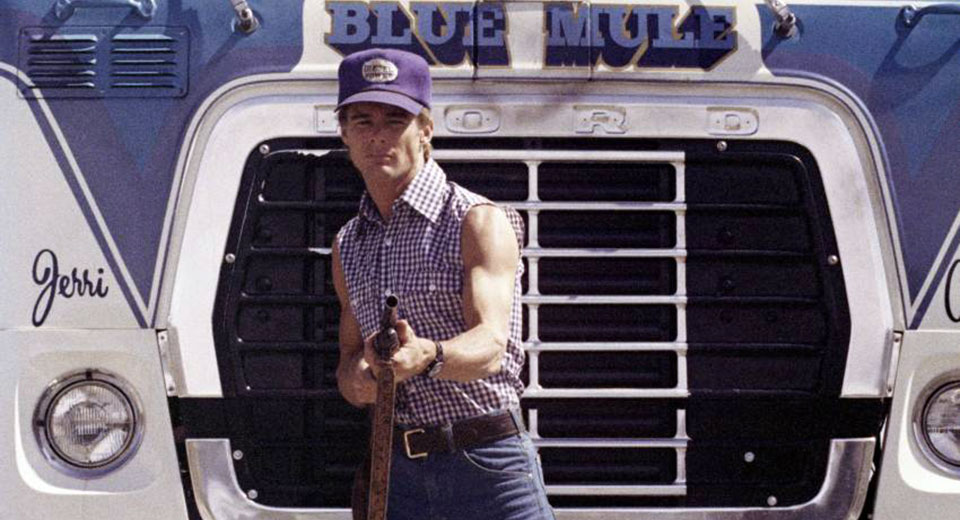 January 27th 2019
Jan-Michael Vincent leaves the U.S. Air Force to join the true backbone of this country as an independent trucker in Jonathan Kaplan's blue collar action flick White Line Fever. Despite a bone structure to rival Alain Delon, Vincent makes for a credible working class hero, replete with a vague southern twang and grit in his eyes. He sacrifices nearly everything in a fight to haul his way, without contraband or obligation to any corporate concern. While hardly agitprop, Kaplan righteously bestows more glory on his hero for hauling manure than for flying helicopters in Vietnam.
Vincent's Carrol Jo Hummer stakes every dime securing a loan for a rig called "The Blue Mule," thereby continuing the family tradition of independent trucking. He looks up an old associate of his father's, Duane Haller (a greasy Slim Pickens) who explains the way things have changed since Hummer's deployment: secreting slot machines and untaxed cigarettes in the trailers hurts no one but Uncle Sam, and all must go along to get along. Carrol Jo can't abide the chicanery and goes his own way, only to be blackballed across the industry by Haller and his boss, helmet-haired playboy L.Q. Jones. In a display as satisfying as it is implausible, Carrol Jo returns to Jones and Pickens brandishing a shotgun and demanding a haul. So begins a tit-for-tat of sabotage and retribution across a gorgeous southwestern landscape worthy of John Ford.
The buck doesn't stop with Pickens and Jones, who are several rungs down the ladder of Glass House, a staid corporate empire with interests in a trinity of toxic sectors: real estate, mineral rights and transportation. Kaplan sardonically puts Glass House's cabal of old dudes in a jacuzzi while they hatch schemes to end Carrol Jo's rabble-rousing. If his influence grows, they fear that all truckers will "think they got the god-given right to haul what they want to, when they want to." Unsurprisingly, their solutions are violence or a promotion to middle management. To their chagrin, Carrol Jo is a tough mother uninterested in yoking his brothers; he'd rather wreak spectacular vengeance.
White Line Fever streams on Turner Classic Movies through June 27, 2021