Featured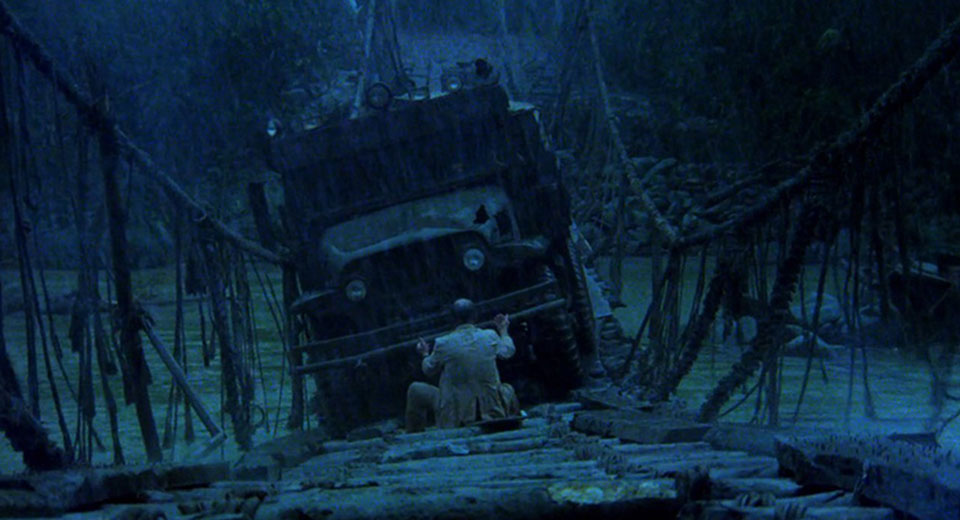 November 28th 2016
Sorcerer, William Friedkin's brilliant reinterpretation of Georges Arnaud's novel Wages of Fear, is dedicated to its original filmic adapter Henri-Georges Clouzot, and Friedkin's entry in this triptych offers new and tantalizing shades of misery to the fable of lost men on an impossible mission. Sorcerer manages, somehow, to bring more grit, sorrow and cynicism to the painful suspense and general existential dread of the previous iterations.
Four far-flung men commit their separate sins: a professional hitman (Buñuel-regular Francisco Rabal) pulls a job; an Arab terrorist (Amidou) executes a bombing in Jerusalem and is the only one of his group not killed or arrested; a driver (Roy Scheider) for an Irish-American gang in New Jersey crashes the car after a robbery and kills everyone, leaving himself as the last remaining target of retribution; and Bruno Cremer is a high class crook who fails to buy his way out of prosecution in aristocratic Paris. Friedkin conjures his anti-heroes from richly expressive worlds, with over a third of the movie spent soaking up their exquisite shames in each separate locale. This prologue, presented as a series of vignettes, is Friedkin's addition, which allows him to capitalize on his penchant for crime narratives and indulge in Hollywood backstory. One-upping the nihilism of the others, his leads emerge unsympathetic and the moral ambiguity of the novel and Clouzot's film are replaced by Friedkin's bald brand of cynicism and contempt.
All of the men, evading capture for the moment, must go to one of the places on earth so terrible that no one wants to look for them there. Enter a nameless South American village of eternal poverty, comprised of mud and chickens and tubercular men. There the four lie in filth until given the opportunity to make enough money to escape, by transporting highly volatile explosives through 200 miles of jungle in two tired, rickety trucks, one of which is named "Sorcerer". Friedkin calls the title "an intentional but ill-advised reference to The Exorcist" and it surely is—upon the film's release, distributors had to resort to putting "Not a film about the supernatural" on promotional materials—though it is arguably an improvement upon the film's ludicrous but apt working title of Ballbreaker. The local oil drilling operation, which is run by an American who dresses as if he's about to go on a safari, needs the explosives, somewhat inexplicably, to further blow up an exploded oil rig which is now a giant tower of raging fire. (From the novel: "You simply blow it out. But you have to blow hard.")
Friedkin's and Clouzot's films and Arnaud's novel are part of their own genre: stories of down-and-out Western men who, for one intriguing reason or another, are slumming it in the Third World. These men are often misunderstood or unjustly on-the-run, and they must deal with corrupt local police and spicy women while they try to clear their names, exorcise their demons or whatever it is that they must do in the humid surroundings. Sorcerer contains a mischievous awareness of these tropes. Early in the film, Bruno Cremer's wife (Anne-Marie Deschodt as Blanche) reads to him from the memoir of a French Foreign Legion officer whose take on murdering colonial subjects reads like an excerpt from French Existentialism for Dummies (and btw, father's day is coming up). The scenes of the Jerusalem bomb attack seem to reference Battle of Algiers—one is compelled to picture Friedkin watching it and excitedly taking notes. It goes without saying that the men's trip to purgatory could only be worse if they themselves were natives of the place. Sorcerer does indeed portray the native grief with slightly more depth than both Arnaud and Clouzot. Though not developed as individuals, the film lingers over the loss of life connected to the oil well explosion. Friedkin's barmaid love interest is a toothless native woman of the wise/silent persuasion, which is at least a change from Véra Clouzot (Henri-Georges' wife) as Linda, a silly woman who occasionally needs a good hard slap—a characterization that is true to the novel.
Sorcerer's original release in 1977, infamously on the heels of Star Wars and its attendant fever-pitch, is said to have doomed the film to semi-obscurity, exacerbated by discord between Friedkin and Universal and Paramount. Released just a month apart to such vastly different receptions, Sorcerer and Star Wars can be seen as divergent paths in American cinema. Sorcerer as one of the last gasps of the dark, pessimistic and intellect-driven New Hollywood era, and Star Wars as a giant ideological and formal reset button which knocked major points off our collective IQ. Aside from the dim commercial performance, Sorcerer was largely panned by critics upon release, but an eventual turn-about has many hailing the film as a masterpiece. It is well-deserved and overdue.