Featured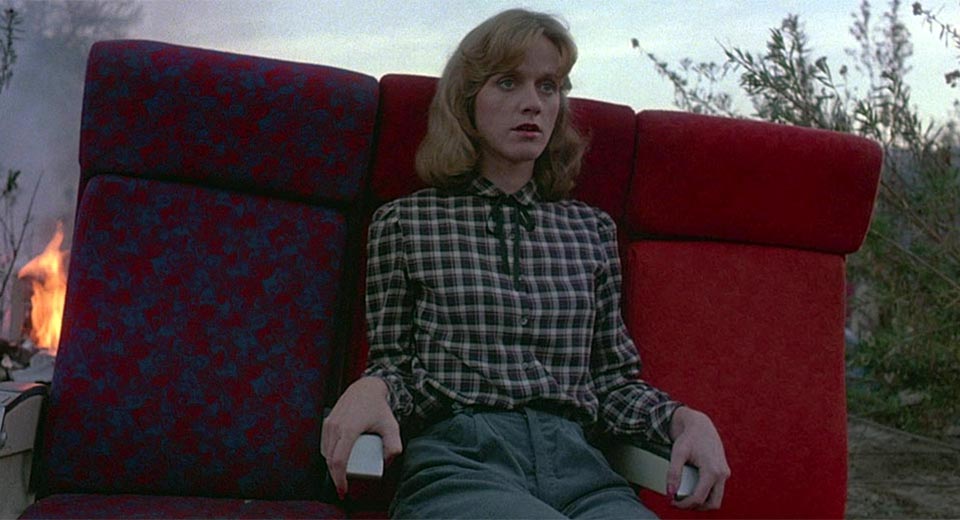 November 5th 2018
The set up isn't unfamiliar to the discerning horror fan: a plane crash, deadly but for a "sole survivor," whose fated end is now the first priority on Death's list. What makes this such an effective premise for the Final Destination movies is both that it allows for ever more creative murders-by-death, and that once it has been established that a mysterious force ungoverned by the usual rules of nature is hell bent on killing the protagonist, the film becomes a 90-minute-or-less topography of suspense. Such is true of Sole Survivor as well, a cosmic predecessor and singular horror film from 1984, written and directed by Thom Eberhardt (creator not only of cult classic Night of the Comet but also cultier, classicer Captain Ron).
Beyond this most basic plot, the film couldn't be more different (spiritually, aesthetically) from its successors—which might include It Follows, praised for its groundbreaking use of frightening interlopers staring and immobile in the background or moving too slowly to be immediately threatening, until they begin to approach and eventually attack our ill-fated heroine Denise and her friends and neighbors. An atmosphere of dread pervades eerily midday scenes of sometimes grisly, always random encounters with death. Elevators, parking garages, and empty stairwells all become the scenes of encounters with an increasingly impatient afterlife. Eberhardt's only earlier credit is a documentary short on the "difficult subject of stranger awareness," Better Safe Than Sorry; it's as though he's taken that public safety premise to a perhaps confusingly written but nonetheless uncanny conclusion.
Denise is played by Anita Skinner, co-star of Claudia Weill's Girlfriends, whose white sweaters and imperturbable blonde wings are just some of the many tropes—along with smooth flute interludes on a minimal, frightening soundtrack; low-budget effects that are terrifying in their simple and swift violence; an inexplicable game of strip poker—that situate Sole Survivor in a collection of atmospheric horror from the 70s and early 80s perfect for the last days of autumn. Screening in 35mm as part of the Drafthouse's Weird Wednesdays series, presented by Screen Slate's own Jon Dieringer.