Featured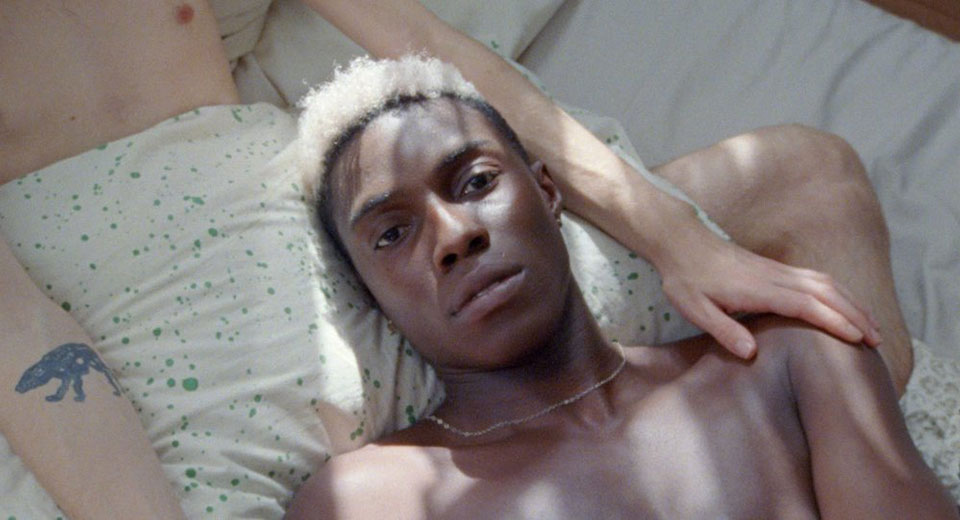 December 5th 2019
You know, there's something to be said for utopia. In So Pretty, Jessie Jeffrey Dunn Rovinelli shields her ensemble of queer femme characters in a warmly hued, softly glowing solipsis. For those of us used to finding solace in queer films set in interiors of barren, lonely isolation — Akerman is an obvious reference point — this can feel pretty radical. Imagine if Julie in Je Tu Il Elle had an adoring community to make her bed and pour her coffee to have with her granulated sugar. In So Pretty spaces of solitary reproductive labor are filled with exclusively trans and genderqueer people sharing the work, caring for each other, and engaging in light and lofty conversation. The screen protects them from the outside world. When cis people do appear, such as when an older woman persistently asks to take the group's picture at a protest, it feels foul, like an intrusion.
The film loosely follows the act of translating the 1980s novel So Schön, written by the German author Ronald M. Schernikau. A character played by the filmmaker is deep in translating the book, and her coterie of friends take turns reading from it in interstitial scenes. The narrative of the novel takes a sort of liquid hold over the friends' lives: when an argument over whether a word should be translated to suggest Schernikau is advocating for coupledom or group love, the film slyly explores both.
Rovinelli is well aware that the delicate peace the group has found — as they go out dancing in Bushwick, eat, chat and spend days in bed — is unrealistic in the context of 2019. Danger seeps in eventually, but it's glimpsed in merciful brief, without violence and in a way that doesn't overtly focus on hatred or bigotry.
Bill Kirstein, who also shot Rovinell's first feature, Empathy, returns and their collaboration once again yields a delectable, patient atmosphere that is a perfect match for Rovinelli's quietly chaotic group direction. If the coda of Empathy has lingered in your memory the last few years, So Pretty contains multiple moments just as unshakably dreamy. So Pretty is a balmy sea to momentarily float in, a dialectic Gatorade to replenish with before being thrust back out into the exhaustive brutalism of the current moment.
A 35mm print of So Pretty and Rovinelli's short Marriage Story screens at Roxy Cinema Tribeca Saturday at 5:00pm (with Q&A) and Sunday