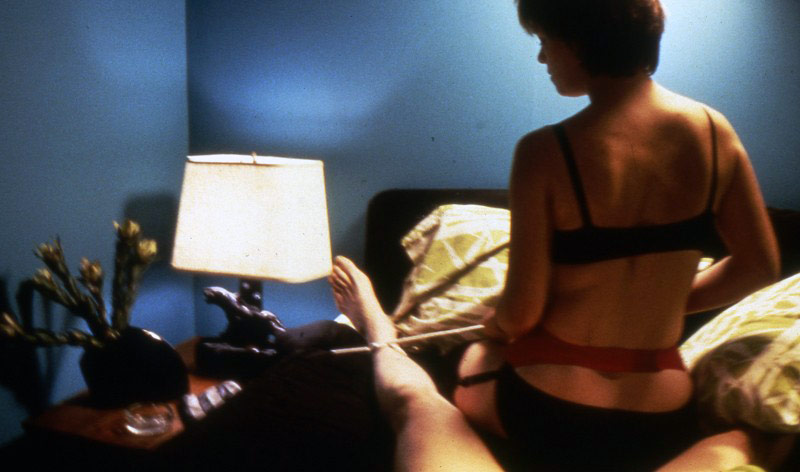 March 31st 2020
It's been about a week since New York City shut down non-essential businesses in response to the spread of Covid-19, and one thing is absolutely certain: we're all supposed to stay at home for an indefinite amount of time to avoid infection, unless we're all supposed to go back to work as soon as possible and miraculously resurrect the economy. As an offering to those cooped up in social isolation, the American auteur Lizzie Borden uploaded her 1986 film Working Girls onto YouTube, tweeting out a link with the message, "Please stay safe, especially sex workers."
Borden is best known for Born in Flames, which looked to the future and envisioned an armed feminist uprising in a Socialist America. It's a celebrated work of underground New York cinema, a scrappy, visionary and truly independent film. Working Girls, Borden's third feature, has a more conventional Cinemax look, but its worldview is just as radical.
The film depicts a day in the life of Molly (Louise Smith), a photographer who supports herself with a few shifts a week at an upscale brothel in Midtown Manhattan. In other hands, Molly's double life might be played for titillation, but Borden's approach to her material — informed by a months-long research process — is decidedly unromantic. Her attention lingers on the mundane details of the job: book-keeping, lunch orders, handling contraceptives and laundry. The sense of routine extends into the bedroom, as Molly and her coworkers repeat the same instructions to each client to get them to strip and shower. Like Chantal Ackerman's Jeanne Dielman, Working Girls links sexual and reproductive labor into a life-consuming churn of tedious little chores; unlike Jeanne Dielman, the script has some great one-liners.
It's a funny bait-and-switch, a sexy peep into the underworld revealing a micro-managing madam lecturing her girls about keeping the reception area clean. Molly's boss wheedling her into picking up an extra shift will be familiar to anybody who's ever earned an hourly wage. Rather than present Molly and her coworkers as objects of pity, Borden asks her viewers to relate to them, an idea which unfortunately remains as transgressive in 2020 as it did when the film was first released.
Another film made available for social isolation streaming is Jessica Dunn Rovinelli's 2016 Empathy. It's not under a paywall, but she has her Venmo in the video description for tips. The film is a documentary portrait of Em Cominotti, a friend of the filmmaker, who works as an escort and struggles with opioid addiction.
Like Borden, Rovinelli also takes interest in the quotidian aspects of sex work, but Empathy is a more confrontational film than Working Girls. Rovinelli favors long takes, lingering on Em packing a work bag, taking a shower almost in real time. She observes her covering track marks on her arms with makeup before meeting a client, and remains in the room for the appointment with the same neutral, unflinching gaze.
An early scene finds Em whimpering in her windowless bedroom as she suffers through withdrawal. She's just left her native Pittsburgh for the more lucrative escorting market in New York City, and is making an attempt at quitting heroin. The cold turkey is not only brutal, but it also doesn't stick, and Em continues bouncing from city to city trying to kick her habit. Em's pursuit of her own basic needs drives the film; she is constantly seeking housing, money, a way to manage her addiction. The film is a document of a woman keeping herself alive.
Empathy is a bracing cure for the feelings of nostalgia brought up in me by isolation. As the government throws money at flagging corporations and slouches towards the stingiest, heavily means-tested aid for actual people, as leaders preach personal responsibility to avoid getting sick in place of expanding access to treatment, Em's struggles in the midst of the opioid crisis provides a useful perspective. These circumstances are not new, but an expansion of what for years has been the status quo for millions of the most vulnerable people in this country.
Working Girls  (YouTube by filmmaker)
Empathy  (Vimeo by filmmaker)
Whose Corner Is It Anyway (mutual aid fund)