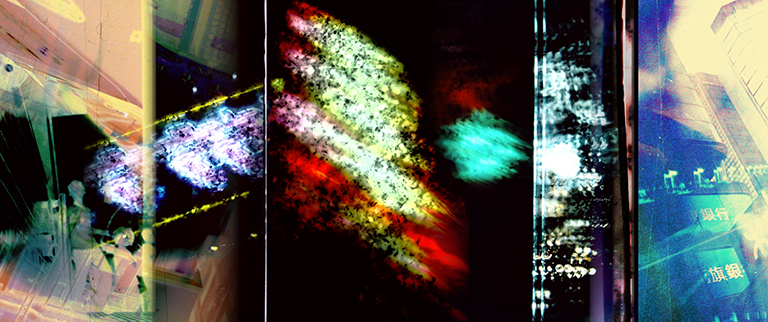 July 16th 2020
Thursday, July 16 at 8PM EST / 8AM HK
Artist in pre-recorded discussion with Tiffany Sia
Co-presented by Speculative Place
Watch at twitch.tv/screenslate
Screen Slate is pleased to partner with Speculative Place to co-present a screening and conversation of artist Simon Liu's films and videos comprising three completed works and three short "video sketches." Liu's work builds a lyrical catalogue of the rapidly evolving inner and outer landscapes of his place of origin in Hong Kong through alternative documentary forms, abstract diary films, multi-channel video installations and 16mm projection performances. These films act as a storage mechanism which offer potential re-examinations of the city's history and Liu's shifting notions of selfhood as a person of Chinese/English decent who was born in a former British colony.
Program (Descriptions by artist):
Pre-Show: Hong Kong Music Videos
1) E-Ticket (2019, 13 min)
"A film sixteen thousand splices in the making. E-Ticket is a frantic (re)cataloguing of a personal archive and an opportunity for rebirth to forgotten images. 35mm photographs and moving pictures are obsessively cut apart, reshuffled then tape spliced together inch by inch in rigid increments. Views swipe between a school trip to India then culminate with a protest of a 2005 World Trade Organization summit in Hong Kong. My photographs may have all been cut up and mixed around, but at least they're all in one place now. A retelling of Dante's Inferno for the streaming age; a freedom of movement reserved for the modern cloud."
2) Highview (2017, 20 min, also presented as 16mm Quadruple Projection or 35mm print)
"Upon the North Point a torrential downpour of instants tease their way into sight, but never fully form. Shutter-induced memories reduced to speckles, dissipating into fog. Here, my initial disappointments in a material defect morph into opportunity - satisfying an itch to melt instances together, to see any number of places as one.
I want to go home. These images were meant to show us what goes where - but I can't make out the path. Maybe we should lay them all out on the floor and try to put the pieces back together. In another five days, I'll need to leave."
3) Signal 8 (2019, 14 min)
They said a storm is calling this way but we're still waiting. Lives carry on in Hong Kong as traces of civic upkeep morph into sites of remembrance. Decorative structures mimic nature then occasionally malfunction - transforming common spectacle to warning signs. The light urges to tell us something but can't quite get its point across, patience tested for another day.
Total runtime approximately 45 minutes
Followed by discussion with Tiffany Sia
Simon Liu was born and raised in Hong Kong and now lives in Brooklyn, NY. Liu's films and performances have shown at the New York Film Festival: Projections, International Film Festival Rotterdam: Tiger Short Competition, Toronto International Film Festival: Wavelengths, Sundance Film Festival, New Directors/New Films at MoMA & Film at Lincoln Center, British Film Institute, M+ Museum, Tai Kwun Contemporary, Cinéma du Réel, Light Industry, Sheffield Doc/Fest, and "Dreamlands: Expanded" with the Whitney Museum of American Art & Microscope Gallery. An upcoming solo-presentation of Liu's work will take place at the Museum of Modern Art in New York as part of their ongoing Modern Mondays series. Liu is a 2019 Jerome Hill Artist Fellow, a teacher at the Cooper Union School of Art, and a member of the Brooklyn based artist-run film lab Negativeland. Liu is currently in post-production on his first feature film, Staffordshire Hoard.
Tiffany Sia is an artist, independent film producer and founder of Speculative Place. Tiffany is the author of 咸濕 Salty Wet, a series of anti-travelogues on distance and desire within and without Hong Kong. The first volume was published as a chapbook in 2019 by Inpatient Press. 咸濕 Salty Wet is in Tai Kwun Contemporary's Artists' Book Library collection and Asia Art Archive as part of the collection of print materials made in response to the Anti-Extradition Bill protests. Tiffany is the Executive Producer of Adam Khalil and Bayley Sweitzer's feature-length film Empty Metal (2018), as well as Adam Khalil and Zack Khalil's forthcoming documentary feature, Ancestors in the Archives.
Speculative Place is an independent project space in Hong Kong hosting residents working on film, writing and art, connecting a geographically-dispersed community of new voices.