Featured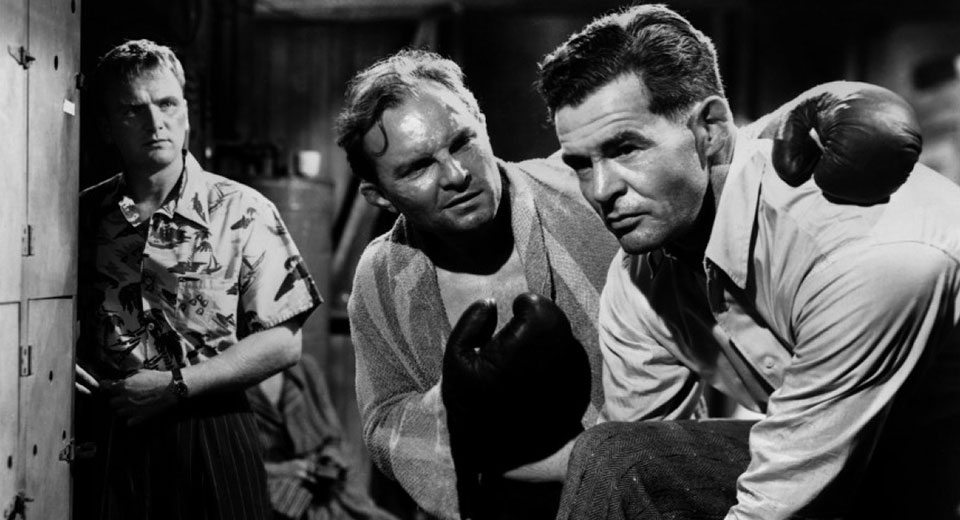 June 11th 2017
How many times have you read "Based on a Poem by" in the opening credits of a boxing picture? For me, the answer is exactly once: in The Set-Up , Robert Wise's [very] loose adaptation of Joseph Moncure March's eponymous 1928 longform ode. March's original text—which is fine, you can read it here—is more shocking than tragic, brimming with outmoded racial clichés and ugly half-truths about the sweet science. Wise's adaptation, starring Robert Ryan as aging heavyweight "Stoker" Thompson, dispenses with these lurid aspects to great advantage.
Thompson's upcoming opponent is, what else, a hungry up-and-comer, and Thompson's manager has grown weary of hitching his wagon to a stumbling nag. The usual fate reserved for washed-up fighters is only dangled here, teased out as the half-baked promise of a little cigar stand or coffee shop. The 40-or-so-minutes leading up to Thompson's final bout (the film is a scanty 72) keeps his sacred vocation at arm's length. He hovers on the periphery of every room, hanging on the fringes of a locker room reunion, brow furrowed and eyes fixed on the middle distance, thinking of that final $500 purse. Across town, doting wife Julie (Audrey Thompson) wanders in and out of storefront museums and amusement halls, begging off her duties as a ringside widow.
The Set-Up has that familiar scent—stale tobacco and Greek dramatic irony— but Wise never reduces this to another tired yarn about an "underdog" with "one last fight." Instead, he leans heavily on his supporting cast to illustrate every dark corner of the sport. Thompson's colleagues run the gamut from cauliflower-eared veterans to Catholic gamblers, even a soft-faced neophyte with a wicked case of pre-fight jitters. Short or tall, fat or lean, they are at once opponents and cousins, a family of fighters with a bottomless capacity for hope. Their camaraderie is bent, but never broken, which is more than you can say for most bones and promises.