Featured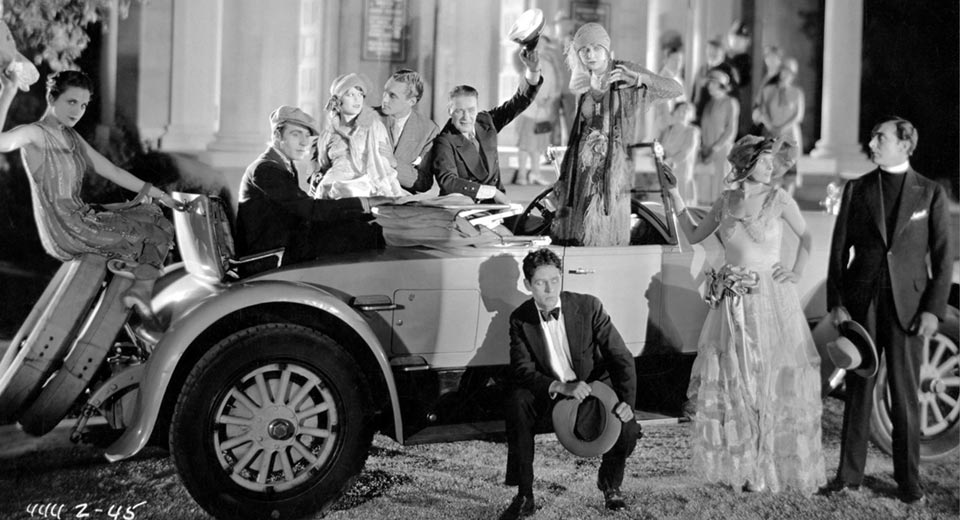 May 4th 2017
Much like The Great Gatsby, Lois Weber's 1927 film Sensation Seekers is a quintessential Jazz Age text. Scandalous rich girl Egypt Hagen runs around with an equally wealthy, unmoored crew, including Ray, her boyfriend and hypothetical fiancé. Egypt has a philandering, absent father, an overly-devout mother and no direction in life. After Egypt gets busted in a prohibition raid, her mother begs the village's handsome new priest, Reverend Lodge, to help get Egypt back on the right track. But as they get to know each other, Egypt and Lodge find themselves…in love. But what about Ray, and the gossipy villagers, and Reverend Lodge's reputation?
For most of the last 90 years since it was made, Sensation Seekers has either been unavailable, or, relatively recently, only on a grubby, truncated print. This new restoration, world premiering at MoMA,  is accompanied by a new jazz score from Vince Giordano and the Nighthawks Orchestra. The film's little details—from Egypt's diamond necklace to the sun off the ocean waves—sparkle, and it is so satisfying to clearly see the inventive costume work in all its glory. Egypt's wardrobe captures what makes 1920s fashion for women so fun: when she is arrested at the speakeasy, Egypt is wearing a white tuxedo, bow tie, porkpie hat with curly Clara Bow hair and dark Theda Bara makeup. In another scene, she sartorially echoes silent diva Bara again, coming to a costume party in a riff on Bara's famous Cleopatra look. The film is a feast for the eyes.
Weber's direction is, thankfully, sympathetic to Egypt. Her ostracization by the town busybodies is portrayed as cruel and unjust, and the two sides of Egypt—fun-loving party girl and plaintive, self-reflective black sheep—are in concert, not competition. As Egypt, silent actress Billie Dove is effervescently charming, drawing pathos from Egypt's plight—because who hasn't loved someone they shouldn't? Weber, the first American woman to direct a feature film, paints Egypt as a manic pixie dream girl (cinema's first?), but one with a rich, relatable internal life—more than many modern filmmakers are able to do.