Featured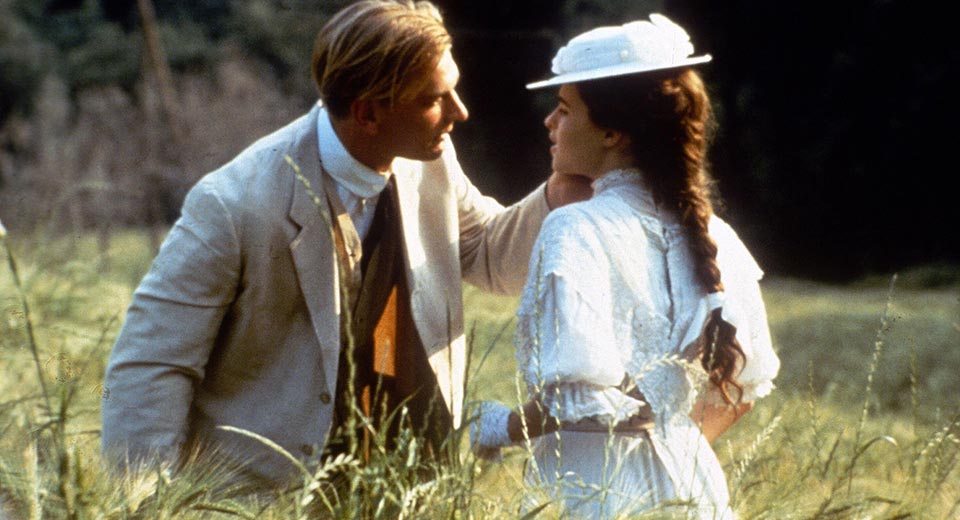 June 11th 2018
Nonagenarian filmmaker James Ivory, fresh off of his first win at the Academy Awards in March, will be on hand for a screening of his 1985 E.M. Forster adaptation A Room with a View at Quad Cinema this evening. To the neophyte, the most surprising thing about this film, and many of Ivory's other works, is how nimble and loose it is, given the director's reputation as the epitome of stuffed-shirt cinema. Ivory's direction of Ruth Prawer Jhabvala's wry script has more comedy than romance, though it offers plenty of the latter to audiences susceptible to the charms of star-eyed romances that bloom at first sight.
On holiday in Florence near the turn of the century, Lucy Honeychurch (Helena Bonham Carter) encounters an eccentric journalist, Mr. Emerson (Denholm Elliott) and his morose son, George (Julian Sands). When not questioning existence or shouting his mantra of "Beauty, Trust, Joy!" from a treetop perch, George takes notice of Lucy, whose chaperone ardently guards her innocence. The senior Emerson, possessing progressive insensitivities to class barriers, encourages Lucy to shake George from his brooding. The youths meet in a picturesque barley field, where George plants an unbidden kiss before Lucy's chaperone whisks her back to England. There she must consider a proposal from the farcically pretentious, though well-bred, Cecil Vyse (Daniel Day-Lewis) while the Emersons, by coincidence or fate, rent a room in her village. Lucy wavers between the gentility of her upbringing and the radical embrace of the passions exemplified by the Emersons. She enjoys Beethoven, which her mother claims makes her "peevish" and is drawn to scenes of street violence in Florence, yet seemingly accepts the prescribed expectations of her station.
Ivory's novelistic approach follows meanders and stray threads as Lucy contemplates her decision. The script contains far more characters than subplots, leaving most of the sterling cast to indulge characterizations without narrative urgency. Ivory undermines his fussy Victorians by cutting abruptly between scenes, creating pockets of fresh air and a percussive rhythm at odds with the milieu. Far from stuffy, the film unspools as a murderer's row of English actors (add Dames Judi Dench and Maggie Smith to the list, as well as Simon Callow) inhabit mildly comic sketches concerning the new century's embrace of the body.