Featured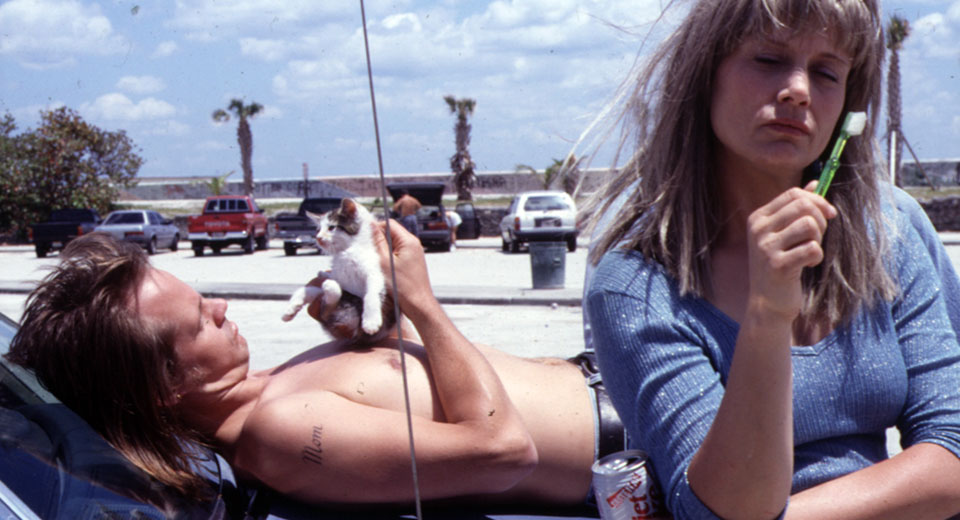 September 10th 2017
Kelly Reichardt's knack for shot compositions runs deeper than her technical training in still photography—through an intuitive balance of geometric weight with negative space, she viscerally and succinctly evokes mood, character, and place. In her debut River of Grass , screening tonight at MoMA on the opening night of her career retrospective, she turns her camera on a pair of criss-crossing overpasses that swoop over an earth-bound car, forming a loop around a patch of sky. The enclosed swatch of blue isn't quite a void, but some sort of unfillable, unquantifiable expanse.
Rooted to the ground below is Cozy (Lisa Bowman), who runs us through a brief autobiography over photo album remnants and Super 8 footage; she's had two kids with her high school sweetheart but longs for deeper fulfillment, indefinite and out of reach. On her way to the local bar to break the mundane routine of the evening (she slips out the door in the background, while her infant child is left unattended on a couch in the foreground), she's almost run over by Lee (Larry Fessenden, on hand with Reichardt tonight for a Q&A). The two strike up a conversation at the bar, attempting a chemistry that's never quite there, but they're soon inextricably linked thanks to a gun that Lee found on the side of the road...which might belong to Cozy's dad (Dick Russell), a jazz drummer-turned-cop. He's named his daughter after jazz drummer Cozy Cole, and drum fills pepper the soundtrack as a reminder of his passion—as Cozy wonders aloud what role her parents' tendencies might play in determining her fate (her mom walked out on the family when she was ten), she's soundtracked by rumblings of the life her father had before finding a more stable day job.
You could call it an intersection of Badlands, Stranger Than Paradise, Wanda, and the photography of Robert Adams, but Reichardt opens the world of River of Grass into a contemplative space of its own. She even allows us to overhear Cozy's internal monologue in voiceover, originally a logistical choice since Bowman could only afford to spend seven days on set, but it's equally as meditative as it is expositional. Cozy mentions that she'd once spent an afternoon trying to calculate how many hours she'd been alive, as well as how many she still had left to live. Her need for an active escape continually pits her against the very constraints she's trying to break; the first taste of the potential for rebellion fuels her fire.