Featured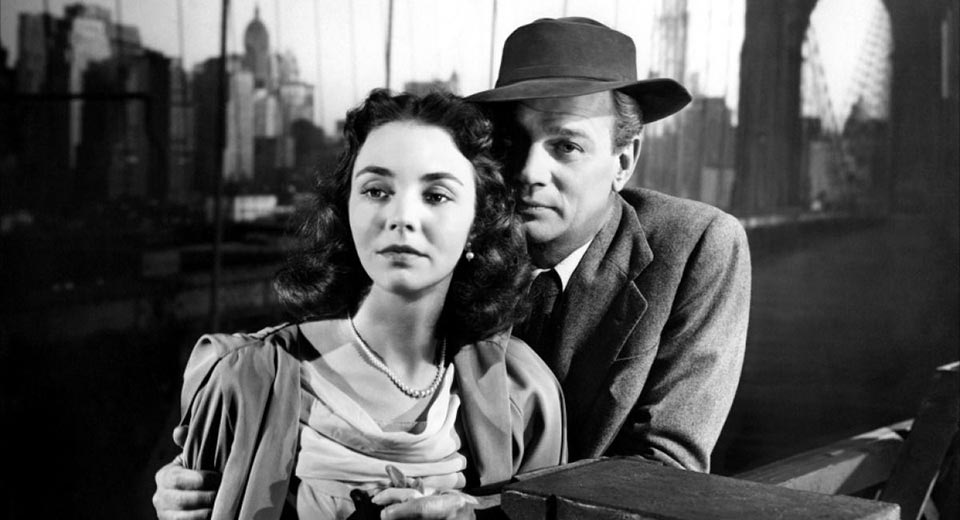 February 4th 2019
William Dieterle's melodrama Portrait of Jennie (1948) is about an exceptional painting born of a consuming love, but also itself a portrait of another Jennie: its star, Jennifer Jones. Jones, who plays a traumatized young woman, was no stranger to psychiatric problems, experiencing bouts of clinical depression throughout her life, eventually losing her daughter to suicide and starting a foundation to combat the stigma associated with mental illness.
Struggling artist Eben Adams (Joseph Cotten) tramps the city's wintry streets toting his mangy portfolio. In Central Park he runs into Jennie (Jones), who dresses like a ten-year old from 1910 but looks eerily maturer. She makes up a story about her trapeze artist parents, teaches Adams an old-timey children's song, and runs off. Over the following weeks, the two run into each other repeatedly, with Jennie seeming to have aged by several years each time. Adams investigates and finds out that Jennie's parents died decades earlier, providing an explanation for her dissociative state. He sets out to paint her, cure her, and spend the rest of his life with her.
Producer David O. Selznick—whom Metrograph's series is a tribute to—had teamed Jones up with Cotten twice before: in Since You Went Away (1944) and in Duel in the Sun (1946). Along with Dieterle's other Jones-Cotten pairing, Love Letters (1945), Selznick's films turned the pair into a screen couple on a par with Bogart and Bacall. Posters of Portrait of Jennie billed them as "the screen's most romantic team," and the film delivers on its promise. Of course, there's a certain naïveté that has to be expected in screen romances of this period, which permits exchanges like the following:
Jennie: I just graduated from college!
Adams: That's wonderful! Now we can be together always.
Characters fall in love in five minutes and are henceforth unconditionally committed to each other. It's nice, but there's something desperate about it. Imagine if people really lived like this? Maybe we would if our expected lifespans were 90 minutes.
Movies about artists are often embarrassing (Edward G. Robinson in Scarlet Street? Kirk Douglas in Lust for Life? Charlton Heston in The Agony and the Ecstasy?) and often reveal cinema's younger sibling envy of the six traditional arts. Still, despite its epigraphs from Euripides and Keats, its Debussy-inspired score, and shots superimposed over canvas textures, Portraitmanages to be more earnest than precious.">