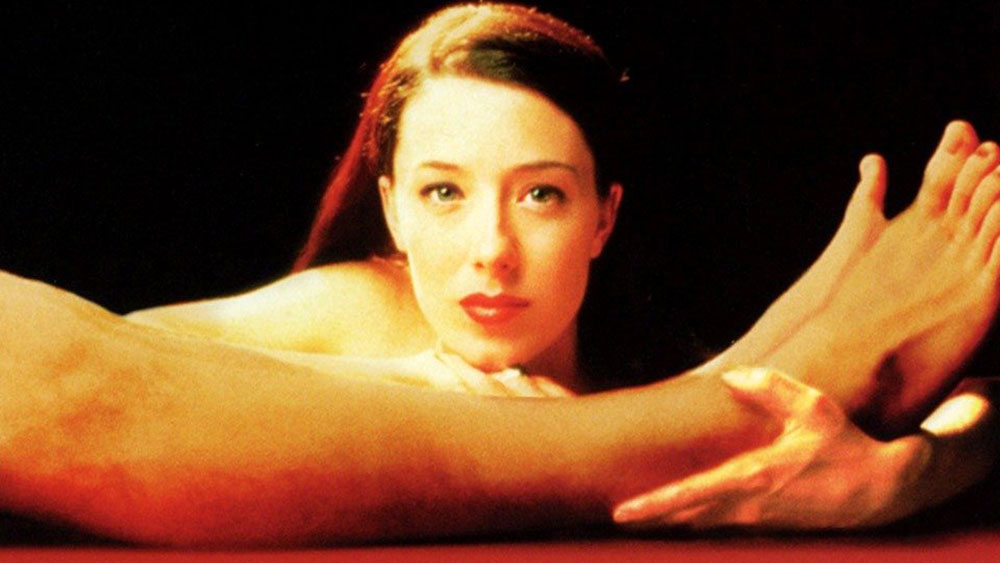 July 7th 2021
As a teenager with a growing interest in salacious content, I was immediately gripped by the premise of Kissed (1996). A young woman, transfixed by death, takes a job at a morgue and starts having sex with male corpses. When I watched the movie then, it was far tamer than I had hoped and my pervy virgin self didn't deem it worthy of a repeat viewing — as, for example, Nagisa Oshima's In the Realm of the Senses had. Revisiting it years later, I now appreciate the restraint. As flawed as it may be, Kissed is in a league of its own.
Sandra's (Molly Parker) fascination with death begins with a dead bird. She's not afraid to seek intimacy from its lifeless body, cradling and smelling it, running it across her skin. While still in high school, she starts working at a morgue and takes the opportunity to get physical with a dead young man; soon "crossing over" has become a serious habit. She becomes a student of embalming, the easiest way to ensure continued access. When she meets Matt (Peter Outerbridge), he senses something unusual in her, eventually putting the pieces together. Her obsession becomes his, and soon he's begging her to treat him like her corpses. He puts on a suit and powders his skin deathly pale — desperate, as men are wont to be, to find a way to make it all about him — but it just isn't the same for her. It isn't enough for him that Sandra trusts him with her secret; he wants to see it in action, and if she won't let him observe, he's got another idea of how to center himself in her world.
The debut of Québécoise director Lynne Stopkewich, Kissed began as a thesis project — and it shows. The abundant voice-over narration and hamfisted visual metaphors, including bathing Sandra in light as she climaxes, are known tropes of novice work. It also feels exactly like the kind of movie that would end with a Sarah McLachlan song, which it does. But Kissed's Canadianness is palpable in more than just its use of a native Nova Scotian's music: in its production values, its locations, its uncanny casting. It gave Molly Parker, a British Columbian, an important early career boost, a career that would lead her back to morbid themes in her turn as a rabbi on Six Feet Under and again in her most memorable role as Alma Garret on Deadwood. All in all it is a rousing little movie, going down easy at 78 minutes, with a special end credits section for the actors who played cadavers.
Kissed is available to rent on Prime