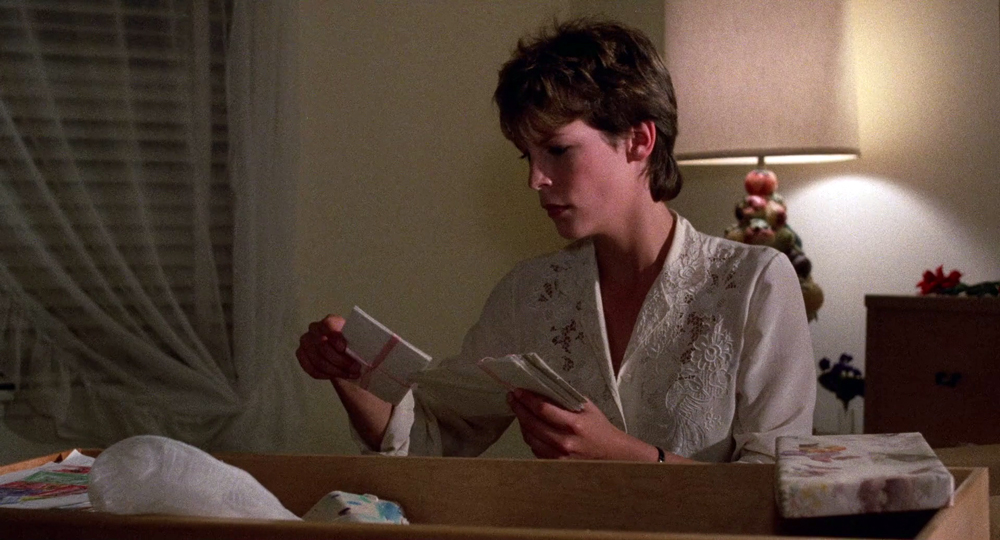 April 29th 2021
Love Letters opens with Jamie Lee Curtis waking up to a loud bang, a moment that recalls both the startled heroine in the opening of director Amy Holden Jones's directorial debut, The Slumber Party Massacre (1982), and Curtis's signature look of terror in the slashers that launched her career. Jones was riding on producer Roger Corman's good graces after the success of The Slumber Party Massacre, so he financed her decidedly less sensational sophomore film, with the requisite nudity of his productions.
Following the death of her mother, Anna (Curtis) discovers a trove of old letters from a lover her mother had since Anna was a young girl. Anna begins an affair of her own with an older married man, Oliver (James Keach). Though Oliver makes it clear that he can't offer her much, she's drawn to him, all the while obsessing over her mother's epistolary romance. Anna starts to regret that her mother's lover did not push her to escape her miserable husband — even at the cost of abandoning Anna herself. As she becomes more obsessed with Oliver's family, she starts directly copying sentences from the letters into her own pleas. Arguing that "sometimes doing the wrong thing is what's right," she raises the stakes to force an outcome. (Jones has said she was inspired by imagining what it would be like for her own children to discover letters she had written before she was married, by the idea that children don't know their parents out of the context of the family.)
Love Letters is like a Classical Hollywood "woman's picture" playing by the rules of the 1980s. Jones handles Corman's nudity requirement well, without a creepy gaze on Curtis (though Jones has talked about regretting having to include so much flesh, she acknowledged it was the only way to get the movie made). There are sex scenes with remarkable intimacy, sweaty and fierce, and we have a well-rounded picture of Anna's life outside of the affair, as a radio DJ very involved with her station. We see how the affair consumes her, influencing choices that could advance her career.
Jones started as an editor, working on a few Corman features. She had the opportunity to cut E.T. but wanted to transition to directing, and Corman urged her to show him what she could do. Based on Rita Mae Brown's original script, The Slumber Party Massacre proved to Corman that Jones could work well under tight budget constraints. Jones has said she was always impressed that Corman employed many women in production, and it is true that several women filmmakers got their break because of him (as well as many successful male directors such as Martin Scorsese and Jonathan Demme). Nudity requirement aside, it is remarkable that Corman would back something so melodramatic and personal as Love Letters.
Turning down future box office hits (such as Teen Wolf), Jones went on to direct two more features — Maid to Order (1987) and The Rich Man's Wife (1996), both flawed but fascinating. She's had more success as a screenwriter (credits as wildly divergent as Beethoven and Indecent Proposal) and most recently as the creator of Fox TV series The Resident. Though The Slumber Party Massacre is to date her most popular achievement, Love Letters is worthy viewing for imagining an alternate universe in which a woman director's success is followed by a risky passion project.
Love Letters is available on Prime, Tubi, Pluto, and on Blu-ray from Kino Lorber.