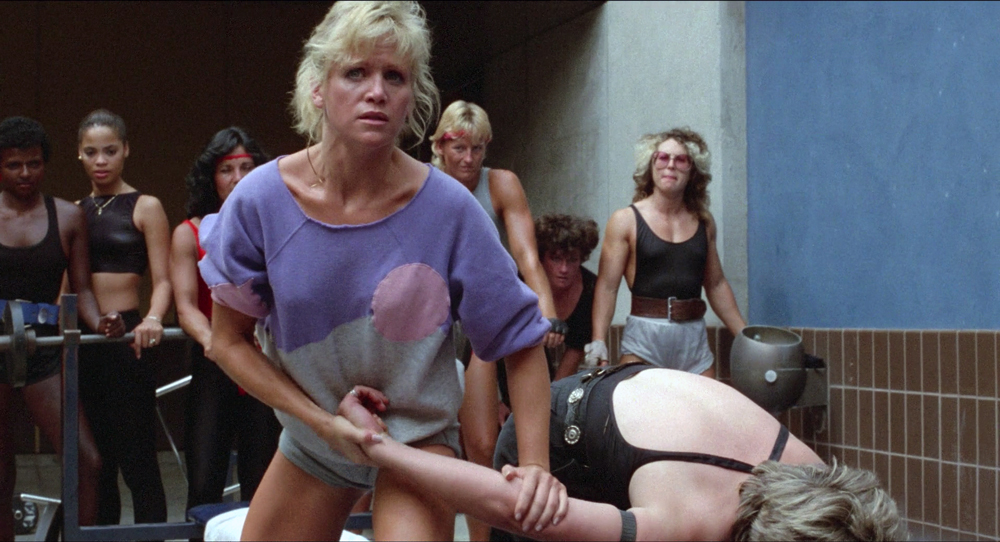 April 22nd 2021
When a stuntwoman's sister is murdered in prison, she gets herself sentenced so she can track down the killers and avenge her death. This enticing premise draws you into a women-in-prison exploitation flick that, while hitting all the expected notes, stands out for its imaginative prison fashions and vibrant casting choices. It is one of two feature films directed by Bruce Logan, whose other credits include co-directing Madonna's "Borderline" video and working as cinematographer on TRON (1982).
Laurie Collins (Karen Chase) is finishing a shoot in a small town, cheered on by her sister Bonnie (Michelle Newkirk) and boyfriend Paul (Marshall Teague). At the wrap party, Bonnie is accosted by one of the locals, and, after a struggle, shoots him dead. At her trial, the judge is sympathetic but still sentences her to two years in prison. Once locked up, Bonnie quickly makes an enemy of Kay (instantly recognizable character actress Sandy Martin, known to many for her role as Mac's mom in It's Always Sunny in Philadelphia), who runs the show with her gang. They dispose of Bonnie by injecting her with drugs and staging it as a suicide.
Laurie learns of her sister's death and can't get any satisfying answers from the apathetic authorities, so she hatches a plan of her own. Seeking out the sentencing judge, she gets drunk, steals his Lincoln, and goes on a joy ride over sidewalks, ultimately using her stunt skills to flip the car. She lands behind bars, where she starts sniffing out what could have happened to Bonnie.
Vendetta is a thrill ride, and a lot of that has to do with Sandy Martin's menacing swagger. Other standouts are Roberta Collins, a veteran of classic women-in-prison movies including Caged Heat and The Big Doll House (but here as a prison guard), Joanelle Romero (whose other accolades include being the only Native American woman to be Oscar shortlisted for a film she directed) and Marshall Teague, best known as the henchman with the most memorable line in Road House. Enhancing it further are a couple of background musical cameos: a wrap party performance by Screamin' Sirens, an all-female combo with an 80s New Wave look and a country punk sound started by Los Angeles fixture Pleasant Gehman (you can get a tarot reading from her now); and a final act prison show that appears to be a woman impersonating Prince (Tracette St. Julian who is credited as "Celebrity Take-off").
It all adds up to a lean 89 minutes, full of imaginative prison fashion, lines like "If I wanted shit from you, I'd pick your teeth," and a fight scene in which a woman rips a thin braid out of her own scalp to choke someone.
See it on Tubi, or get the Scream Factory Blu-ray (with the bonus feature Naked Vengeance).