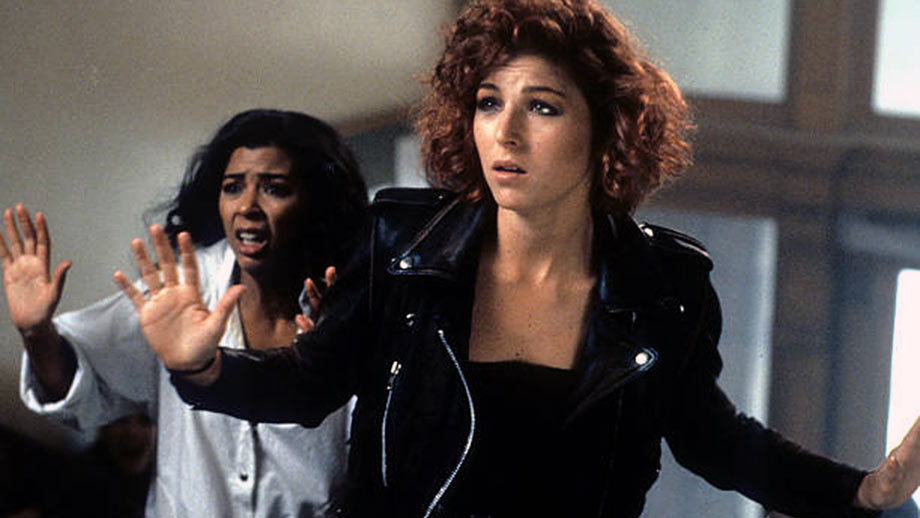 May 20th 2021
A line of young women file into a courtroom, some nervous, others jaded. Tracy (Irene Cara) checks in with her court-appointed defense lawyer, clearly new to the territory, while Scarlet (Tatum O'Neal) immediately starts rattling off "jailhouse law" rhetoric to her own lawyer. The first case is called, and the girls in the room are amused to see the accused strutting and singing — then in a flash all hell breaks loose as she cuts a bailiff's throat, grabs his gun and starts shooting up the court. In this burst of violence Tracy and Scarlet land at each other's side, size each other up, and spill out into the street together. Thus begins Certain Fury, a mismatched on-the-run frenzy that sends the two into seedy territory, more familiar to Scarlet than Tracy.
The daughter of a renowned surgeon, Tracy is new to trouble, taken in on a minor charge. Scarlet has been on the streets most of her life and is used to making it on her own. Hiding out in a sewer and crossing paths with a cop whose drowning death they could not prevent, the two reluctantly become tied together — Scarlet doesn't want to take the heat for "stiffing" a cop, Tracy just doesn't know where to go or what to do. Over the course of the day and night they have to rely on sleazy men for a way out, including amateur pornographer Sniffer (Nicholas Campbell) and Rodney (Peter Fonda), a pimp who eats melon balls with a switchblade. They traverse junkyards and candlelit drug dens, improvising their survival moment by moment as they defend themselves against creep after creep. Different as they are, they come to count on each other, dreaming of an escape.
It may seem an odd career direction for two Oscar winners, but Irene Cara and Tatum O'Neal elevate an average exploitation-leaning action movie into a militant treatise on female friendship. O'Neal was always good at embodying vulnerability beneath a tough veneer, and Cara, though she didn't have many starring roles, proves she is much more than the voice behind the Flashdance hit song "What a Feeling." The two make a glorious pair, and it is endlessly satisfying watching them overpower men that are physically stronger than them. Certain Fury is like a sleazed-up afterschool special that manages to spare its lead actresses from exploitation.