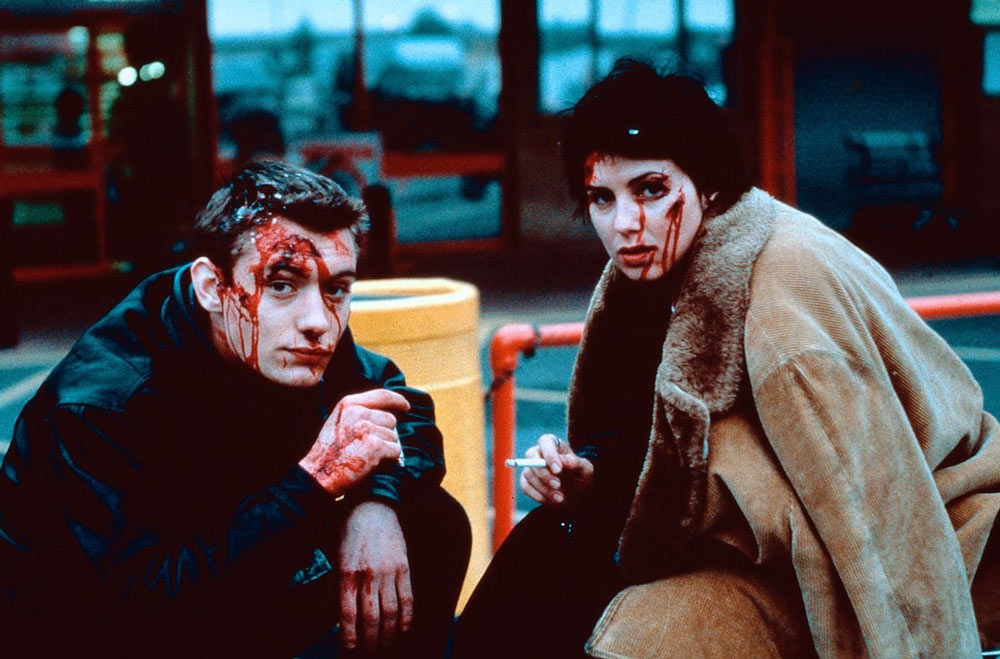 May 12th 2021
With overhead shots of factories billowing smoke, an industrial landscape with barely a patch of grass in sight, 1994's Shopping announced Paul W.S. Anderson's directorial debut, a forgivably style-over-substance exercise that earned him a job at the helm of Mortal Kombat just one year later. Shopping also marks the first big screen appearance of Jude Law, whose lanky body hadn't yet caught up with his bulbous, but beautiful, head.
Set in an alternate future 1990s, Jude Law is Billy, a thrill-junkie who, upon release from a short stint in prison, immediately resumes his "ram-raiding" exploits, literally driving a car into a shop storefront and taking as he pleases. Paired up with not-girlfriend Jo (Sadie Frost), he's in it for the fun, but the duo raises the ire of more business-minded thieves after the same lot. Anderson demonstrates his predilection for pretty, luminous faces in the midst of smoke and infrastructure decay, as he would years later with star and eventual wife Milla Jovovich in the Resident Evil series. In a Vulture interview, he mentions that he was kicking against the prevailing output of the UK, which he found self-serious, and was shocked when people criticized Shopping for how attractive Jude Law was.
The other critiques at the time accused Anderson of celebrating destruction, missing the point. The movie is clearly anti-capitalist, and revels in the ruin caused by its disaffected, black-leather-clad characters. They reject cultural artifacts of the 1980s — Whitney Houston tapes are chucked out the window, Star Wars toys mocked. Sex is declared too dangerous, hence Billy and Jo barely exchanging a kiss, even though their devotion to each other is clear.
Sadie Frost recently appeared in Bram Stoker's Dracula (1992) as one of Dracula's victims. Her vampiress was stunning, and as Jo in Shopping she has quite a different look but is a compelling presence nonetheless. Her hair cropped and messy, her attitude snarky, she is the kind of character I latch onto, maybe Winona Ryder adjacent.
The soundtrack is a combination of industrial, acid house, trip hop and hip hop, featuring some rising British bands of the time including Orbital and Stereo MCs, plus the always welcome Salt 'N' Pepa. The music punctuates car chases, scenes of underground dance clubs, and the burned out locations that Anderson, on a budget, scouted out to fit his dystopian vision. Shopping shows a keen sense of visual ideas with limited means, and although it wouldn't get a US release until after Mortal Kombat, it served to ignite Anderson's career and drop him into big budget territory. It has taken some time for cinephiles to find him, but Shopping proves that he started out with an eye for faces — as well as environments to reflect them.
Shopping is streaming on Tubi and Pluto (free with ads) or available to rent on most platforms.