Featured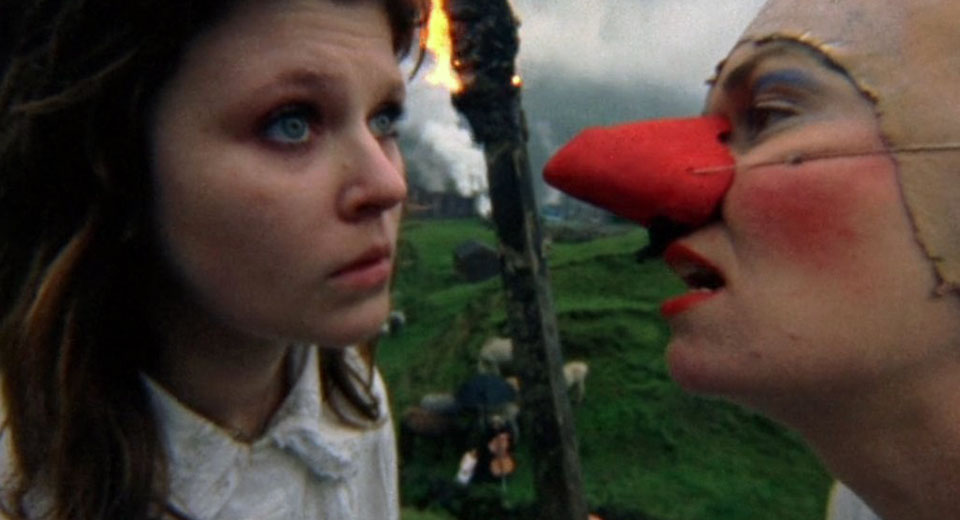 January 27th 2019
The Other Side of the Underneath (1972), directed by playwright, actress, poet, screen- and songwriter Jane Arden, is an adaptation of her play A New Communion for Freaks, Prophets, and Witches. It was originally written for her all-female "Holocaust" theater group (including performer Penny Slinger, also an art director on Other Side), which developed out of a wish for a political consciousness that was also physical and bodily and allowed for the revelation of women's voices and traumas. The filmmaking process was, expectedly, more group therapy, improvised self-exploration, focused drug trip, and communal living experiment than the conventional script-to-screen process. The Holocaust group and filmmaking crew moved into a Welsh pub and enacted scenes from the earlier play, dressed in nightgowns, a dilapidated building and mine serving as the symbolic backdrops for the protagonist's private/collective/revealed journey through breakdown and recovery.
The result is a haunted collection of sequences both explicitly therapeutic in nature and then more dreamlike — the enactments of memories, fantasies, and fears, replete with familiar psychoanalytic symbols: stained sheets, broken mirrors, a crucifixion, clowns, a wedding that is also a funeral. Thus the "other side" of underneath, the going-through of discovering, revealing, and attempting to understand the unconscious. This intersects with history in the form of familiar chants and historical imagery projected over a frightened woman's face, transforming a documentary about madness and group therapy into film-as-document, both deeply, embarrassingly personal, and intersecting with a specific moment in time, confronting a particular society only just beginning to hear women, to face what artists within the Holocaust group were attempting to expose.
The footage is by turns shockingly raw/primal/primordial, coolly intellectual and cheeky, beautiful and uncanny, interrupted by the occasional directorial flourish, and often heartbreaking — a sort of cinematic transference. Part documentary, part Surrealist/Dadaist performance, part primal scream, harkening to Marat/Sade and Esalen Institute group therapy sessions, The Other Side of Underneath was the only British film of the 70s to be directed solely by a woman, and, for its explicit sex, violence, and potent performances was infamously impossible to see prior to a 2009 BFI restoration. It is a rarely-screened and undeniably influential film not to be missed.