Featured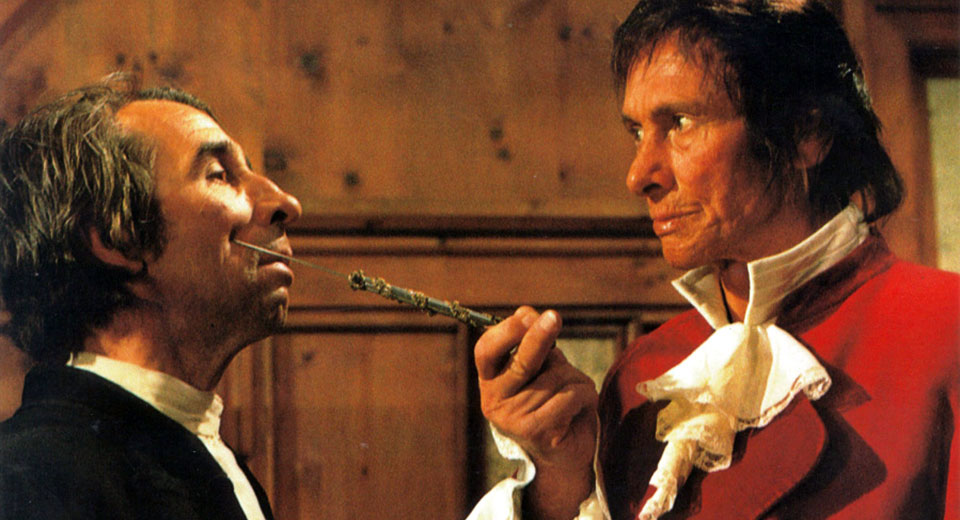 October 2nd 2019
"The day of the local witch-finder is over." That's the word from Count Christian (a young Udo Kier), announcing the impending arrival of his boss, the "infallible defender of God" Lord Cumberland (Herbert Lom). They find the residents of this 18th-century Austrian mountain village hard up for law and order, despite a regular program of auto-da-fés in the public square. Their usual witch-finder, Albino (Reggie Nadler), is proudly illiterate, which saves him the tedium of paperwork but makes it hard to see the writing on the wall.
After sensing Christian's eyes wander to a vivacious barmaid, Vanessa (Olivera Katarina), Albino molests the woman and charges her with witchcraft, citing a mole on her cheek as proof that she has kissed the devil. She is joined in the dungeon by Baron Daumer (Michael Maien), who tests our sympathies by whining that his late father's estate is his rightful inheritance. While Daumer's wealth is being redistributed across a bed of nails, another of the accused (Gaby Fuchs) claims that a bishop raped her, causing her to bear his child. When she refuses to recant, she is put to the rack and her tongue is ripped out of her head. As tends to be the case with horror movies in horrible times, the resonance is only too obvious. Our world is still one in which women are systematically brutalized for revealing the depravity of powerful men, only now their abusers have the gall to cry "witch hunt."
The film is notorious for its American distribution gimmicks ("Rated V for Violence," a sick bag sold with every ticket) and its censorship in the UK and elsewhere. More intriguing is the well-documented behind-the-scenes power struggle between director Michael Armstrong and producer Adrian Hoven, who wrote the first draft of the screenplay and had hoped to direct and star. Armstrong was thought a safer bet by the money men, and the frustrated Hoven retaliated by sneaking off with cinematographer Ernst W. Kalinke to shoot unscripted scenes in which he appears as a puppeteer enduring water torture.
Mark of the Devil screens tonight at Nitehawk Cinema Williamsburg on 35mm. It will be preceded by the shorts "Grand Guignol: The Theatre of Fear and Terror" and "The Occult Collector." The subject of the latter, esteemed wunderkammer-keeper Calvin von Crush, will be on hand for a "twisted show-and-tell."