Featured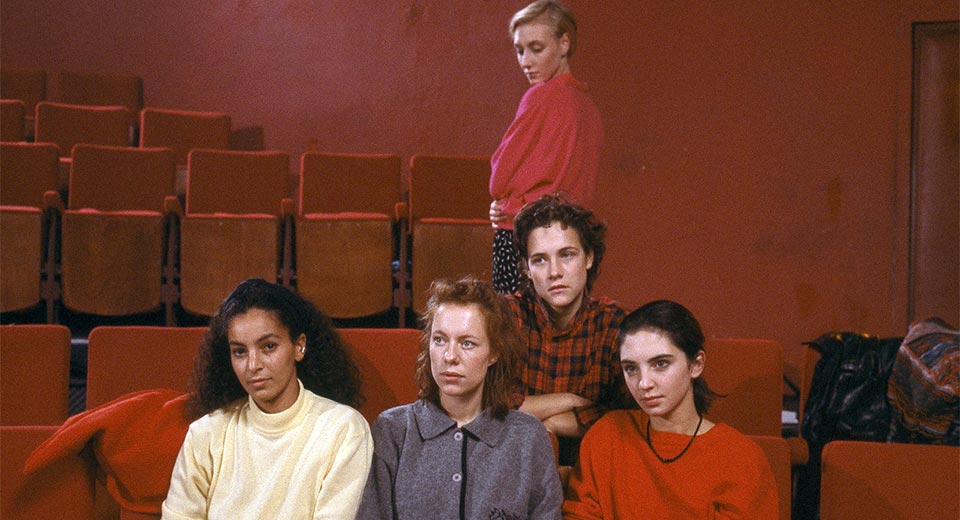 August 6th 2018
By pure coincidence, Film Society of Lincoln Center's screening of Jacques Rivette's The Gang of Four (1989) as part of their showcase of women cinematographers (it was shot by Caroline Champetier, who also shot Holy Motors and Akerman's Toute une nuit) functions as a perfect double feature with a new release: Josephine Decker's Madeline's Madeline. In both films a perhaps-tyrannical acting coach expounds the virtues of living your art upon young women, and in both cases this propensity has some serious side effects.
Rivette regular Bulle Ogier lords over the gang of girls as the once-famous, monomaniacal headmistress of an all-female acting school, and this school, the girls' eerie hardwood shared abode, and the transit between the two hold the majority of the action. Although The Gang of Four begins as something of a collegiate hangout comedy, Rivette injects dread in the details: the drab autumnal rot is only punctured by the actress's vibrant sweaters, and the stage on which they rehearse is blood red and claustrophobic. At this stage in his career, Rivette had become unparalleled in directing both performer and camera within a single space. There are multiple shots in which Champetier begins on the rehearsing performers and then pans the entirety of the class, where the other students are whispering furtively, and yet the viewer is constantly aware of everything that is occuring – the eye grasping for details that may be important later. By the time the audience has reason to be paranoid, they already are.
The film settles into a laid-back conspiratorial mystery when one student disappears, and a garrulous grifter (Benoît Régent as the film's only male character) begins to insert himself into each young woman's personal life, asking for help in solving crimes that may or may not have something to do with their missing classmate. Rivette pivots between the beguiling and the mundane and vice versa as the plot twists itself into delusional knots, but the cast of then-newcomers are so endearingly aloof, especially Laurence Côte as a proto-Kristen Stewart miserably horny queer, that the resolution matters far less than the ride. Keep an eye out for a young pre-Double Life of Veronique Irène Jacob in the back of the class.