Featured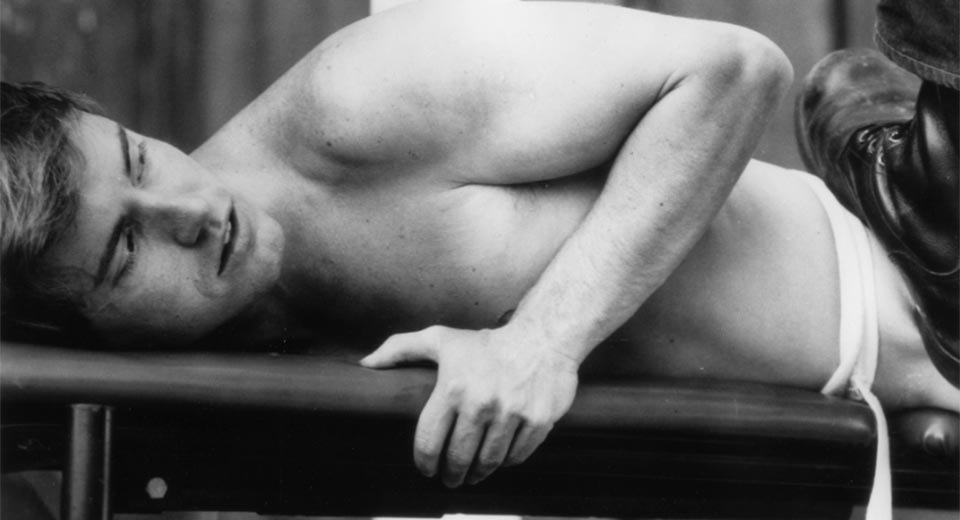 January 30th 2020
Today we feature an interview with William E. Jones, who introduces new restorations of the films of Fred Halsted at MoMA tonight.
Karl McCool's introduction is below - read the full interview on our site:
If you come across any mention of Fred Halsted, typically one of the first things you will read is that Halsted is the only gay porn filmmaker to have his porn films in the collection of MoMA. During the home video era, box art for the (bowdlerized, censored) VHS release of his seminal 1972 film LA Plays Itself would read, "Part of the permanent collection of the Museum of Modern Art," certainly advertising copy no other porn tape could boast. It is fitting then – if also wonderfully unexpected – that on January 30 and February 1 MoMA will screen new 4K preservations of all three Halsted films in its collection – his 1972 "trisexual" short Sex Garage (featuring hardcore heterosexual and homosexual sex, as well as sex between a biker and the exhaust pipe of his motorcycle), the aforementioned LA Plays Itself (widely considered his masterwork and the film that introduced fisting to porn audiences), and his 1975 followup Sextool. Shot on 35mm (unheard of for gay porn) and alternating rough BDSM scenes with scenes of trans women and drag queens at a chic party, Sextool finds Halsted again rethinking the possibilities of the gay porn film. A box office failure, never given general release on home video and long locked away in the MoMA archive, this new 4K preservation provides a rare opportunity to see one of the most ambitious and remarkable films in the genre.
These new preservations (along with the original 16mm trailer for Sextool) screen as part of "Now We Think as We Fuck": Queer Liberation to Activism , a marvelously wide-ranging screening series organized by Carson Parish, reflecting the breadth of queer film and video holdings at the museum, from Halsted to Avery Willard, Andy Warhol, Barbara Hammer, Cheryl Dunye, and Marlon Riggs (who gives the series its powerful title). These Halsted screenings might be seen not only as a vital addition to "Now We Think as We Fuck" but also as an extension of another very welcome MoMA screening series, from a couple months back, Re-Viewing Cineprobe,1968–2002 , organized by Sophie Cavoulacos. It was for the (in this case, all too aptly named) Cineprobe series that curators Adrienne Mancia and Laurence Kardish invited Halsted to present his work at MoMA, placing his hardcore films in the context of a program known for screening avant-garde filmmakers such as Stan Brakhage, Hollis Frampton, or Michael Snow. The Cineprobe event was a landmark achievement for Halsted — the capacity audience reportedly included Groucho Marx. (Try to picture that when watching LA Plays Itself.) However, the evening was not without its detractors. Protestors outside MoMA handed out leaflets describing LA Plays Itself as "an exploitation film, made by a self-described petty criminal and hustler" and excoriating the museum for applying "the pretentious label of 'Art'" to "expressions of anti-homosexuality."
Halsted had already earned much notoriety by this point. Two years before his 1974 appearance at MoMA, his debut feature LA Plays Itself had already made an enormous impact, perhaps only rivaled by Wakefield Poole's Boys in the Sand, in making gay porn (and porn more generally) worthy of serious consideration as cinema and, along with Deep Throat (released months after Poole's and Halsted's films), ushering in the period of "porno chic." Indeed, in his "Movie Journal" column for the Village Voice, Jonas Mekas would wonder if LA Plays Itself represented "the beginning of a movement of porno cinema as art." Sadly, in retrospect, the period between the 1972 release of LA Plays Itself and the 1974 Cineprobe screening represents an exceedingly brief moment in cinema history, perhaps the only time in which a self-taught filmmaker, with no industry ties or gallery representation, who never held a regular job and never even had a social security number, could present such revolutionary work at venues like MoMA.
Thankfully, the January 30 Halsted screenings will feature discussions with artist, film- and videomaker, and writer William E. Jones, alongside Lauren Halsted, niece to the groundbreaking filmmaker, who died in 1989. Jones literally wrote the book on Halsted – Halsted Plays Himself, an indispensable resource first published in 2010, when there was not even a Wikipedia entry for Halsted (although Patrick Moore had devoted an affecting chapter to Halsted in his invaluable 2004 book Beyond Shame: Reclaiming the Abandoned History of Radical Gay Sexuality). A new edition of Halsted Plays Himself, with a new afterward by Jones, is forthcoming. Jones is currently at work on his second novel. Halsted appears as a character in his first novel, I'm Open to Anything, which was published in 2019.