Featured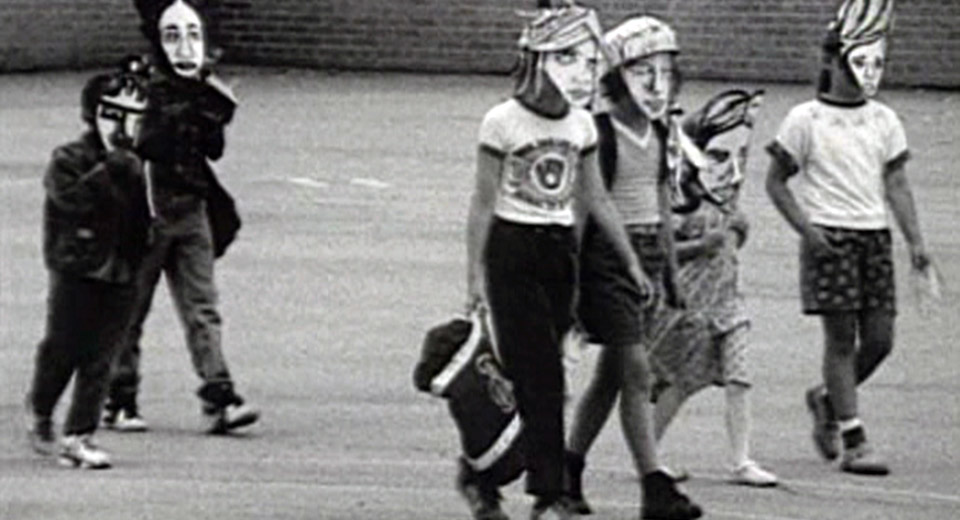 November 26th 2017
Described as a "live-action cartoon," Sadie Benning's Flat is Beautiful, playing at the Film Society of Lincoln Center as part of their The Non-Actor series, tells the story of Taylor, a gender nonconforming 11-year-old living with their single mother Peggy and attempting to navigate the dangerous waters of gender norms as a budding adolescent. The film is the first time that Benning, noted painter, video artist, and music video director (as well as an original member of Le Tigre), used third-person narrative and actors (or, non-actors) in their film, as well as incorporating illustrations, animations, and stop-motion sequences to create a patchwork of queer expression.
Benning filmed Flat is Beautiful with a Fisher Price Pixelvision camera (a hallmark of their early video work) and on film, and the result is a fuzzy rememberance of childhood. The characters all wear oversized cardboard masks, which alternately obscure or shine a light on their inner workings. Quiggy, Taylor and Peggy's roommate, puts on a wig by affixing a stylized cardboard box to his head, and does a drag routine to Heart's "Crazy on You." The actors behind the masks sometimes have to act around it, as when Peggy has a snack and feeds herself behind the mask instead of through it, as if she has forgotten she had it on.
Most of Benning's film work is autobiographical, but Taylor's story incorporates fictional and surrealist elements to create a refracted mirror version of the young life of their creator. An early scene when Taylor's father calls and brags up the photography exhibition he's been working on, raves about the bars and the nightlife of the big city, then pleads poverty when it comes to seeing his child, all while Taylor docilely agrees with whatever he says, is heartbreaking. And the shots of dilapidated Milwaukee streets (including a community mural that implores, "Hang Tough Milwaukee!") that serve as the setting, a sketch of the economic downfall of once-vital manufacturing communities, are heartbreaking in an entirely different way.