Featured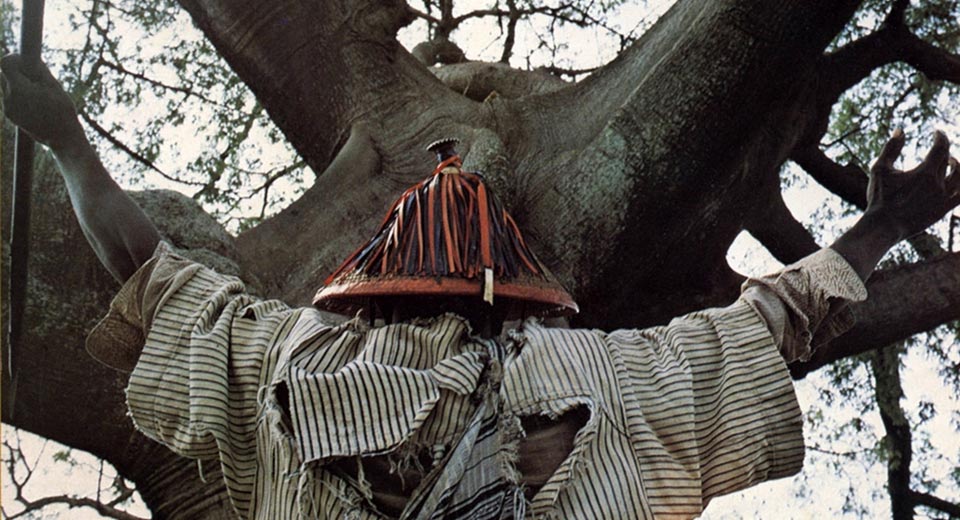 January 21st 2019
Safi Faye's sophomore feature Fad'jal examines the inner workings of a Senegalese rural community and its situation within a developing state. The film screens as part of "To Save And Project: The 16th MoMA International Festival of Film Preservation" in a new restoration by the CNC (Centre national du cinéma et de l'image animée) made in collaboration with the filmmaker herself. Nearly 40 years since its premiere in the Un Certain Regard section of Cannes, Faye's film reminds us of the importance in passing down oral histories from one generation to the next.
Fad'jal begins with a classroom reciting a French history lesson, but afterwards, a text appears on screen that quotes the Malian intellectual Amadou Hampaté Bâ: "In Africa, when an old man dies, a library has burned." Fad'jal (which roughly translates to "arrive to work") asks us to inquire into past in order to understand our present—and perhaps our future. Faye, who studied as an ethnologist, shows the rituals and farming processes of the village mostly without the interruption of a voice-over. There are sequences in which Faye combines her editing and audio from the village to create hypnotic movements that resemble what we see later in the work of filmmakers like Trinh T. Minh-Ha. Using a blend of traditional documentary footage, elements of nonfiction, and some re-enactments, the story of the village is slowly told through both the elder surrounded by children on the bottom of a Kapok tree and also by conversations and debates the villagers have with one another. The main conflict of the village being the chiefs wanting to maintain traditions and the younger men wanting to modernize the village in order to have a closer connection to the Senegalese state.
The women appear to be the backbone of everything in Fad'Jal: constantly grinding millet, cooking, and raising the children, and yet they don't speak much on matters revolving the village in the film, despite it being a historically matriarchal one. The elder does note that one of the sayings of the community is that when you work, you're happy, and when you don't, you are ridiculed. If anything, Fad'Jal reminds us not only of the importance of oral histories but the labor that must be sacrificed to achieve autonomy for the village.