Featured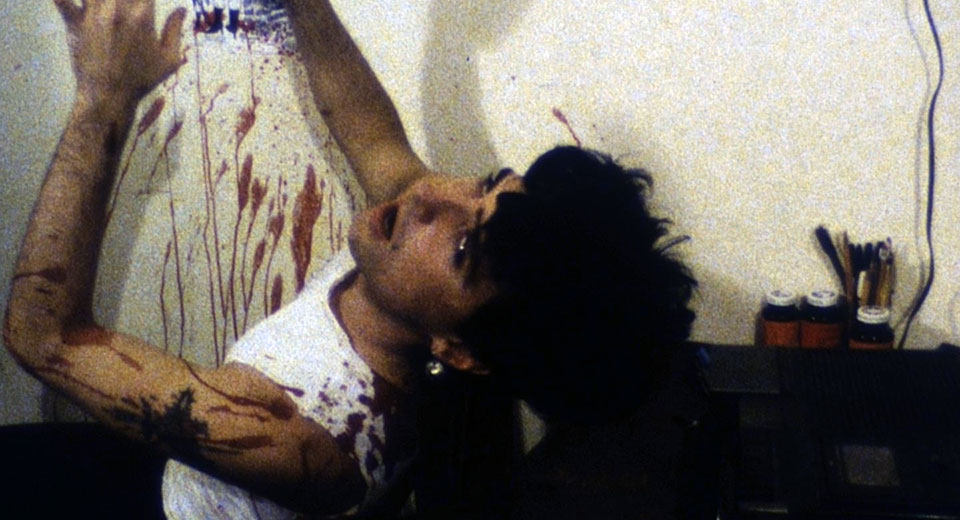 June 25th 2017
This evening Anthology Film Archives welcomes Tommy Turner for the premiere of new 16mm preservations of his arresting, transgressive Super 8 films Simonland and Rat Trap, made in collaboration respectively with Richard Kern and Tessa Hughes-Freeland, and a circa-2000 preservation of Where Evil Dwells, made with David Wojnarowicz. Turner will be on hand for a Q&A, which I'm moderating in the capacity of one of the people who worked on the recent effort to preserve Turner's films along with Brent Phillips, Bill Brand, and Rebecca Cleman.
An artist working in print, performance, photography, and film, Turner is a key figure of the Downtown No Wave and Cinema of Transgression scenes. While working days as a genetic research scientist and nights as a bartender at the legendary Peppermint Lounge, the New York native achieved notoriety with his zine REDRUM and appearances in Kern's work. In the mid-1980s, Turner produced a number of startling small-gauge films that retain the ability to inspire shock, awe, and revulsion, while conveying a biting sense of humor and incisive social commentary. With a cinematic oeuvre running approximately the length of a single feature film, Turner's subject matter has managed to encompass the intersections of black magic, domestic dysfunction, addiction, rock 'n' roll, demagoguery, murder, and wasted teenhood, often addressed through gleefully graphic, lo-fi special effects that verge between clinical detachment and sardonic irreverence.
In the unsettling, absurdist Simonland, a grotesque televangelist leads his studio audience and isolated viewers through a psychotic game of Simon Says with twisted results. A no-holds-barred portrait of addiction, Rat Trap is an unflinching portrayal of a junkie injecting heroin cut with footage of (already expired) rodents being tortured and maimed, all underscored by a fiery guitar rock solo, painting a grim picture of numbing daily grind, dependency, and domestic urban squalor.
Turner and Wojnarowicz's masterpiece Where Evil Dwells originated as a scripted project based on the sensational story of teen killer Ricky Kasso, self-described "Acid King" of Northport, Long Island, who sparked 80s panic over heavy metal and Satanism after the pseudo-ritualistic murder of a fellow teen in the woods. Shooting off a script based on interviews with Kasso's associates, the pair ultimately edited their footage into a 30-minute "trailer" that represents an anarchic and wildly expressionistic take on what Wojnarowicz described as "the imposed Hell of the suburbs" — something of a cross between Flaming Creatures, Friday the 13th, and AC/DC. It's a cacophonous hymn to Satan, metal, terminal boredom, and homicidal stupidity. And it rules.
Tonight's show begins at 8:00 pm, and any opportunity to hear Turner talk about the downtown art scene in the 80s and anarchic adventures with his collaborators should be considered a can't miss—with the caveat that it's for strong stomachs only. Consider it a dare.