Featured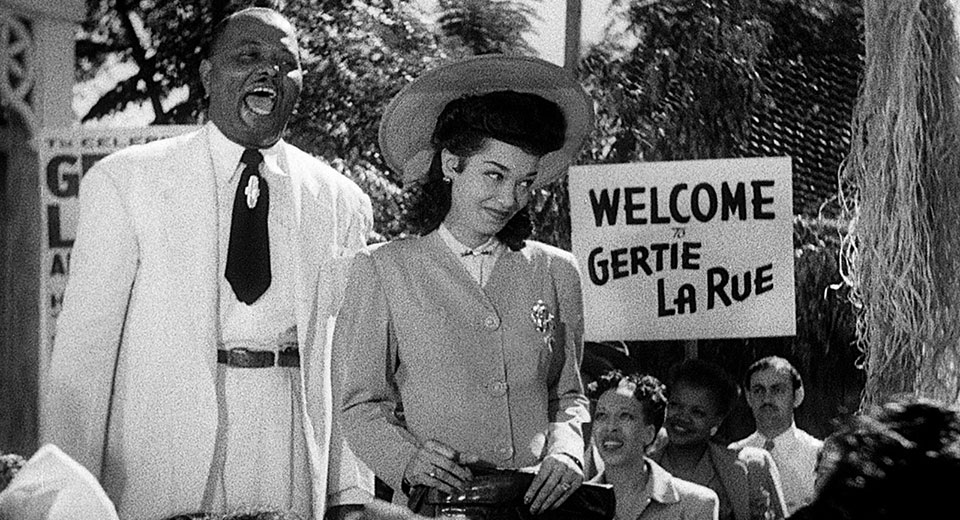 January 25th 2020
Notorious for starring in the sitcom version of Amos 'n' Andy (1951-1953), an NAACP target descended from a minstrel radio program that was nonetheless the first television show to feature an African-American cast, Spencer Williams had directed twelve so-called "race movies" before filming the show's pilot, making him one of the earliest black filmmakers. As a director, his films most often pitted temperate religiosity against the sins of modernity, with predictably preachy, though often formally innovative, results. Among his less pious works is Dirty Gertie from Harlem U.S.A., a low-budget showbiz drama less preoccupied with righteous living than with the spectacular appeal of its star.
Stripteaser Ms. Gertie LaRue (Francine Everett) arrives in Trinidad (renamed "Rinidad" for no clear reason) with a substantial retinue in tow for a months-long residency at a small hotel. Men are powerless to resist the notorious Dirty Gertie, despite her reputation as a heartbreaker. She only left Harlem in the first place because she "wrecked" a mercurial ex-boyfriend with her infidelity. On the island she unashamedly basks in the worship of wealthy hotelier Joe Diamond as well as two servicemen, with whom she makes out simultaneously. Soon, two Christian missionaries respond to the island's Gertie-mania by undertaking an effort to end her career and reclaim her soul for the lord. The film's mounting moral tension forecasts a collision between Gertie and a reckoning with her wantonness.
Be that as it may, for most of its running time Dirty Gertie from Harlem U.S.A. delights in its title character's hedonism. Much of this is due to the irrepressible charm of Francine Everett, an effortlessly charismatic screen presence. Even as it plots a course for her comeuppance, the film only truly has fun when Everett is on screen enjoying her liberated sexuality. Williams here operates in a less sanctimonious register than his most famous film, The Blood of Jesus (1941), which features a similar dichotomy between nightlife amorality and clean Christian living but with a stronger preference for the latter. Gertie is refreshingly ambivalent about the redemptive abilities of religion, as evidenced by the buffoonish characterization of the missionaries. Things might not end well for Gertie, but there's no denying the vivacity of her good times.