Featured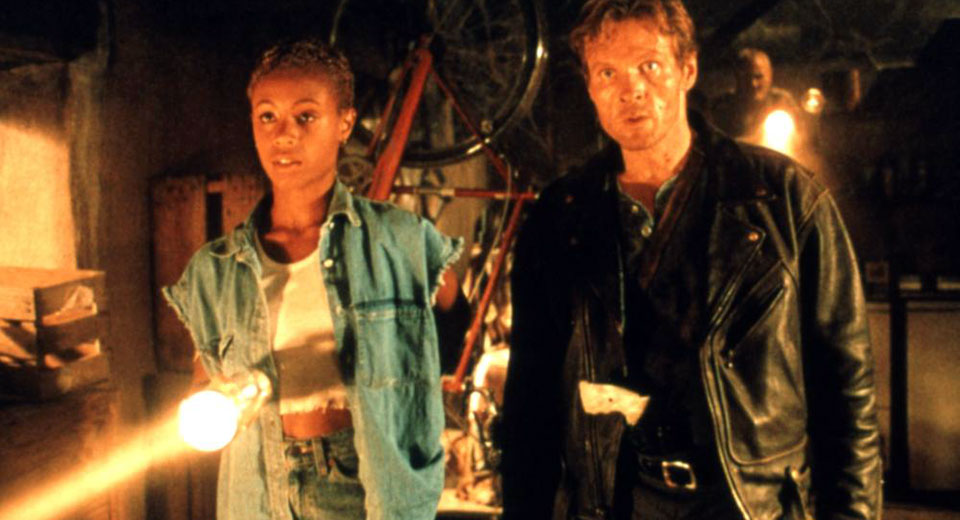 January 29th 2017
First aired in 1989, Tales from the Crypt was one of HBO's earliest original programming successes. Adapted from EC Comics's iconoclastic early 1950s horror anthology series and companion titles like The Vault of Horror and The Haunt of Fear, the project was originally conceived by producers Joel Silver, Walter Hill, David Giler, Richard Donner, and Robert Zemeckis as an omnibus film in the style of George A. Romero and Stephen King's Creepshow, whose pulpy pop art style and mix of the macabre with grim, ironic humor was intended as a loving homage to the pre-code cartoons. Reconfigured as a weekly half-hour TV show with all the uncensored sex and gore that network shows like Tales from the Darkside (1984-1988) couldn't afford, Tales from the Crypt made good on the A-list pedigree of its producers both behind and in front of the camera, including established and upcoming performers like Kirk Douglas, Isabella Rossellini, Steve Buscemi, Patricia Arquette, Whoopi Goldberg, and even—in a Zemeckis-directed episode with prescient technical innovations—Humphrey Bogart. But the biggest star was the one whose commentary bookended each episode: The Cryptkeeper, an avuncular puppet with a curdled, decomposing smirk who riffed on the stories with grisly punage delivered in John Kassir's iconic cackling shriek. To the chagrin of parents such as my own, he was, like the Joe Camel of carnage, a huge hit with children—I was 3-to-10-years-old during the original series run, and obsessed—and even got his own Saturday afternoon cartoon on ABC.
In 1995, the Cryptkeeper transitioned to the big screen with the standalone story Demon Knight.  It's structured like an episode down to the credits' opening tracking shot through the Cryptkeeper's mansion and Danny Elfman's classic theme song. But the plot eschews the typical ironic reversals and twists of the comics and television episodes to portray a high-stakes battle between good and evil staged in a flea-bitten hotel in the fictional Wormwood, New Mexico.
A slimy creature feature sandwiched between the end of the original American slasher cycle and Scream's postmodern revival, Demon Knight has been unfairly overshadowed in the 90s horror canon. The cast is dynamite, including Jada Pinkett, Billy Zane, William Sadler, Thomas Haden Church, Dick Miller (who does some of the best work of his storied career), and CCH Pounder, and director Ernest R. Dickerson—Spike Lee's cinematographer from his student films through Malcolm X, after which he made his feature directorial debut with Juice—gives the images a gravity that transcends television. It remains, curiously, one of the very few horror films starring a Black female protagonist, and, along with Ganja and Hess and Black Devil Doll from Hell, one of the few of that subset directed by a Black filmmaker. Although it is a thoroughly grand guignol and at times prurient affair, it holds a certain emotional integrity and interest in its characters that has aged well. And surely there's something to be made of a story that pits a resourceful Black woman against a demon personified as a smooth-talking white salesman bearing the seeds of evil.
I'm presenting Demon Knight on 35mm tonight at Alamo Drafthouse as one of the revolving Terror Tuesday guest curators, and the $10 tickets are going fast—so grab 'em while you can.