Featured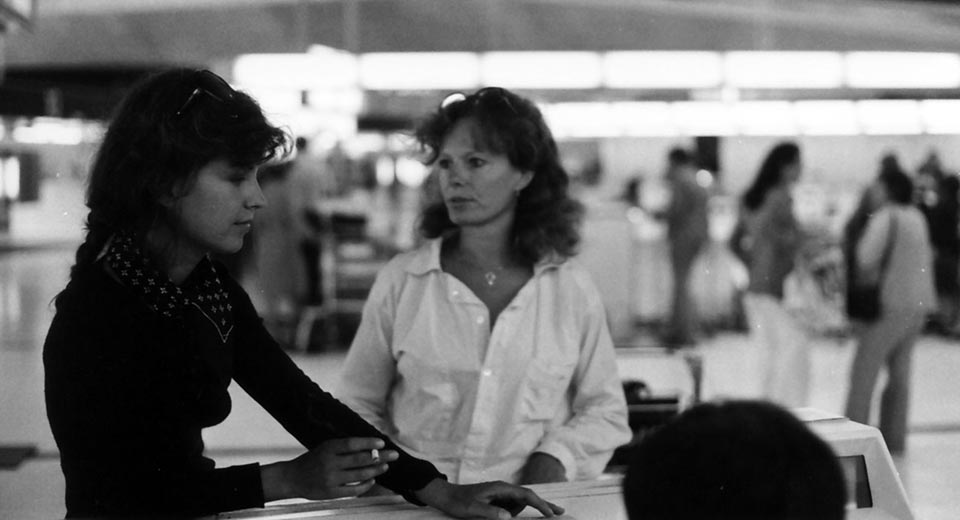 February 8th 2020
In 1968, the Sony Portapak -- the first portable video tape recording system -- arrived in France, heralded with a paper advertisement showing an à la mode teenage schoolgirl with the two-piece video camera slung over her shoulder like a backpack. Soon after, 24-year-old Carole Roussopoulos lost her day-job at Vogue and, at the urging of her husband's friend Jean Genet, became the second person in France to purchase the Portapak. The first was Jean-Luc Godard.
This quiet cataclysm was the launching point of a number of post-'68 all-women activist-minded video collectives in Paris, and is also what would eventually lead Roussopoulos to meeting Delphine Seyrig. Roussopoulos's friendship with the movie star is the subject of Delphine et Carole, which has its US premiere at MoMA Doc Fortnight. The film is directed by the documentarian Callisto McNulty, who is also the granddaughter of Roussopoulos -- text explains that the extraordinarily prolific Roussopoulos was working on a documentary about her friend when she passed away in 2009. That film was the starting point for this one.
Roussopoulos says on screen that when Seyrig walked into her modest video editing workshop in the 14th district of Paris to take a class, she had no idea who she was. Seyrig had a natural aptitude for the medium and bold theories on how the invention could bolster the women's movement, and together with Ioana Wieder the women formed a collective dubbed Les Insoumuses. Much of their radical work could recently be seen at Anthology Film Archives's 2017 overview of Roussopoulos' films, and McNulty's doc is a skillful distillation of their primary concerns -- legal and accessible abortion, the decriminalizing of sex work, the destigmatization of women's sexuality in the media. Seyrig is such an immediately striking personality, alternating between furious, cunning, and wryly funny, that the collective element of their work gets a bit lost as the film is so taken by her presence, but it's impossible to blame the filmmaker. There's an innate power in seeing behind-the-scenes shots of Seyrig setting up a camera, grinning devilishly. Interviews with Marguerite Duras and a young Chantal Akerman tell us what is already so apparent -- Seyrig had a commanding knowledge of the ways that a camera could be used for political and social change, and many men in the industry feared her because of it. The brisk 70-minute film feels like a primer to a movement and the personality at the forefront of it, much as Sini Anderson's Kathleen Hanna doc The Punk Singer did in 2013. McNulty's film pulses with the same restless, inspirationally punk energy and serves as ripe entry point into Seyrig and Roussopoulos' bodies of work.