Featured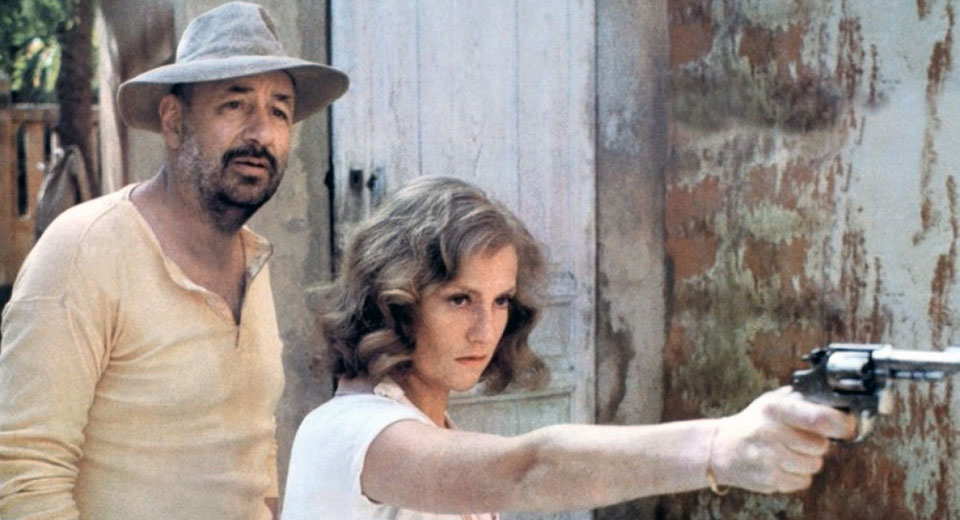 June 19th 2017
Out of Africa this ain't. Bertrand Tavernier's Coup de Torchon (aka Clean Slate), adapted from Jim Thompson's 1964 roman policier Pop. 1280, transplants the shiftless lawman at its center from oil-slicked Texas to a dusty outpost in pre-War French Colonial West Africa. Playing tonight as part of the Quad Cinema's Tavernier retro, Torchon was the director's most expensive (and, arguably, political) film to date, making it a bit of an outlier in an oeuvre previously populated with spry genre pictures.
Tavernier saves us a souçon of film noir flavor with a fine casting choice: Philippe Noiret as Lucien Cordier, the schlubby chef du police in a sleepy town overrun by greasy pimps and haughty lumber barons. Cordier doesn't wear a badge, and the jail under his purview is nearly empty. Is he lenient, or just a chickenshit? Night after night, he returns to his shrewish wife, Huguette (Stéphane Audran) and her lazy lover Nono (Eddy Mitchell), forever the third-wheel in their thoroughly French arrangement.
Luckily for us, things pickup when our lumpen anti-hero seeks the counsel of his big-city colleague, Commander Chavasson (Guy Marchand). Inspired by his pal's tough-guy approach to law enforcement, Cordier is reborn as a half-assed vigilante, and returns to his hamlet to right a few wrongs. His do-gooder murder spree starts out innocently enough: first the pimps go, then Mercaillou, the neighborhood wifebeater. Freed from her tormenter, Mercaillou's grateful young widow, Rose (a feisty and foul-mouthed Isabelle Huppert, OMG!), takes Cordier for a lover. A sense of normalcy settles in, but the respite is brief, and it's not long before Cordier's particular style of justice catches up with him.
As his so-called authority expands, so too do his nagging feelings of anxiety and helplessness. Bourkassa's lone protector may be softer on the locals than his fellow occupiers (barely), but his benevolence is de facto at best. Most likely, Cordier is guided by some mixture of white guilt and ennui, a timeless recipe that—whatever the outcome—always leaves the same nasty aftertaste. His "noble mission" of bringing law and order to West Africa is, like his Motherland's, little more than a selfish grab for authoritativeness in a place that regards him as anything but.