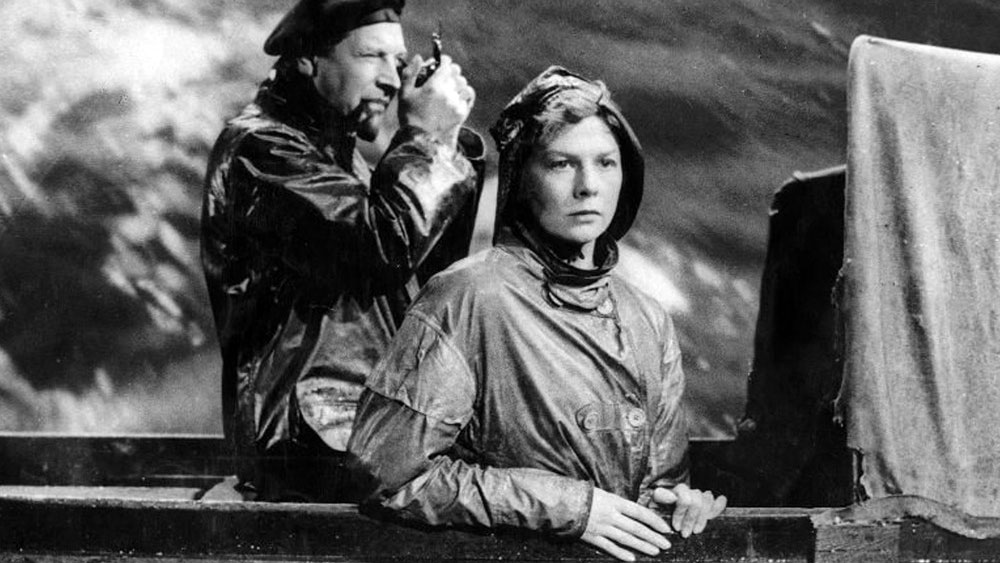 December 31st 2021
There is a scene in I Know Where I'm Going! (1945) that never fails to quicken my heart. Impassable gusts have trapped Joan Webster (Wendy Hiller) in the Scottish Hebrides, across the water from the isle where she's due to wed Mr. Bellinger, an older industrialist. Days have come and gone, and now she knows she must leave. She knows this because she is falling in love with someone other than her fiancé: the naval officer and laird Torquil MacNeil (Roger Livesey). When she moves to go, he pleadingly grips one rail of the ladder where she's perched to overlook the cèilidh dancers. The gesture makes her hold his gaze: how often has that contact alone sufficed to spark love? But she's already attuned to the danger. The next day, she stubbornly bribes a poor young boatman, who needs the money to marry his own sweetheart, to spite the gale and bring her to Bellinger. Their chanced crossing is a vast, raw spectacle of deluges and whirlpools and howling tempests, submerging the earthly drama in an elemental haze. Yet it's the ordinary moment at the ladder that compels her escape.
The director-producer duo of Michael Powell and Emeric Pressburger are lauded chiefly for their Technicolor masterpieces, lensed by the matchless Jack Cardiff. But in I Know Where I'm Going!, shot by Erwin Hillier, the black-and-white compositions are a touch rough-hewn, almost craggy. Thelma Schoonmaker, Powell's widow and Martin Scorsese's razor-sharp editor, has guided this 4K restoration to a clarity that doesn't divest its supernatural atmosphere.
The title is a joke, of course. The neurotic Joan knows where she's going only insofar as her Manchester-to-Scotland train tickets dictate. (The timetables are recited like catechism.) She longs to distill her nebulous future into material that can be held, counted, put to a fixed purpose. It's a sympathetic inclination post-Blitz, when the visible terrain of England was shattered and ashen, but it's also pointless, since pound notes can't stop the bombs from dropping on one's garden. Even if they could, there is the not-insignificant matter of other people's gardens. Joan's Bellinger may seem lordly in his genteel English milieu, but Scotland's commonsensical locals deflate that presumed superiority into mere hauteur. They scoff at the "little king" having a swimming pool built while the boundless ocean surrounds him, teeming with salmon that "don't know him" because he imports his dinner along with his wife.
Such postures stutter before the honest strangeness of the people Joan encounters. Stranded, Joan and Torquil are quartered in the home of Catriona Potts (Pamela Brown, Powell's later live-in partner), who first appears silhouetted against a mist-swathed hill among a pack of loping dogs (Powell's own). Her wide, watchful eyes and rumpled country clothes lend her a witchy air, so mired in the land's sunken secrets that she can see through its inhabitants, too, way down into their sopping hearts. Classic English eccentricity takes the form of a hapless, jovial falconer (C.W.R. Knight) whose eagle (Mr. Ramshaw), christened Torquil, resists taming and strays off. The defiant bird of prey doesn't evoke unpindownable men so much as the crucial chaos of human relations. Humans are, in the end, animals, with singular, unruly wills.
These supporting players are not incidental. No one is, not even the homespun girl who prays ardently for her rash boatman to return unscathed; or the old salts who bark Gaelic and balk at defying the mercurial sea. Here, Scotland and its landscape furnish the wild, pagan sensuality and amorphous magic of an almost premodern Europe, the sort that dooms Torquil and the ultramodern Joan. Eventually we learn that Torquil lives under a centuries-old curse that threatens love's lasting "chains" to anyone who trespasses the family castle. Love is a decision, the film insists, but it cannot be devised. Neither machine nor money, but nature—the clangorous storm; the shivers stirred by a hand that keeps us where we desire but fear to be—governs us willfully and without our knowledge. Joan, like everyone, knows nothing. How fortunate that, though we attempt mastery, we're doomed to the native impulses of our hearts.
I Know Where I'm Going screens December 31–January 13 at Film Forum in a new digital restoration.