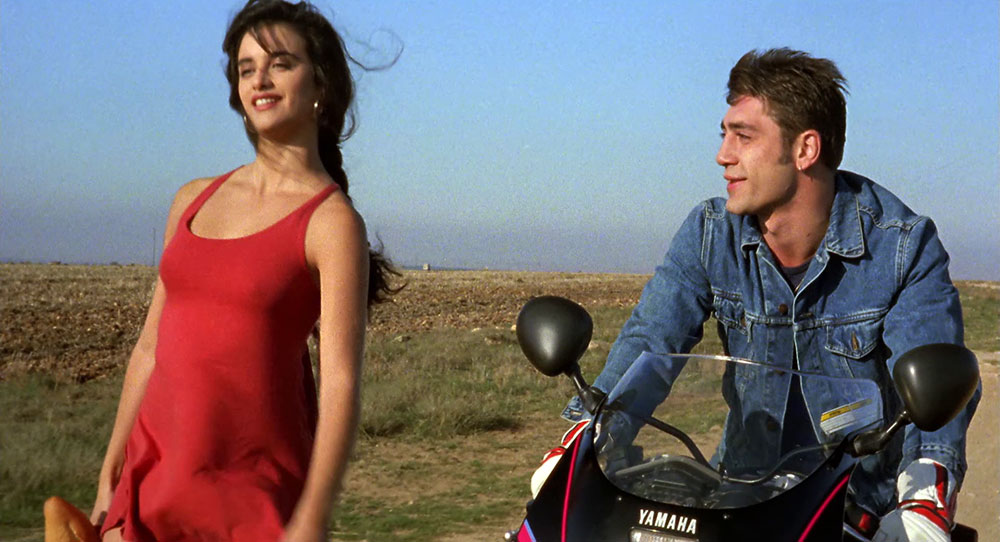 March 18th 2022
In the early 1990s, while Spain settled into EU membership, having finished digesting its post-Franco democratic transition, Catalonian filmmaker Bigas Luna earned international hosannas for a string of films variously referred to as the "Passion Trilogy," the "Iberian Trilogy," and the "Iberian Portraits." Co-written by Cuca Canals, the series represents a slight toning down of the voracious sexual curiosities Luna explored earlier in his career, while furnishing enough graphic combinations of skin, food, and violence to titillate respectable arthouse audiences. At the center of each film is beleaguered masculinity at odds with just about everything, but most particularly women and a rapidly globalizing Spanish economy.
Luna (1946–2013) adorns his frames with symbolic testes at the same rate as Ken Russell offers facsimiles of the phallus. Any object paired and ovular baldly stands in for contradictory maleness, while his characters seem to grab their crotches every time they confront an emotion. There's no shortage of penises, actual and symbolic, on display either, and breasts are central to each story, but balls occupy the most real estate in Luna's personal iconography. (Though seemingly insatiable for flesh, Luna was no ass man.) His male characters share the obsession, but the scrotal symbol is complicated and reconsidered throughout Luna's work as he captures a pre-millennial Spanish machismo that's all dressed up with nowhere to go.
The first and best known of the trilogy is Jamón Jamón (1992), starring Javier Bardem and Penélope Cruz in her film debut. Luna opens on a pair of giant balls dangling over a small desert town. They belong to an Osborne Bull, a brandy company mascot who for decades dotted Spanish highways as fifty-foot billboards. Beneath the bull's balls is the preferred meeting spot for Cruz's Silvia and her secret boyfriend, José Luis (Jordi Mollà). She works in the underwear factory owned by his mother, Carmen (Stefania Sandrelli), who objects to the couple's plans for an interclass marriage. To change her son's mind about his lowly girlfriend, Carmen pays one of her underwear models, Bardem's Raúl, to seduce Silvia. But Carmen falls for Raúl, who falls for Silvia, who holds a candle for José Luis, who maintains a borderline incestuous relationship with Carmen and buys sex from Silvia's mother, a former prostitute now running a semi-respectable bordello. Silvia dreams of marrying José Luis and having a shoe closet just like his mother. Raúl aspires to fame as a bullfighter but will settle for a new motorcycle. They share a push-pull relationship with José Luis's family, who govern local employment and therefore control access to the new consumer goods fetishized by the lower classes.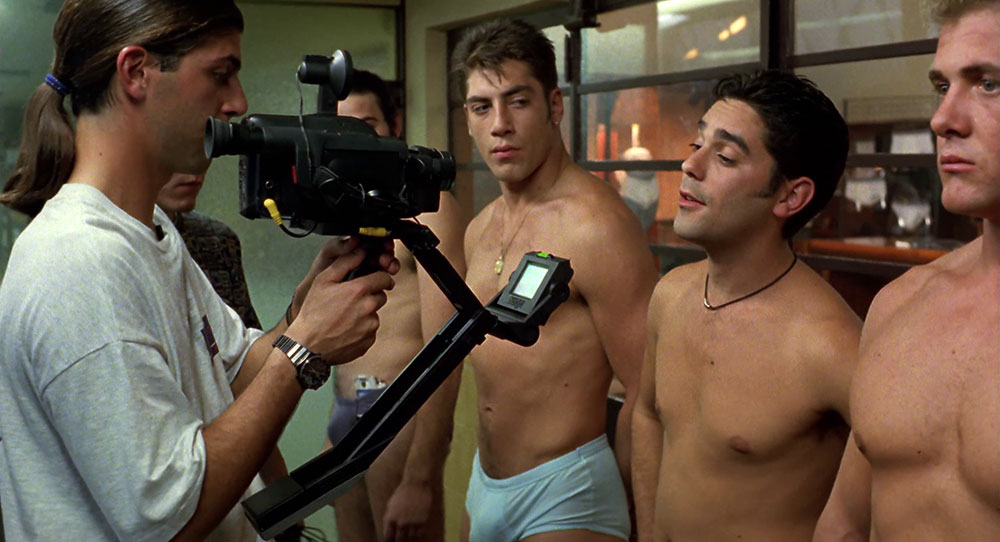 Luna shuffles the pairings while refashioning his lens into a microscope to capture such scopophilic joys as Raúl's impressive bulge, his lips pressed against glass, and the cloves of garlic he eats to promote vascular health. When not engaged in explicit symbolism, Luna's images of the human form bask in the material reality of brilliant soft machines and their absurd functions. And he prefers to get close while poring over the topography of a nipple or a collapsed soda can. Though handy with a farcical plot, Luna's greatest talent was in the crafting of these brief flights from narrative urgency. It's no insult to consider him first and foremost a graphic designer who successfully translated his forceful compositional and illustrative skills to a medium always in need of a reminder that drama needn't be its primary concern.
Golden Balls (1993) is the most expansive and scabrous of the three. Bardem plays another laborer with big dreams, this time Benito, a contractor who "just needs money and a bank" to construct Spain's tallest building and reach the summit of capitalist excess. His romantic escapades involve impressing and dominating other men as much as seducing women, but every relationship falls under the shadow of his would-be business empire. In a gender reversal of Jamón Jamón's central plot, he instructs his girlfriend, Claudita (Maribel Verdú), to sleep with a banker in order to secure a loan. She has a good time, but insists there's no swaying her mark. "You could marry his daughter. He still wouldn't be convinced." Almost immediately Luna whisks us to Benito and Marta's (Maria de Medeiros) wedding, intercut with phallic construction machinery breaking ground on a building that will "grow like a prick." Benito keeps Claudita in his garish bachelor pad while he and Marta occupy a modern condo decorated with a comical number of egg sculptures.
Like a kid with a jar full of ants, Luna shakes and scrambles the ensemble into disorientation, with Claudita joining the married couple in bed at Benito's request. The plan backfires and his two woman form a strong sexual bond that sidelines him even as they compare notes on his various sexual proclivities. Further sexual recombinations keep the plot moving, but again Luna's glut of symbols and closeups are richer terrain. As Benito's relationships falter, so does his construction project, and he ultimately finds himself drinking Budweisers in Miami, broke and living off a new girlfriend in the land of opportunity. Perfectly encapsulating the American alchemy of innocence and barbarism, Benito is greeted upon arrival by an old man in a pink polo and Mickey Mouse ears who gives a brief wave before extending his middle finger.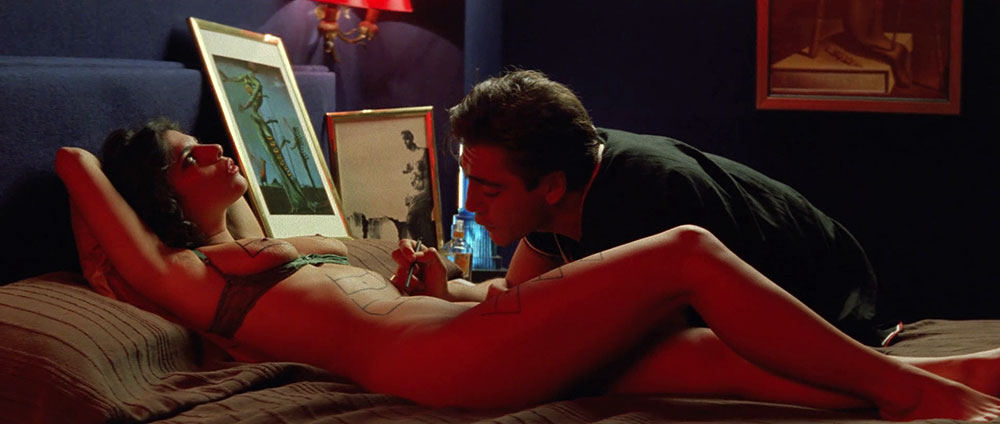 The balance between guiltless eroticism and lite-surrealist whimsy shifts too heavily toward the latter in the final film of the series, The Tit and the Moon (1994). A young adolescent, Miguel (Miguel Poveda), and his prepubescent friend, Tete (Biel Duran) both fall into infatuation with touring carnival dancer Estrellita (Mathilda May). Miguel is carried by twin currents of lust and worship as he alternates threats of suicide with tearjerking seranades. Naïve Tete resolves to find a breast he can monopolize after his baby brother takes their mother's chest out of commission. The two boys war over Estrellita and share the obstacle of her husband, a Frenchman whose status as the world's greatest stage farter has come at the expense of sexual potency. Tete's narration doesn't distinguish between actual events and his own flights of fancy. Most of the film's comic juice comes from his misunderstanding of adult sexual activity, which Luna playfully visualizes. These include a blow job with a baguette in place of the penis, Tete's conviction that men fill women up with milk during sex, and Estrellita spraying Tete with her own milk. The X-rated Sunday funnies gags have their charm, but the film lacks the satirical flair of its predecessors.
Throughout the series men and boys strive to establish claims on female anatomy. Luna's men negotiate exclusive rights to breasts during sex, while boyish Tete can only fantasize about unmitigated access. In Golden Balls, Claudita won't permit Raúlto touch her breasts for fear they will become misshapen. Sylvia's mother instructs José Luis that he can look at hers during the act, but not touch. There is always a negotiation in Luna's portraits of desire, a consideration of permission and boundaries, even as they are trespassed. His male characters share a cupidity that is simultaneously an acknowledgment of impotence. They invest their identities in their own most delicate organs, asserting the supremacy of balls in the midst of a desperate rush to reclaim the tits that fed them as babies.
"Iberian Nights: Bigas Lunas's Passion Trilogy" screens March 18–22 at the Quad with introductions by scholars ​​Santiago Fouz Hernández, Carolina Sanabria, and Gerard Dapena.