Featured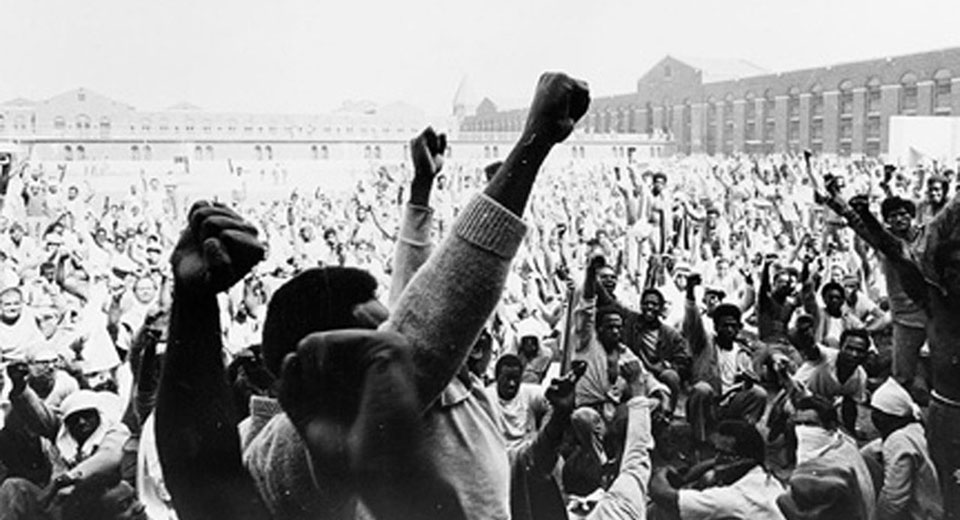 November 16th 2019
This post originally ran July 8, 2019.
It feels eerie to be writing about Cinda Firestone's 1974 prison uprising documentary, Attica, on a day when the New York Times front page headline is "Squalid Conditions at Border Detention Centers, Government Report Finds." It should come as no surprise to anyone with open eyes and ears that the rights that Attica Correctional Facility's inmates fought for are far from achieved, that, if anything, conditions in American prisons (and border detention centers) are worse than ever. The overcrowding and sexual violence that are endemic in the prison system today were not even mentioned in the Attica inmates' list of reform demands (although the prison was even then at nearly twice its intended capacity). Realizing how little progress has been made should feel like a cold shower for anyone who believes that the arc of the moral universe somehow automatically bends toward justice; we should all heed Attica survivor and prisoners' rights advocate Frank "Big Black" Smith's words: "Wake up. Because nothing comes to a sleeper but a dream."
I imagine that for most people who've heard the word "Attica" it first conjures young, hot Al Pacino screaming it at spooked cops and cheering crowds in Sidney Lumet's 1975 Dog Day Afternoon. (It's really a fluke that the word entered the popular consciousness at all; Pacino told an interviewer in 2018 that he improvised the whole thing because an assistant director whispered to him that he should.) The sartorial and facial hair aesthetics on display in Firestone's doc will transport you right back to the same world of mutton chops and polyester, but the tone is distinctly more somber. Interviews with inmates, members of the observation committee (journalists, lawyers, and congressmen allowed to visit the complex during the occupation), national guardsmen, and corrections officers are intercut with footage from the amazingly positive-vibey occupied prison yard ("It was groovy, groovy in the sense that you know what it's like to have unity"), footage shot through the state troopers' rifle scopes ("They called it 'indiscriminate firing,' I call it premeditated murder"), and some of the egregiously biased headlines that the Daily News and New York Times ran ("List of 9 Killed by the Prisoners," a rumor spread by corrections officials and reported as fact).
Firestone mostly follows the chronology of the uprising but also arranges the material thematically: the prisoners' eminently reasonable demands for education and vocational training facilities, the vastly different backgrounds of the mostly black and urban inmates and white and rural guards, the state troopers' arsenal comprising Colt AR-15s and Geneva Convention-prohibited hollow-point bullets, the prison system's failure to rehabilitate and tendency to produce recidivism, the torture and abuse of inmates in post-raid reprisals, and the injustice of the Assistant Attorney General's decision to indict only inmates and no guards or troops. Another line of Pacino's, "They got me on kidnapping, armed robbery—they gonna bury me," resonates with the list of insane maximum sentences some of the inmates faced when the indictments came down. First degree kidnapping was a common charge, which carried a maximum sentence of life, while many faced absurd maximums of up to 432 years (!). The tradition of total impunity for correctional officers continued for a long time; according to the Correctional Association of New York, "the first time in the history of New York State that any guard has been prosecuted for brutality against someone in prison" didn't happen until 2015. Perhaps fittingly, the guards in question worked at Attica.