Featured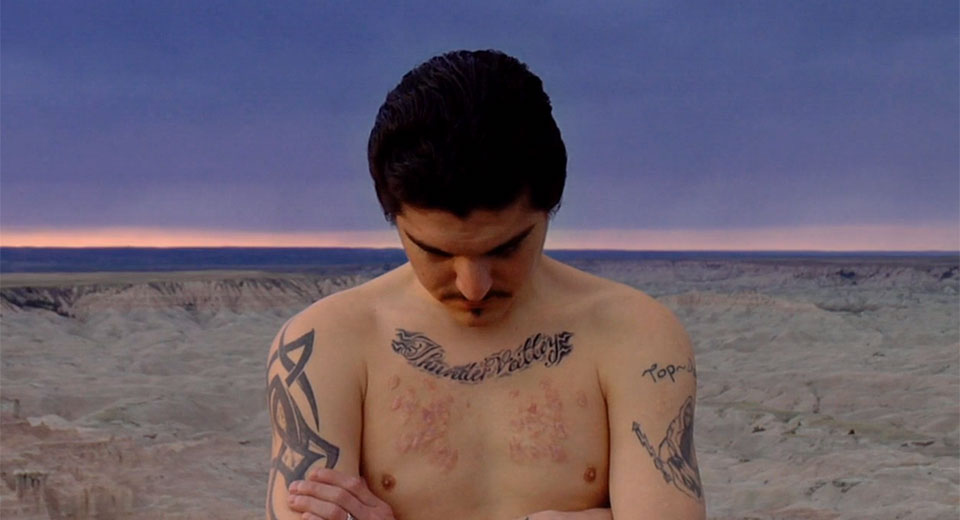 March 19th 2017
Tonight, podcast and curatorial joint Matchcuts will throw their sixth monthly screening at Spectacle. In their episodes, Nick Faust and Kachine Moore tackle a weekly crop blockbusters, documentaries, and moving image exhibition—from mass market to art market—with humor and insight. Their events take a similarly freewheeling approach to disciplinary boundaries, pairing an "Occupy-era sex satire" with Paul Morrissey's Women in Revolt, or showcasing little-seen works like Yvonne Rainer's late feature on menopause and Chantal Akerman's film on choreographer Pina Bausch.
This month they present Alex Mar's 2010 film American Mystic, a mosaic documentary about three young men and women scattered in the United States, each immersed in non-mainstream religious practice. Morpheus is a priestess, and the film catches her as she attempts to transform inherited land in Santa Clara into a Pagan community space. Kublai is a black spiritualist-in-training in the burned-over district, and we watch him feel his way into articulating his spiritual worldview, and attend meetings at Lily Dale. Chuck is a Sioux Native American. He maintains a connection to native traditions by sundancing, against a number of personal and social obstacles. The movie, edited by Andy Grieve, does a good job of presenting their respective portraits seamlessly, while letting each component speak for itself. Grieve has cut some of the more interesting mediations on American life and spectacle in recent memory, including the 30 for 30 doc June 17th, 1994, Alex Gibney's Going Clear, and the Lil Wayne The Carter documentary.
The Bush years saw a wave of religion documentaries as filmmakers attempted to assess the state of religious pluralism post-9/11 and grapple with the rise of the religious right. The trend might have culminated with Bill Maher's sneering road trip Religulous, released just weeks before Obama's election. Maher and Mar couldn't have made more different films. American Mystic is subdued and sensitive. It transforms the images of quotidian tasks and rituals with self-delivered narration. It explores the strange relationship between private religious practice and contemporary life, for sure, but doesn't editorialize or bludgeon you with cloying knowingness.
Following the release of the film, Mar continued to study American witchcraft. She published the book Witches in America, both praised by the press and criticized by the Pagan community. Her trips into the communities and inner lives of fringe religious practitioners pose real questions about the nature of belief, and she takes these questions seriously. Her work seems to be motivated by genuine curiosity and empathy and is not contrived, too rare for recent religion docs. Mar will appear at the screening.