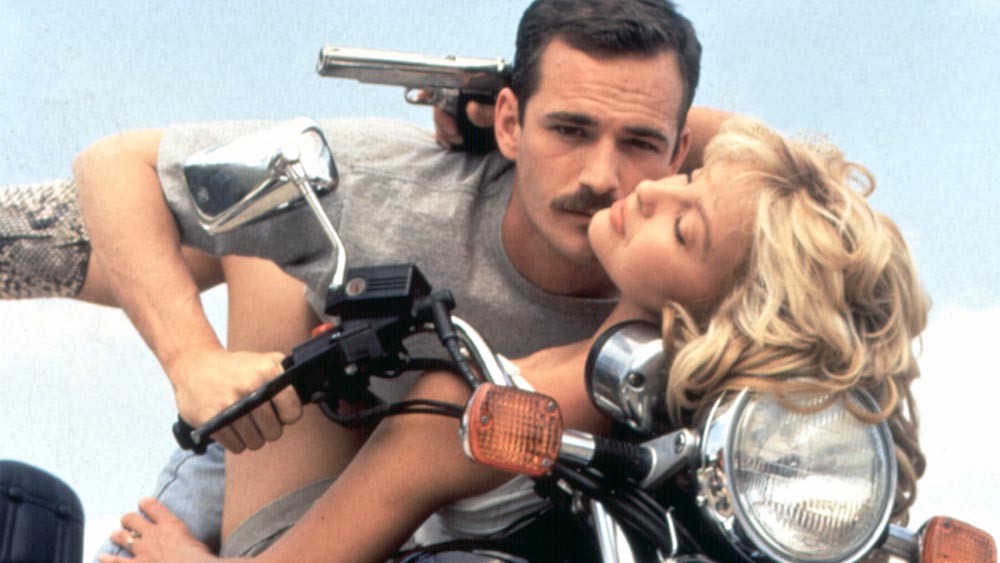 February 18th 2022
The Outskirts is a column by programmer Cristina Cacioppo that looks at films that merit cult status, which have fallen into obscurity and exist outside the categorical.
One year after a standout performance among the men of Michael Mann's Heat (1995), Ashley Judd starred alongside Luke Perry in Normal Life, a film directed by John McNaughton (Henry: Portrait of a Serial Killer). Like Henry, it is based on real life criminals, in this case a husband-and-wife bank robbing team. Judd is Pam, alcoholic and astronomy-obsessed, a woman who might seem like a free spirit but beneath the surface is battling all kinds of demons. Chris (Perry) is a straight cop, drawn to her energy and so eager to give her the unpredictability she craves.
Pam is an unusual character, and Judd inhabits her fully with nervous energy. It's the kind of role that could too easily fall into the "wild girl" trope, but Judd and McNaughton give her depth. She has an obvious brilliance hindered by instability. She bristles at being around Chris's "normal" parents and siblings, unfamiliar with the ties of family. Thrills bring her to life, so when the bank robbing begins, she seems to flourish (she only is able to have orgasms after the crimes). This movie is hard to classify. It's not an excessively stylish assault on the senses like Natural Born Killers (1994); it doesn't glamorize a lifestyle, but paints a portrait of restlessness with what's become mundane. Christopher Moltisanti of The Sopranos once said "The regular-ness of life is too fucking hard for me"—this is true for Pam. (Whatever your interest level is in this movie, please don't watch the trailer. Just take my word for it: it's special.)
Ten years later Ashely Judd gave all in William Friedkin's Bug (2006), a performance that should have a statue erected in its honor. Agnes White is struggling to keep steady, living in a motel and working at a lesbian bar with her friend R.C. (Lynn Collins). One night R.C. introduces her to Peter Evans (Michael Shannon), a mysterious young man whose theories on life intrigue her. Mad with mutual loneliness, the two hole up together in the motel room. When Peter's increasing paranoia about being monitored by the government and plagued by subcutaneous bugs seems real enough to Agnes, the menace of her abusive ex Jerry (Harry Connick Jr.) is somehow less threatening than the frantic body horror and mental anguish to which she is subjected by Peter.
Again, this is a performance that could veer into the cartoonishly unhinged, but Judd injects it with such nuance. She has just the kind of strangeness her character needs to be believable in a highly twisted world. Crawling around in a room covered in aluminum foil and lit only by bug zappers, she could have disappeared next to the outsized presence of Shannon. Instead, she manifests Agnes as a visceral being whose every tic comes from her core.
Normal Life and Bug are available to rent from YouTube and other platforms.
The Outskirts live 35mm series at Nitehawk continues Thursday, February 24 with Foxfire, featuring a Q&A with director Annette Haywood-Carter.