Featured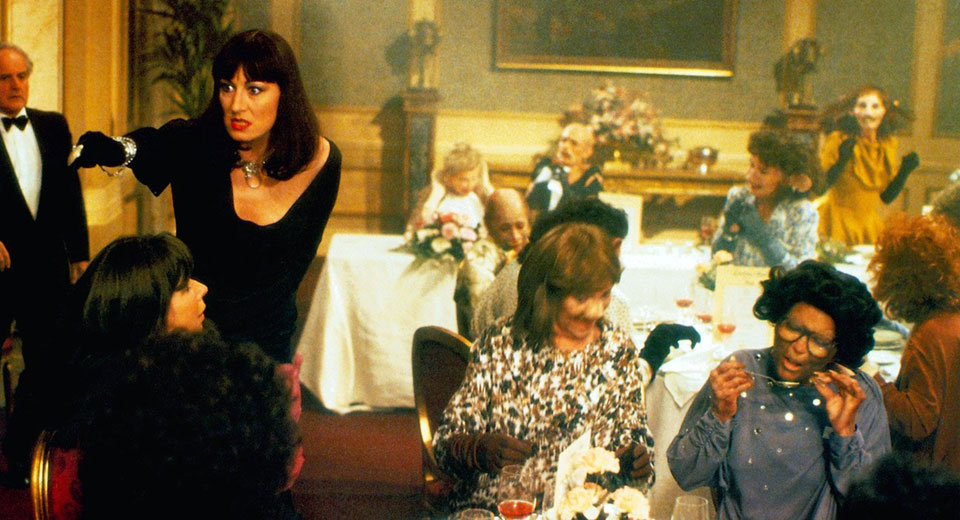 August 28th 2017
The 1980s and early 90s were a golden age for mainstream films nominally made for children that also mainly operated as nightmare machines. This isn't so strange — childhood can be a time of innocence, but it is often a period of terror over how little sense the world makes, and much of the most enduring "children's art" grows from the understanding that a kid's imagination is most frequently caught between curiosity and the fear of whatever trouble that curiosity might get you in. Yet even in an era of such great anguish fantasies as Labyrinth and The Neverending Story Part 2, few movies recall the dread and wonder of being young like The Witches .
Young Luke, newly orphaned, escapes to the English seaside with his doting Grandmother (one time Bergman collaborator and director in her own right Mai Zetterling), who seeks a rest cure at the gently dilapidated Hotel Excelsior (managed by a stuffy, put-upon Rowan Atkinson, a treat). Wise and cigar chomping Grandma has instilled in the boy a fear of witches, and as fortune would have it, an entire, evil coven of them has taken residence at the Hotel for their annual meeting (registered there as The Royal Society for the Prevention of Cruelty To Children). Exploring the hotel one day, Luke stumbles onto the witches' gathering and discovers, to his horror, a plot by the Grand High Witch (Angelica Huston at her most savage) to eliminate every child in England . . . by turning them into mice!
The Witches, as a "project," is noteworthy for many things: being one of the best adaptations of Roald Dahl, whose voice of glee & acid bitterness are intact here (even if the source book's more sullen ending doesn't survive the jump to screen); for being the last feature film of Jim Henson, whose creature shop outdoes even the ghoulish, genuinely gross heights of The Dark Crystal (not to mention their touching and timeless animatronic work in the film's second half); and, of course, for the direction of Nicolas Roeg, one of filmmaking's great expressionist rogues, who brings his whole bag of punctuation zooms to push Dahl's material to places both dark and delirious. Included here in the Quad's 35mm-heavy Roeg roundup, it is a chance for your dreams, too, to be haunted by a gathering of witches, feral with ecstasy, made up with warts, crooked teeth and tufts of greasy hair, trying to stomp a child-mouse to death. Sleep well.