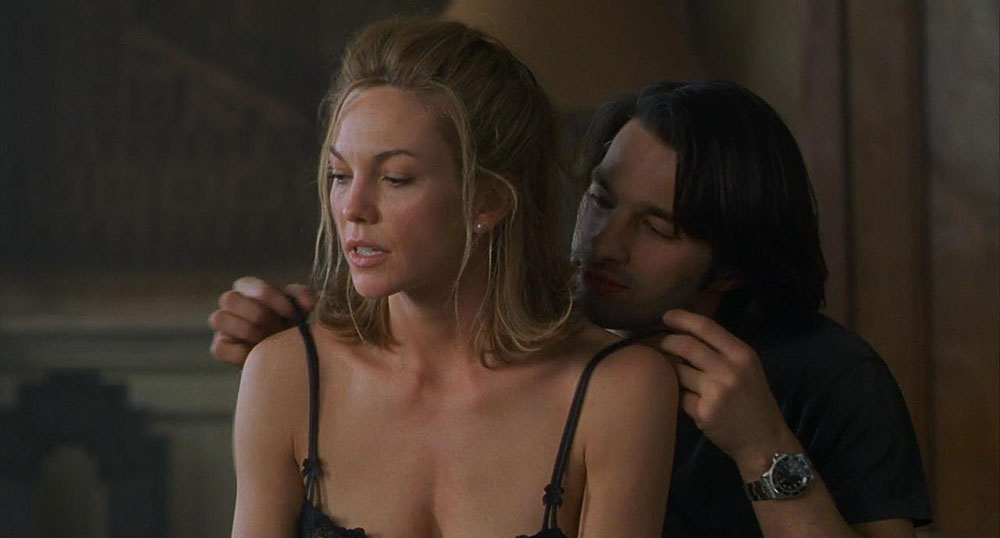 May 19th 2022
With erotic thrillers in the discourse as of late, it's a good time to revisit a high point in their last great era of the early aughts. Following a ten-year run of controversial classics of the subgenre (9½ Weeks, 1986; Fatal Attraction, 1987; Indecent Proposal, 1993) Adrian Lyne explored the random and irrational nature of infidelity in his least sensational (and best) film: Unfaithful (2002).
Based on Claude Chabrol's La Femme Infidele (1969), but prioritizing the Flaubert of it all over the Hitchcock, Unfaithful situates us in the day-to-day life of Connie, played with a delicate mix of warmth and unknowability by Diane Lane. There is nothing to suggest she is unhappy in her married life (to Richard Gere's Edward), motherhood, or her Westchester surroundings, but nonetheless she finds herself literally pushed into a handsome bookseller (Olivier Martinez) on the streets of SoHo by a gust of wind. A bit on the nose, perhaps, but then again how many affairs begin as an arbitrary encounter that the participants convince themselves is fate? What ensues, of course, is a lot of hot sex in various places private and public. New York cinephiles have a new fantasy unlocked: a quickie in the Village East theater (during a Jacques Tati film nonetheless).
Earlier this year, Lyne returned to film after a two-decade hiatus with his straight-to-streaming feature Deep Water, but Unfaithful remains the capstone of his career. Serving almost as a corrective to the misogyny of Fatal Attraction (which undercuts the depth of Glenn Close's performance by punishing her character in a very conservative defense of the nuclear family), Unfaithful lets Lane's performance of guilt mixed with desire speak for itself instead of judging Connie's behavior. By leaving the characters' psychologies ambiguous, Lyne gives a more realistic portrayal of the senselessness of the affair while preventing the onus of the men's actions from falling on the woman in the middle of an impossible situation.
Unfaithful screens tonight, May 19, at Nitehawk Williamsburg on 35mm as part of their ongoing erotic thriller series "Nitehawk Diaries."