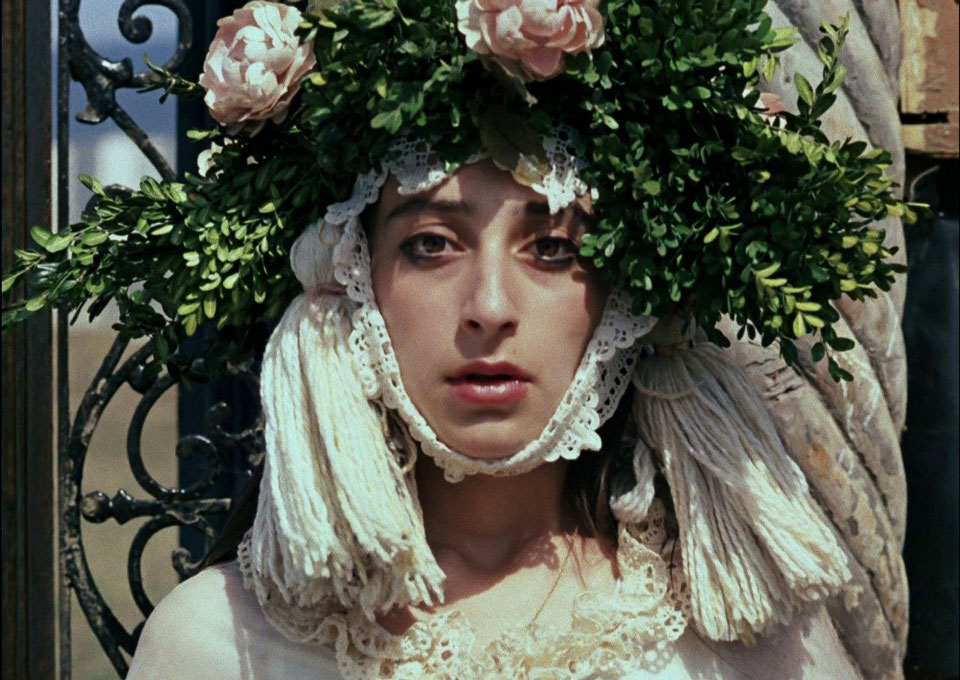 June 29th 2020
The Georgian-Armenian-Soviet filmmaker Sergei Parajanov was a quintessential outsider in a country where the difference between the inside and the outside was particularly consequential. An artistic and sexual nonconformist, Parajanov clashed consistently with the authorities, who jailed him twice, both times on trumped up charges of sexual malfeasance. Parajanov, though, proved quite literally irrepressible — even in prison, he produced a prolific quantity of rather delightful collages and crafts — and despite its frustrating gaps and thwarted projects, his career had moments of real triumph, most notably The Color of Pomegranates (1969), an abstracted biography of Armenian poet-troubadour Sayat Nova (whose name gives the film its alternate, original title), which earned him the admiration of seemingly every arthouse luminary of the '70s. Accordingly, the issue of his imprisonment would later become a cause célèbre for in-the-know aesthetes, and he was finally released in 1977, having served four years, when famed surrealist Louis Aragon was able to personally intervene with Brezhnev.
A triptych of short films — Kiev Frescoes (1966), Hakov Hovnatanyan (1967), and Arabesques on the Pirosmani Theme (1986) — newly restored by Fixafilm and the National Cinema Centre of Armenia and now streaming via Film at Lincoln Center, helps to complete the picture of the filmmaker's peripatetic life and artistic development. Parajanov was born to an artistic Armenian family in multicultural Tbilisi, a product of the sort of rooted cosmopolitanism that would be largely displaced by twentieth century nationalism (once making up more than 70% of Tbilisi's population, Armenians today account for under 5%). Parajanov spent his career on the margins of the Soviet empire. Hebegan his career in Ukraine, making uncelebrated socialist realist films that he eventually disclaimed, before breaking through with Shadows of Forgotten Ancestors, a hallucinatory vision of Ukrainian folk culture influenced by the poeticism of Parajanov's friend (and mutual influence) Andrei Tarkovsky and the camera stylo experiments of Mikhail Kalatozov and Sergei Urusevsky. It would prove the biggest mainstream success of his career, and was even distributed with its original Ukrainian soundtrack intact, a major exception from Soviet policy of dubbing films into Russian for broader release.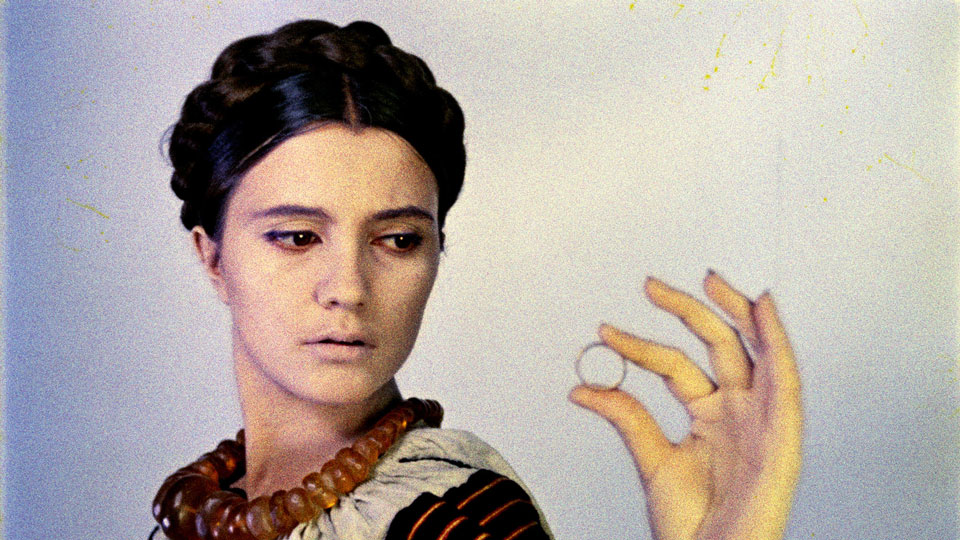 Kiev Frescoes (1966)
Kiev Frescoes and Hakob Havnatanyan chart an illuminating through line from Shadows to The Color of Pomegranates. The former finds Parajanov scuttling the restless camera of his previous film in favor of the tableaux-based style that would characterize his mature period. Originally intended as a feature, there's plenty of indication that the full-length Kiev Frescoes would have been a major work, but even in its truncated form it retains some serious pleasures. While it's tempting to view it as a dry run for The Color of Pomegranates, its style is subtly but meaningfully distinct, using an eclectic sort of juxtaposition to playfully layer disparate elements of the Ukrainian capital's history. The result is a decidedly more contemporary-feeling film than its successor (few, if any, films feel more wholly outside of time than Color of Pomegranates), with American and French pop tunes jostling with Red Army songs and Orthodox liturgy on Parajanov's characteristically dense soundtrack. While the state would have had any number of reasons to shut down the film, it's rather overt sense of sexuality seems like a particularly likely one. While socialist realism's celebration of the vigorous proletarian body made for no small amount of tacit eroticism (homoeroticism in particular), Parajanov contributes an element of outright sensuality that makes it unmistakable.
Hakob Hovatanyan, a study of the eponymous painter,is comparatively more restrained. Like Parajanov a product of Tbilisi's Armenian community, Hovnatanyan made his name in the nineteenth century as one of the best portraitists in the Russian empire (also like Parajanov, he would later become transfixed on Persian miniatures, an important influence on his later work). Parajanov uses Hovatanyan's work to stage an exercise in sound, rhythm, and visual patterning, fragmenting the painter's portraits to isolate certain body parts, and later cutting between subtly different framings of the same image, suggesting the surprising effects that even a slight change in viewpoint can bring. In addition to Hovnatanyan's work, Parajanov also stages brief vignettes, like a cat falling off of a rug on a roof or a white glove strewn evocatively on the seat of an old car, reminiscent of the more symbolic film language of his later work. He also takes his camera out into the street to shoot the what remains of the painter's world, though allowing for poignant intrusions of modern life, most notably Kartlis Deda, the gigantic Soviet monument that looms over Georgia's capital. For a film about a long-dead portraitist, Hovob Hovnatanyan ends up feeling surprisingly personal, more a tribute to the melting pot Tiflis of yore than to any one man.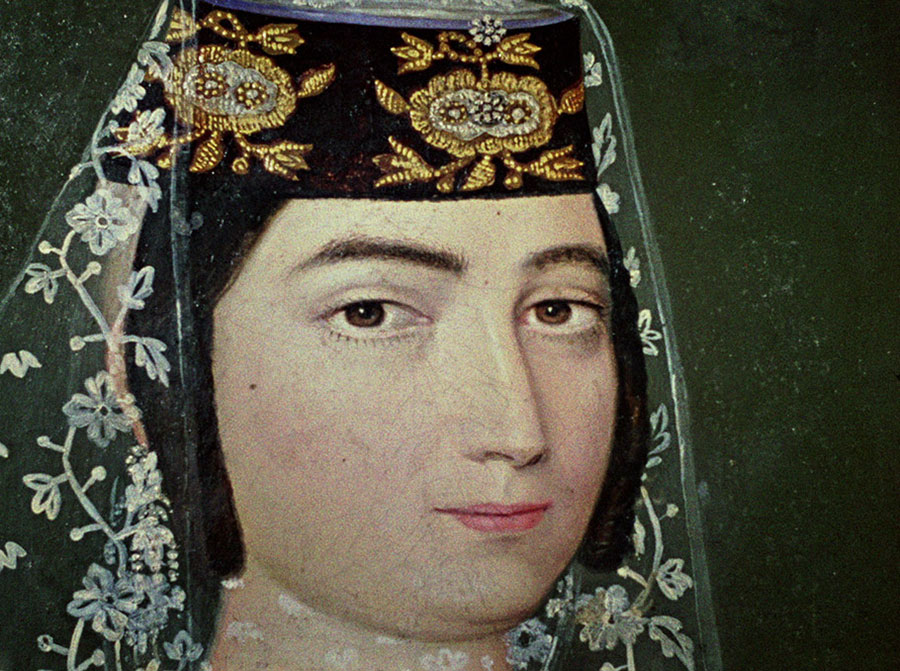 Hakov Hovnatanyan (1967)
Parajanov would return to this milieu after his stint in jail (and another, shorter one in 1982) with Arabesques on the Pirosmani Theme, made alongside his comeback feature The Legend of Suram Fortress (1985) under the more permissive regime of Mikhail Gobachev's perestroika. In many ways an elaboration on the model of Hovnatanyan (Parajanov even employs a basically identical shot of Tbilisi's cable cars), Arabesques is a celebration of outsider painter Niko Pirosmani, in many ways Georgia's national painter (for the unfamiliar, think a less escapist Henri Rousseau). The filmmaker shoots Pirosmani's paintings to emphasize their tonal contrasts, in some cases heightening the drama so as to make Pirosmani come off as a sort of latter-day, Caucasian El Greco. He also goes further into recreating the world of the painter, shooting an impressively assembled collected of period-appropriate tchotchkes and knick-knacks — most memorably a huge, oversized barrel organ — with an alternately nostalgic and sardonic eye (by an interesting coincidence, the years of Pirosmani's life correspond almost perfectly to the decedent, convulsive late period of the Tsarist regime).
While it would probably hold the most interest to admirers of either the filmmaker or painter, Parajanov's exercises in looking and seeing, always imbuing his framings and reframings with some sort of analytic or interpretive insight, should be equally striking to the uninitiated. One of my personal favorite moments involves a series of increasingly close shots of the eye of a painted giraffe, which finally appears as an elegant and abstract design, analogous to the arabesques of the title, a detail that would almost certainly, and perhaps necessarily, be overlooked in a wider framing.
Parajanov's friend and collaborator Mikhail Vartanov once argued that, "besides the film language suggested by Griffith and Eisenstein, the world cinema has not discovered anything revolutionarily new until The Color of Pomegranates, not counting the generally unaccepted language on the Andalusian Dog by Buñuel." The essential grandiosity of this claim aside, it does get at the essential shock of Parajanov's later style, which appears genuinely inexplicable by any cinematic antecedent. The filmmaker's shorts give us the privilege of seeing this style come together, and as well as Parajanov's specific influences in the visual arts and more idiomatic forms of design. Outwardly unassuming on their own, together they provide invaluable insight into the work of a singular twentieth century artist.