Featured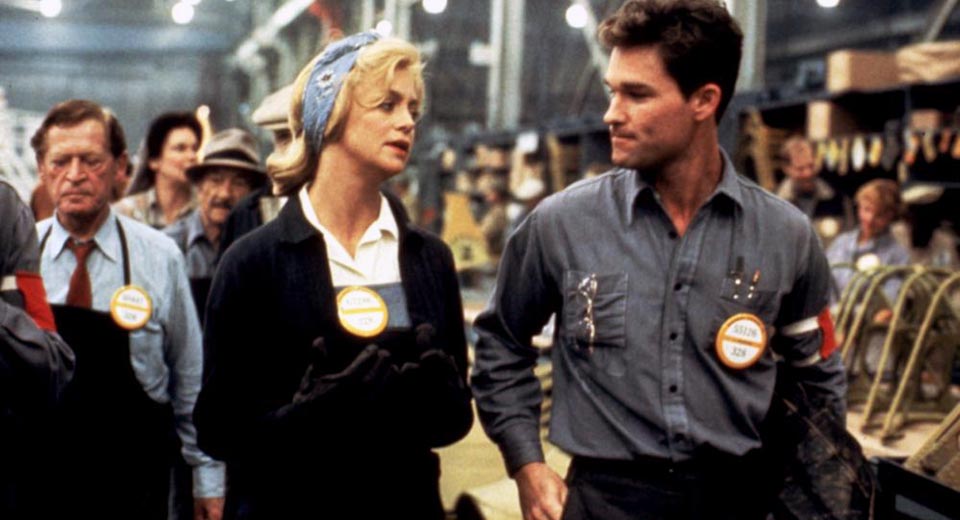 May 4th 2017
The untimely passing of Jonathan Demme last month brought headlines mourning the "director of Silence of the Lambs, Stop Making Sense, and Philadelphia." However, it also reignited the small and mighty fan club of a more obscure work in Demme's oeuvre, the domestic World War II romance Swing Shift, featuring an achingly adorable Goldie Hawn as Kay, a doting housewife who goes to work as a riveter in an airplane factory when her husband joins the Navy. The original script drew criticism from its star for its forgiving depiction of infidelity, so Warner Brothers and Hawn took it upon themselves to soften certain edges of plot, although an attempt to bring in Elaine May for rewrites only resulted in her telling the critics "are you guys out of your mind?"
While it wasn't what Demme had wanted, the result of the studio's meddling is a satisfying, feel-good theatrical cut (of course, it also unwittingly created a Holy Grail in the form of the workprint, which is only available today as a VHS bootleg). Hawn is at her most sparkling and delightful as a confused and conflicted Kay and her co-star, Christine Lahti, can tell an entire story of heartbreak and yearning in a single defiant glance. Kurt Russell — who would become Hawn's real life husband while making the movie — and Ed Harris are technically Hawn and Lahti's counterparts on screen, although Demme's original intention of making Swing Shift about the exploitation of women factory workers comes through with the narrative disinterest in the male characters and the contrasting vibrancy of the women's.
Swing Shift didn't have many allies when it was originally released, and over the years Demme's fans have split on their interpretation of the theatrical cut, with naysayers bemoaning the studio for wrenching creative decisions from the director's hands and leaving him with limited say over the final product. But while the Swing Shift you can watch today may not be overt in its societal criticisms, they're still there, simmering below the surface. When Hawn and Lahti celebrate the end of the war, telling each other "we really showed them," it's unclear whom they mean — the Japanese, their beaus, or their doubters at the factory. Those who celebrate the subtleties of Swing Shift might even say it belongs to Demme himself.