Featured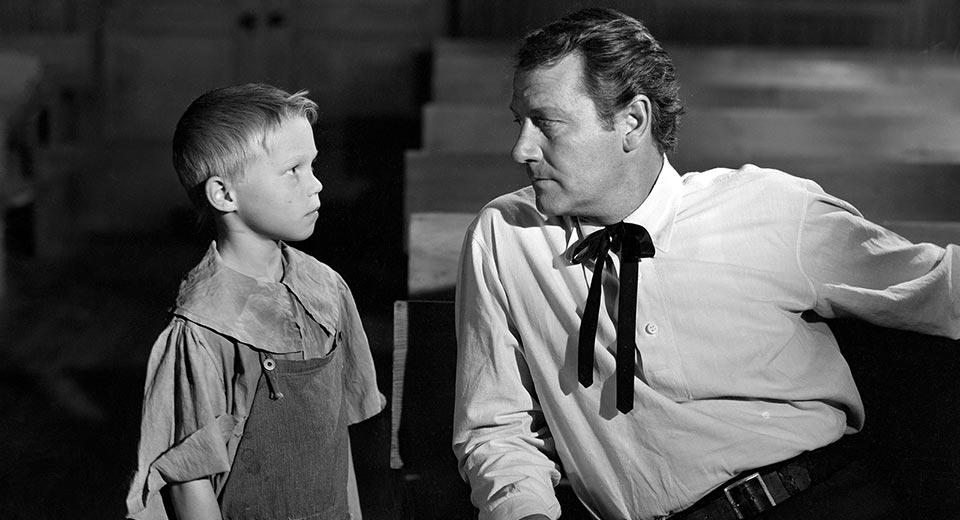 December 21st 2018
"Boys, I'm your new preacher, and I aim to give the first sermon right here and now," states parson Josiah Gray (Joel McCrea) as he circles the bar in the saloon of a small southern town. His proclamation is met with uproarious laughter, right up until he pulls out two guns, cowing the men into hearing his address. At this early moment in Jacques Tourneur's 1950 film Stars in My Crown, it's clearly established that the Protestant clergyman is serious about his vocation.
Gray arrives in the town of Walesburg shortly after the end of the Civil War, settling down with his new wife Harriet (Ellen Drew) and taking in her curious orphan nephew John Kenyon (Dean Stockwell). But the story isn't Gray's alone, expanding to other townsfolk to create a narrative tapestry similar to Tourneur's Canyon Passage. Along with the preacher's house calls, young John's Twain-like adventures connect various characters and threads including that of Uncle Famous (Juano Hernandez). Famous is a freed slave who spends much of his time with the town's children, fishing on his own plot of land. When a local plutocrat strongly urges Famous to sell his land to tap into supposed mica deposits, claiming they would sustain the town's mining industry, he refuses, and trouble begins to stir.
Meanwhile, the beloved town doctor, Dr. Harris Sr. passes on, and his son Harris Jr. or "Young Doc" (James Mitchell) takes his place. The town's new man of science quickly bumps heads with the town's man of faith. When a typhoid outbreak strikes and John is infected, Young Doc suspects the preacher is the carrier. Gray is warned to avoid socializing but ignores the advice. Faced with the blame of deaths and illness, the preacher's own faith is shaken. He closes the church and exiles himself. The growing tension between storylines comes to a head, culminating in Tourneur's most emotionally affecting scene of his entire career.
More good-hearted than it is sanctimonious, Stars in My Crown is one of Tourneur's most personal films. It's also one of the few he referred to as his favorite, and its script, adapted by Joe David Brown from his own novel, is the only one the director was known to actively pursue. See it tonight in its second to last screening at the Film Society of Lincoln Center.