Featured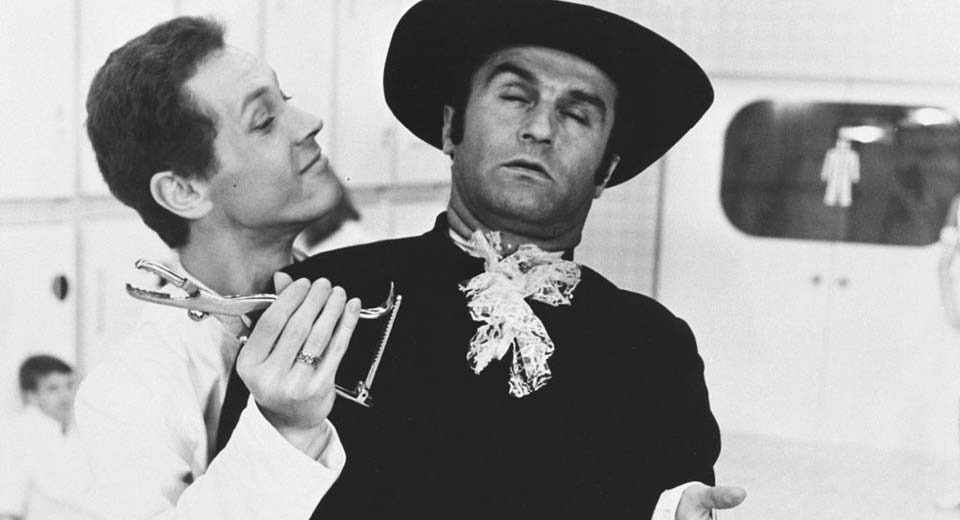 October 30th 2017
Tonight, Anthology Film Archives kicks off its ten day retrospective of Stanisław Lem adaptations with a triptych of Polish shorts from the 1960s. Two feature Lem mainstay Ijon Tichy, a handsome interplanetary researcher, and all bear the author's signature droll wit and absurdist musings on identify and intelligence. This trio elevates the cosmic minefields usually reserved for late night dorm musings with a dash of madcap humor and hilariously garish visions of future technology.
The standout is Andrzej Wajda's Roly Poly (1968), which concerns an accident-prone racecar driver battling his insurance company. After the first in a series of escalating wipeouts, Richard Fox is put back together with spare parts from his deceased co-driver and brother, Thomas. The insurance company only agrees to pay out 30% of the policy, because 30% of Thomas's body has been installed inside of his brother and continues to survive "incompletely deceased." Successive wrecks require a glamorous, dead-eyed surgeon (think Dr. Drew with a scalpel) to patch Richard up using odds and ends left over from the driver's many casualties. In short order, children, wives and business partners surround him, calling for payments commensurate with the percentage their dearly departed contributed to Richard's survival.
Marek Nowicki and Jerzy Stawicki collaborated on Professor Zazul (1962) and The Friend (1965), two trifles featuring Piotr Kuroswki as Ijon Tichy, interplanetary man of science. In these earthbound stories, Tichy confronts a clandestine cloning lab and an evil computer. Nowicki and Stawicki put on a delightfully pornographic display of mad science's arsenal, including bubbling test tubes, blinking lights and spinning disks. The nostalgia-rich design fits comfortably alongside Lem's tongue-in-cheek pontifications on our flimsy concept of the integrated self.